History of the Kakejiku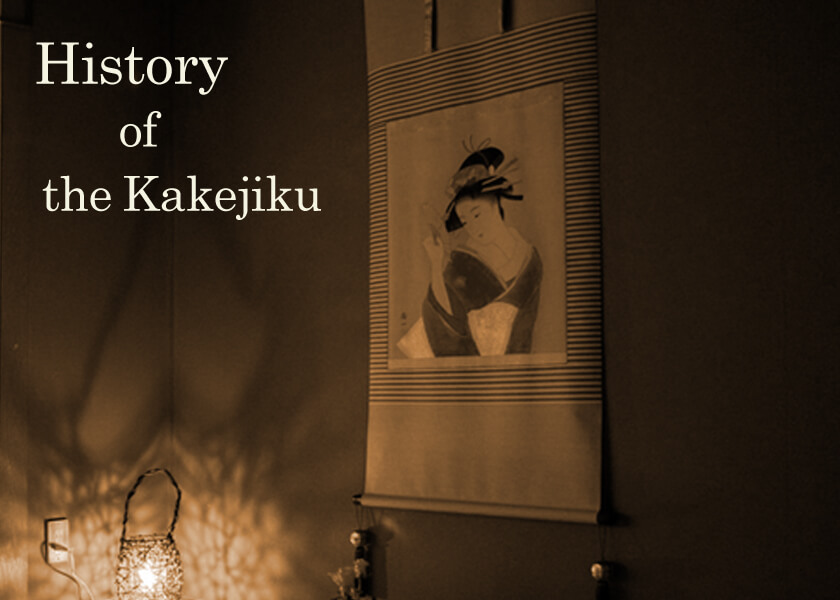 History of the Kakejiku
The "kakejiku" (hanging scroll) was introduced to Japan during the Heian period (794-1185), primarily for displaying Buddhist images for religious worship, or as a way to display calligraphy or poetry.
The original architecture of Japanese housing had developed considerably since the Muromachi period (1336-1573). In this newly developed architectural style, the Japanese-style room (called "washitsu") became a room on whose floor tatami mats are laid, and it contains one special space that is called the "tokonoma" alcove. The most important feature of the tokonoma is the display of kakejiku. The tokonoma was regarded as a space which connects art and daily life; so landscapes, paintings of flowers and birds, portraits, and poetry became favorite themes.
During the Momoyama period (1573-1600) two great sovereigns were represented: Nobunaga Oda, and Hideyoshi Toyotomi. They liked "chanoyu" (tea ceremonies) very much. Tea ceremonies were usually performed in the room with the tokonoma alcove. A tokonoma architectural style was developed and established in this period. Accompanied with the development of tokonoma style, the techniques of painting and mounting were also developed, because the kakejiku was always displayed in the tokonoma. Moreover, when Sen no Rikyuu mentioned the importance of the kakejiku, the kakejiku became extremely popular among people who were fascinated with tea ceremonies.
| | | | | |
| --- | --- | --- | --- | --- |
| washitsu | | tokonoma | | chanoyu |
There were only a few big wars during the Edo period (1603-1868) in Japan. The peacefulness of the Edo period allowed Japanese culture to reach full maturity. Many famous painters flourished and competed with each other. The kakejiku also became popular among the public.
After the Meiji period (1868-), many more painters competed with each other with their techniques, because people became absolutely free to choose their own occupations during this period. Before World War 2, and for a while after that war, most Japanese-style paintings were designed to be decorated on kakejiku.