Functionality of the Kakejiku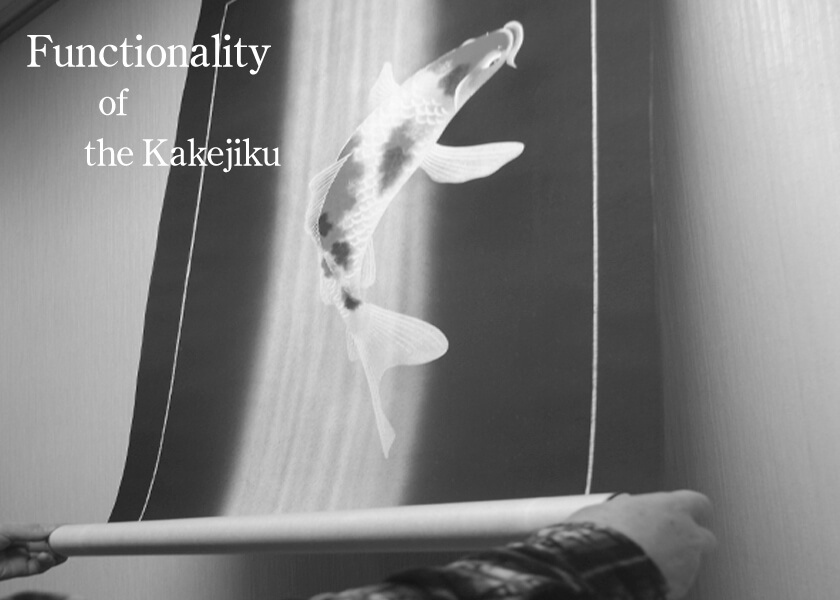 Functionality of the Kakejiku
There is a "tokonoma" alcove in a "washitsu" (traditional Japanese-style room), where a "kakejiku" (hanging scroll) is displayed. However there is very little furniture inside the room other than the kakejiku. The Japanese people don't have a custom of hanging many paintings on the walls inside the room; they usually display a kakejiku only in the tokonoma, and replace it by another depending on the occasions, guests, and seasons.
It is said that this style of display contrasts with the Western style. Many paintings are often displayed on the walls of Western buildings, such as old European buildings or palaces. For example, if there are 100 paintings, it would be the Western style to display all 100 paintings on the walls. However, the Japanese people put all 100 paintings in a closet, and choose only one to display for a short term in its fixed place (tokonoma). Therefore, there is a clear difference in functions demanded from a painting between the West and Japan. In the West, painting needs a frame for durability because it is displayed for a long time. In Japan, however, a painting does not need so much protection because it is displayed only for a short time. Handiness and convenience are very important elements for a painting, because the Japanese people will change it frequently. It is also necessary not to take up the storage space. That is to say, the style, which satisfies the above conditions, is a kakejiku-style.
The kakejiku is rolled up when putting it away, and is opened while displaying it. As a result, flexibility and strength are needed to endure the process of displaying and putting it away. Therefore, the "honshi" (main work) is reinforced by backing it with another piece of paper, and cloths are attached around the honshi, and they are combined. This is a rough mounting process for the kakejiku. If the kakejiku is rolled up, this style prevents the honshi from creasing, tearing, and getting dirty. Even if the honshi is damaged or becomes dirty, the lifetime of the honshi and its aesthetic value can be kept for several hundred years by remounting the kakejiku.
The kakejiku is an ideal style; it enables the Japanese people to enjoy their paintings at their best.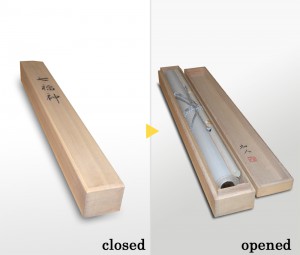 The kakejiku is preserved in a paulownia box. We can store the kakejiku compactly.