Fabric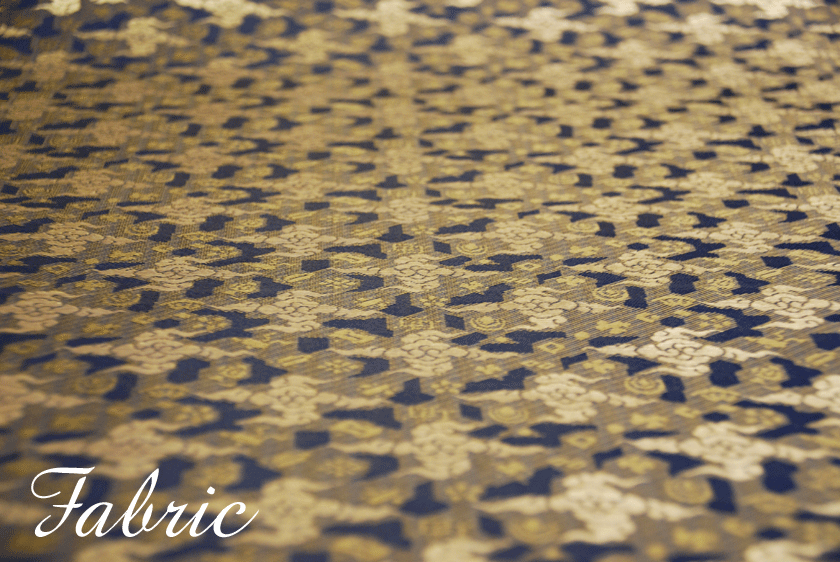 Kireji
The "kireji" is a type of cloth used for mounting. The price of the kireji influences the price of a "kakejiku" (hanging scroll) or its mounting. The selection of the kireji is an important element for a kakejiku, because the kireji must accentuate a main artwork.
The kireji is woven, so is made up of a warp and weft. The design is formed by changing the thread color in the warp and the weft. The price of the kireji depends on the kind and combination of the threads.
Donsu and Kinran
With a few exceptions, the cloth patterns generally used in mountings today were manufactured early in the Meiji Period (1867-1912). Prior to that time, the cloth from Buddhist priests' surplices was taken apart and cut up for use in mountings. As the subject matter of the shoga(paintings and calligraphic works) went through various transitions adapting to the times, concomitantly, mounting cloth also went through various transitions.
There are a great many kinds of kireji. Kireji is roughly classified into "donsu" (damask), or "kinran" (gold brocade).
Donsu is known to have been loved by the tea master SEN no Rikyuu. The warp and weft of donsu may be of the same, or different colors. The donsu is thick and glossy, and is a high quality fabric. Various materials are used for donsu, such as silk, cotton, and chemical fibers.
Kinran is a very important fabric used for the parts of a kakejiku, such as "ichimonji" (two brocade borders), a "naka-mawashi" (inner enclosure), and "fuutai" (a pair of decorative fabric strips). Kinran has various beautiful patterns embossed with gold thread. Kinran is roughly classified into low, middle, and high quality kinran ("hon-kinran").
| | | |
| --- | --- | --- |
| donsu | | kinran |
From hundreds of years past, cloth for kakejiku (hanging scrolls) has developed intimately with thechanges in the kakejiku themselves.
Today, however, the charm of decorative cloth has helped establish it as one field in its own right within the broader spectrem of the textile culture in Japan. Such cloth is no longer limited to scroll paintings ; it serves as decorative trim for framed Western-style paintings, for byoubu type screens, and innumerous other ways.
Cloth Patterns and Designs Vol.1
Every manner of subject has been taken up to serve as a pattern on the cloth used in mountings. The relatively frequent use of various flora in the designs and patterns is undoubtedly due to their blending in so well with the topic of the writing or painting. The plum and the crysanthemum, as well as the peony and the bellflower –all well-known species peculiar to Japan– have been widely employed.
Special features of two of the patterns is the karakusa or arabesque, a foilage pattern which twists and turns uninterruptedly throughout the material. Another is the plum pattern in which single plum flowers are lined up side by side and spaced out evenly over the material.
Various fauna are also frequently seen; the crane and tortoise motif used widely in Japan on joyous or other auspicious occasions, butterflies and birds, swallows, rabbits, as well as certain Chinese mythological creatures– the dragon and the phoenix.
The water wheel, the fan, or some precious article also serve as patterns along with various natural elements such as water or clouds. Geometric shapes such as stripes or bars, netting or other rhombic forms are equally common patterns.
Cloth Patterns and Designs Vol.2
The word "monyou," or pattern, in Japanese has almost the same meaning as "moyou", or design. How-ever, the Chinese character that distinguishes monyou from moyou indicates a single definite figure used as an ornament. Consequently, monyou means either one ornament or a decorative figure constructed by the repetition of that ornament.
The fabrics first used in hyousou mountings came from Buddhist priests'and nuns' robes or costumes of the nobility which had been unpicked and cut up.
When materials came to be manufactured solely as hyousou cloth, these fabrics either alluded to or were derived from the earlier designs and fabrics. Thus, patterns naturally continued to reflect the character of the original garments.
Yuusoku : Ancient Court Patterns
This group of patterns, called yuusoku to distinguish them more conveniently from other designs, represent a series of traditional patterns, which were used by the nobility on various types of furniture, utensils, clothing, carriages and so on. Because of the type of fabrics that were used, many yuusoku patterns were employed in hyousou materials.
Broadly speaking, yuusoku refers to designs in use since the Heian period (794-1185) ; in a narrower sense, however, this term indicates patterns of a similar type which date from early modern times.
The forebears of yuusoku were those patterns which entered Japan during the Nara period (646-794) from early T'ang dynasty China. Among these, gaudy or elaborate patterns were eschewed and those which appealed to Japanese taste were kept and refined further. In addition, natural objects were incorporated as patterns in new and fresh ways. Since yuusoku fabrics figured prominently in the dress styles of the nobility, the repeated, regular patterns became masterworks of design. Consequently, patterns in
the fabrics used in hyousou weaving are of two types : in keeping with the meaning of monyou, patterns are either contiguous and repetitive, or they consist of a single independent pattern set in rows and separated by equal spaces.
Kisshou Patterns of Lucky Omens
Patterns are not only decorative ; they also have significance for those who wear them about their person as a means of bestowing good fortune or warding off disaster. Patterns that exhibit such a powerfully auspicious character are called "Kisshou," or patterns of lucky omens. Among the types of lucky omen patterns are patterns which in themselves have an auspicious meaning, such as the crane and tortoise, the eight treasures, or the carp climbing a waterfall. There are also kisshou which represent an auspicious legend, such as the chrysanthemum in the flowing water, as well as those patterns which have the same pronunciation as or are euphonious with other kisshou patterns. Although lucky omen patterns vary according to country and region, in Japan, the entire field of industrial arts has been greatly influenced by and has strong ties with the lucky omen patterns of China. Fabrics imported from China seem to have been given finishing touches in Sakai and in the Nishijin area of Kyoto. Numerous patterns, too, show evidence of their Chinese inheritance.
Cloth Patterns and Designs Vol.3
Patterns of plants, animals, natural phenomena, utensils, geometrical shapes, letters all have undergone many changes in their development.
Plant Patterns
Arabesque (in Japanese, literally, Chinese grass), the peony, chrysanthemum, paulow-nia, pine, bamboo, plum, maple, gingko, clematis, cockscomb and so on.
The arabesque, or Chinese grass pattern, is a pattern in which stems, vines and leaves are all intertwined. Here are many cases in which a continuous pattern is formed and other plants become involved. If a peony becomes part of the pattern, then this is called peony arabesque; if grapes, then grape arabesque. There is also the chrysanthemum arabesque, camellia arabesque, and plum arabesque, to name but a few of these patterns. Furthermore, stylization has continued and it is frequently difficult to distinguish among the different kinds of plants.
The peony is a magnificent blossom, and in China it is called "King of Flowers." The peony pattern in widely used in the industrial arts as a symbol of wealth and affluence. In the peony arabesque when only one tendril is used in the design, the pattern is called the peony arabesque with single tendril ; when two tendrils are used, it is known as peony arabesque with double tendrils.
Paulownia, or kiri, patterns include "taikogiri", "gosan no kiri", and "sagagiri." Small flowers and pineneedles scattered amidst creepers of slender tapering leaves like those of sasa, or bamboo grass, form a pattern called "sasatsuru." Sasafune is a pattern that uses bamboo grass to create motifs of ships with sails; pine needles are added to delineate the sail ropes as well as the ocean waves. The "hanamaru" pattern consists of floral wreaths composed either of chrysanthemum, Chinese bellflower, narcissus, plum, or camellia.
Animal Patterns
Crane, mandarin duck, sea gull, butterfly, phoenix, dragon, tortoise, lobster, carp, lion, camel, rabbit and so on.
In bird and animal patterns, both familiar and fanciful creatures are frequently depicted. The dragon, which originated in ancient China, is an auspicious beast that is said to live in water, ride the clouds, and soar through the sky. A simple dragon pattern is the "kaishiryuu." The ryuu-karakusa" pattern combines creepers or vines with the dragon. A dragon in the shape of a circle is called "maruryuu," and in like manner, a dragon in the shape of asquare is "kakuryuu." Two dragons intertwined and facing each other is called "souryuu."
Another fanciful creature in the phoenix, a bird benevolent to mankind and said to be the harbinger of good fortune. Beside the pattern of the phoenix, there is also the "ran," another sacred bird pattern that resembles that of the phoenix. Other bird patterns include mandarin duck, peacock, plover, sea gull, and the crane, symbol of long life.
The auspicious crane, like many other patterns, was also imported from China, but in Japan its graceful form came to be greatly cherished and, from ancient times to the present, this well-loved pattern has enjoyed a wide range of depicitions.
Some other famous bird and animal patterns include "hanakuitori" which shows a bird in flight holding a spray of flowers and a small sprig of pine in its beak; "araiso," which depicts a carp dancing amidst waves; "usagikarakusa," which combines rabbits with clouds and arabesques: and "hanausagi," which portrays a flowering tree and beneath it a rabbit, ears pricked up, looking over its shoulder.
Natural Phenomena Patterns
Geometrical patterns, clouds, waves, lightning, folding fans, jewels, spinning tops, the Buddhist swastika, as well as basic shapes such as circles, triangles, squares, hexagons, diamonds, vertical and horizontal stripes, and latticework and so on.
Among patterns that treat natural phenomenon are "unka," which shows a swirl of clouds; "egumo," which depicts horizontally trailing clouds; "reishi," which are clouds that resemble a kind of mushroom; "kasumi," or mist; and "kai" or "kaminari," which depicts lightning amidst the clouds. The water pattern shows layers of semi-circles repeated again and again to represent still water. "Namikashira," or whitecaps, "uzumaki," whirlpool, and "aranami," rough seas, are wave patterns, as is "katawaguruma," which depicts carriage wheels amidst waves scattered with jewels and small flowers.
Geometrical patterns, based on points, lines, and surfaces, include vertical and horizontal stripes and net mesh work. Among these patterns are "kikkou," or tortoise shell, which is comprised of contiguous hexagonal shapes; "meyui" which inserts smaller squares in the center of larger squares; "ishidatami," or stone pavement, in which squares are spaced evenly over a surface in a checkered pattern; and "uroko," or fish scales, which is composed of triangles alternately replacing each other. Other geometrical patterns include the "juuji" pattern which is the stylized Chinese character for long life and also the "takarazukushi" pattern which depicts the eight treasures the precious jewel, the wheel of the Law, the lucky mallet, the moneybag, the magical raincoat, the magical bamboo hat, the "chouji" flower, and the interlocking circles.
As for these patterns which have been highly stylized, there are also those which may represent proper nouns. In these cases, all names have been supplied.
Patterns used in the fabrics of hyousou mounting are characterized by subjects that have become remarkably abstract, with names that refer to one part or other of the main design theme. They are comparatively simple figures but exceedingly well-polished and highly stylized. However, first of all, a pattern mustn't attract more attention than the main artwork, but should accentuate the artwork. Not only does hyousou mounting serve as a decorative device for pictures and writings, it also deeply enhances such works, thereby acquiring a profound significance. The hyougushi scroll mounter must choose from among many fabrics of various patterns to find that which best suits the particular picture or writing he wishes to mount.
Besides playing an important role in the early production stages of hanging picture scrolls, hyousou mounting is further distinguished by its numerous highly refined patterns which, in turn, reveal the great depth and variety to be found in this elegant traditional Japanese art form.
Rule
The kireji makes an main artwork more impressive. There is an important rule in using the kireji for an main artwork: the kireji mustn't attract more attention than the main artwork, but should accentuate the artwork. It seems a simple rule, but profound. Whether the artwork appears at its best is dependent on the kireji.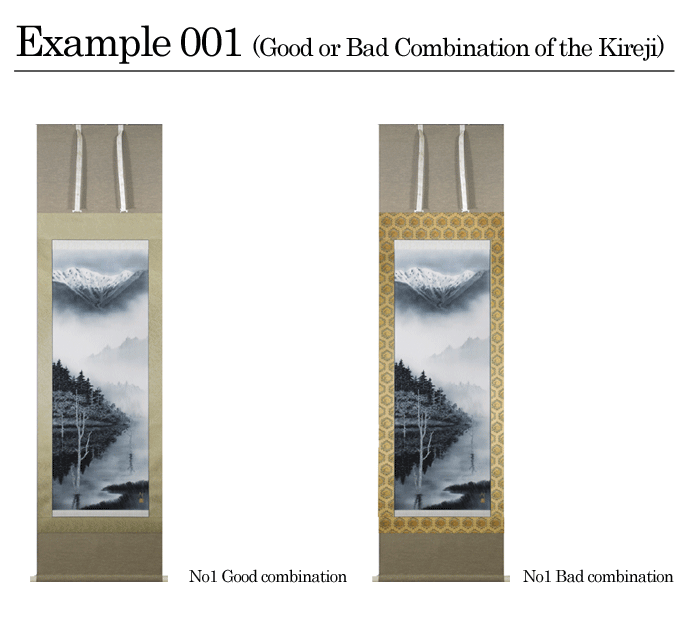 It is an unspoken rule that the "kireji" (mounting fabric) mustn't attract more attention than the artwork, but should accentuate it. So, using expensive kireji does not always go well. The selection of the kireji is very difficult and delicate, so knowledge of art, a sense for choosing materials, and a good sense of color are essential.
No1 (example001) is a good combination. "Suibokuga" (ink painting), the art of painting in just one color using "sumi" (Japanese ink), is not only for painting lines, but also for showing gradation through contrasting ink density, and lighting. In this painting, a tranquil atmosphere is an important element. In this example, the mounting fabrics accentuate the atmosphere.
No2 (example001) is a bad combination. The expensive kinran (gold brocade) is used, but it attracts more attention than the artwork. It spoils the atmosphere.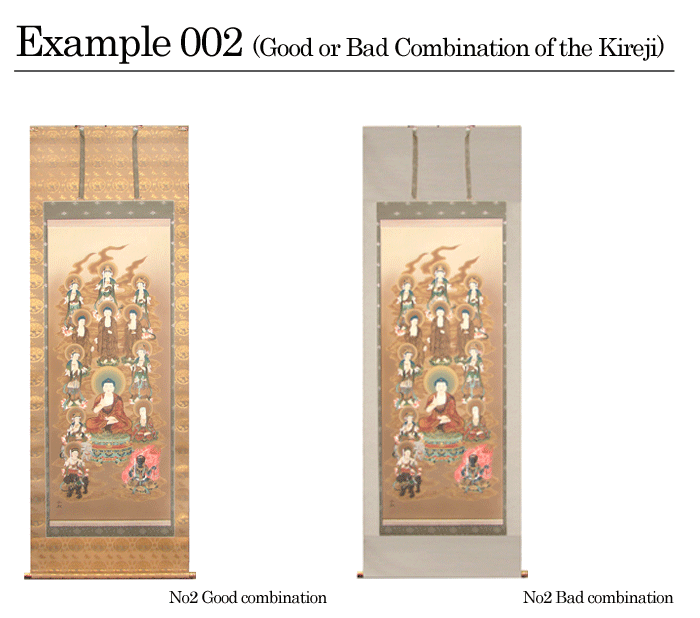 It is an unspoken rule that the kireji (mounting fabric) should accentuate the artwork.
No1 (example002) is a good combination. This painting of The Thirteen Buddhas "Juusanbutsu" is sacred and gorgeous. The grandeur atmosphere is an important element for this work. In this example, the mounting fabrics accentuate the atmosphere.
No2 (example002) is a bad combination. The soft colored kireji is used, but it doesn't accentuate the work. Using "safe" kireji does not always go well, either.