Reiki Precept Kakejiku Hanging Scroll
Request for a bespoke Reiki Precept Kakejiku from a British Client
This time, we were to create a rather unique kakejiku at the request of a British client.
Have you ever heard of this word 'Reiki'?
'Reiki' one of folk remedies, which is a fusion of a foreign thought / technique introduced from the Meiji to the early Showa era and Japanese culture, has been established by Mikao Usui (1865-1926). The remedy has independently expanded worldwide and it is currently practiced by a great number of people across the globe.
The request was to create a kakejiku replicating Five Reiki Principles, the teachings of Mikao Usui who re-discovered the remedy. The client who is practicing Reiki has been after a company capable of creating the kakejiku for a long time after which he finally discovered us.
We explained the client's demands to our contract calligrapher and the sample was accordingly made in no time.

Five Reiki Precepts

The secret art of inviting happiness,

The miraculous medicine for all diseases.

At least for today:
Do not be angry,
Do not worry,
Be grateful,
Work with diligence,
Be kind to people.
The client was absolutely satisfied with the look of the sample when asked the confirmation. After having one meeting after another for the style of the kakejiku, we were at last ready for the work.
The Sequence of Our Mounting Procedures
スライドショーには JavaScript が必要です。
The Finished Reiki Precept Kakejiku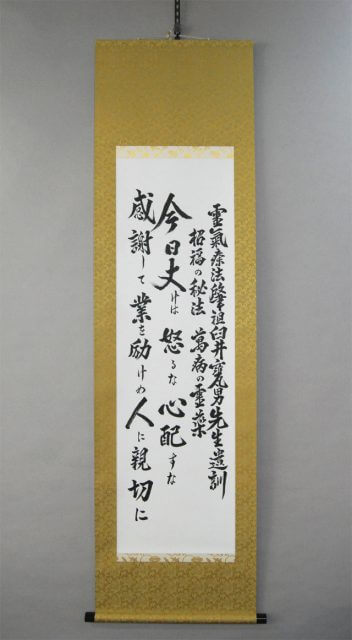 After going through the lengthy processes of craftsmanship, Reiki Precept Kakejiku was finally completed.
The artwork in the center is very much enhanced after being mounted.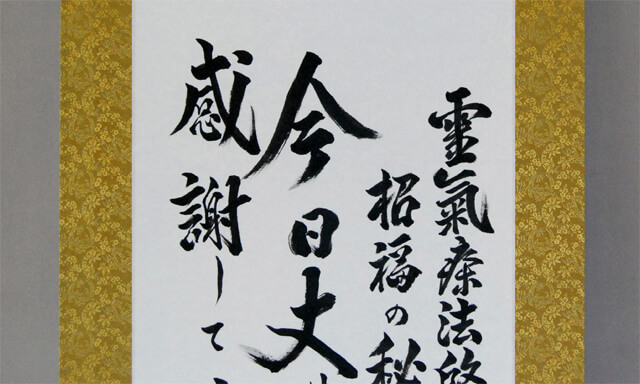 This is the mounting fabric for the artwork chosen at the consultation with the client. The tranquil and gentle feeling of the fabric enhances the sophisticated ambience of the artwork.
The Voice of the Client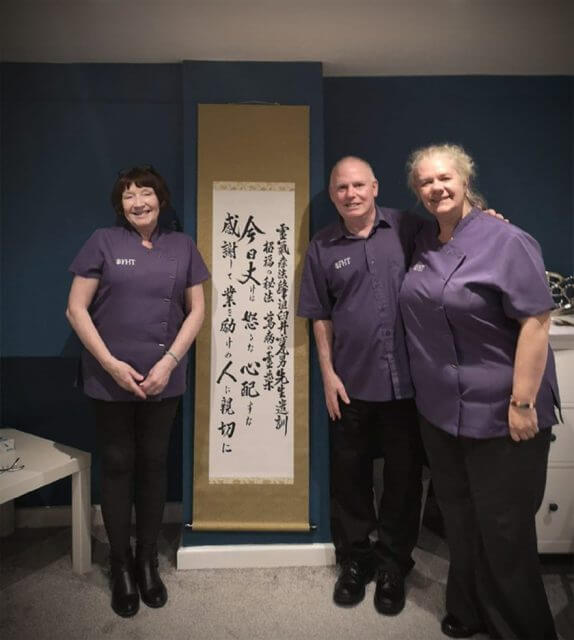 We had delivered the kakejiku as soon as we possibly could then appreciatively received this delightful comment from them.
I am Mr Martin Thirlwell the owner of Reiki Tradition. We are a Accredited Reiki Training provider based in United Kingdom.

I contacted Yuuichi Nomura and Art Nomura to replicate the Gokai scroll kakejiku, using submitted kanji and art work. The finished work was outstanding in every detail, beautiful and lovely and superbly presented in a paulowinia box. Working with Yuuichi Nomura and

Art Nomura

is always a pleasure and very professional. Thank you for your continued professionalism, expertise and friendliness.
It is a great honor for us that you take your interest in one of Japanese traditional culture, kakejiku and expressed such a deep gratitude to our dedication.
While the number of the demands for creating kakejiku and the craftsmen like us whose profession is mounting has been decreasing, like this opportunity, the needs of our expertise from overseas clients is incredibly encouraging for all of us.
We are very grateful to your request this time. Thank you very much.