Kakejiku Scroll as a Honeymoon Souvenir
Naples is located in southern part of Italy. Naples is a major national and international tourist destination, being one of Italy and Europe's top tourist cities. The proverb "See Naples and die" is famous. As for foods, Neapolitan pizza is very popular among the world.
Lovely Couple from Naples, Italy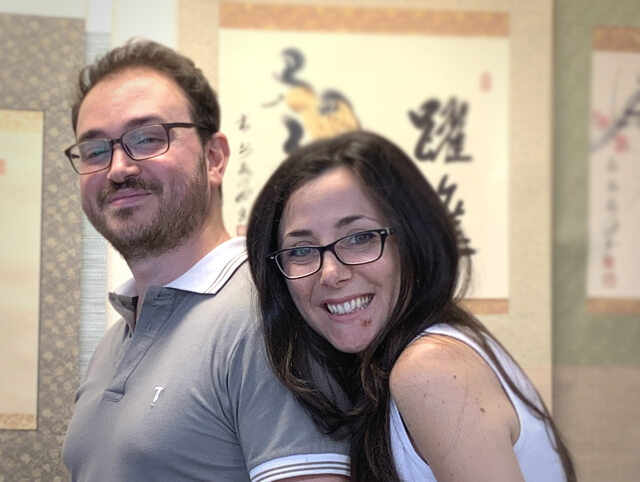 On June 29th, 2019, we had guests from Naples, Italy. They arrived in Tokyo 2 weeks ago and enjoyed Tokyo, Kyoto and Osaka.
At first they tried to find a kakejiku shop in Osaka but they couldn't. They searched on the internet for information of kakejiku shops and finally found us on the Tripadvisor.
From TripAdvisor and Google Management Center, we can't change settings about our business hour in order to indicate that we are open on the 1st, the 3rd, and the 5th Saturdays. (We are closed on the 2nd and the 4th Saturdays.)
However, they checked our website and confirmed we were open on the 5th Saturday, June 29th.
I'm very happy that they read our website carefully. I wish it were more convenient to change settings the way I want on Tripadvisor and Google…
Japanese TV Games Made Them Interested in Kakejiku.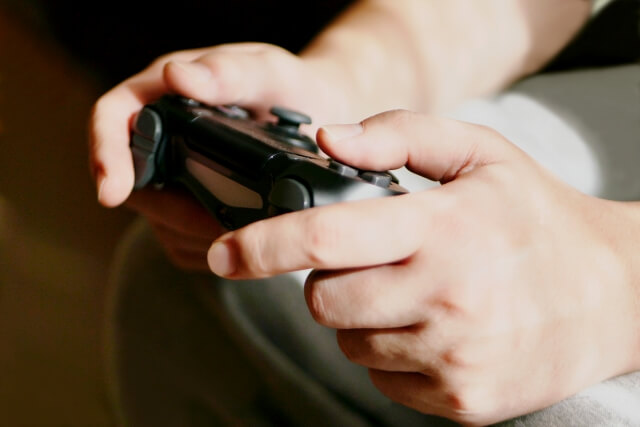 The customers love Japanese TV games. One day they saw a kakejiku with calligraphy in a game and got so interested in kakejiku. They planned to buy a kakejiku with calligraphy as a honeymoon souvenir.
This is why they asked us to show them some kakejiku with calligraphy.
We always have a pleasure of showing the scrolls in person because the customers' direct reaction to scrolls greatly inspires us. Also, finding the best scroll for customers is like a cooperative work. We love that moment.
They were pleased with "Yume" (夢, dream) calligraphy kakejiku out of our recommendations.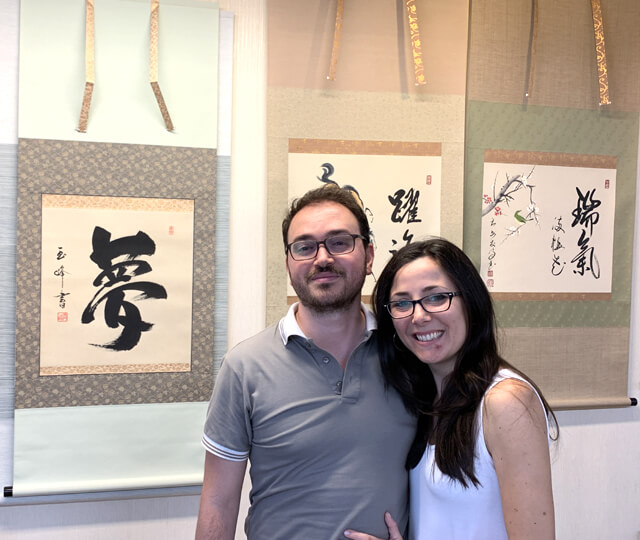 Memorable Japanese Honeymoon Souvenir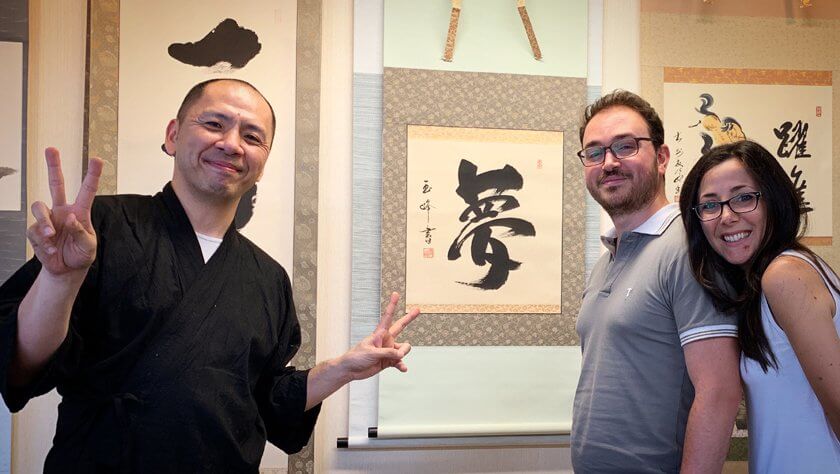 When they traveled Kyoto during this honeymoon trip, they had a chance to get a calligraphic work from a Japanese calligrapher. It was very difficult for them to choose a calligraphic work, "Ai" (愛, love) or "Yume" (夢, dream). They chose "Ai" (愛, love) because they were on the honeymoon trip. Of course they were pleased with the Ai calligraphic work but they had a strong attachment to the "Yume" calligraphic work.
The Yume kakejiku was the first one we showed them and it seemed that they felt "This is it!!"
They were really pleased with the Yume kakejiku and said , "we will remember ART NOMURA whenever we see the scroll in our home." Thank you very much!!
When you are looking for kakejiku hanging scrolls as Japanese souvenir, please feel free to drop in on us. We will be delighted to welcome you here.
Opening Hours :
Monday to Friday : 09:00am to 18:30pm
The first & the third Saturday of each month : 09:00 to 17:30pm
Closed :
Sundays, the second and the fourth Saturday of each month, National holidays
*Please contact us in advance if you would like to come on the closed days.
Follow Up Information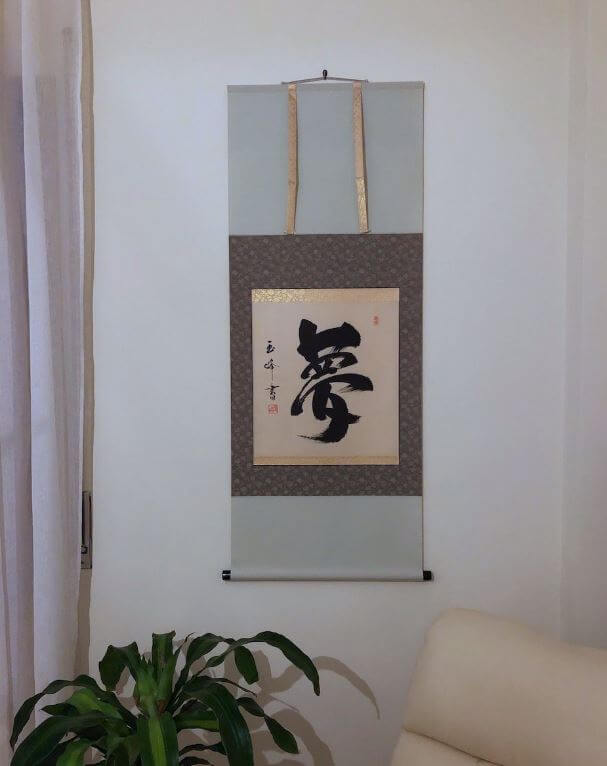 The customers gave lovely feedback to us on Tripadvisor after their trip.
"An experience we will not forget"

We were in Japan for our honeymoon and wanted to buy a "kakejiku" as a souvenir for our new home. After some searching on internet, I found that in Kobe there's this antique shop that sells kakejiku. I love them as I saw them in a videogame called Shenmue when I was a child. We want to the shop and even before talking about business, the owners offered us a cup of tea. They then opened lots of scrolls and gave us all the time to decide which would have fit best at home. I told the owners the Shenmue thing and the fact that we were tourists from Italy and they were so kind to remember all the story and to write it in a blog post on their website.
We'll never forget that afternoon, that's for sure!
It's my honour to have met them and I will never forget them. Thank you so much from the bottom of my heart.