Kakejiku Online Shop | Order of Landscape Painting by Yuri Tezuka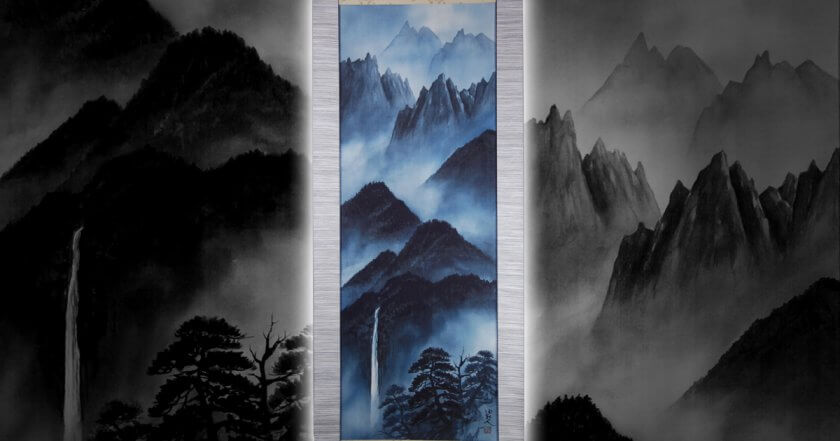 All items on our web pages (products and bargains lineup) are for sale. For items without price information, please contact us through "contact form" on the bottom of the screen. If you are interested in items that we introduced in our blogs or articles, do not hesitate to let us know.
A few days ago, a lady in the USA asked us the price for the landscape painting by Yuri Tezuka and she made a purchase. Please see the painting in detail as below;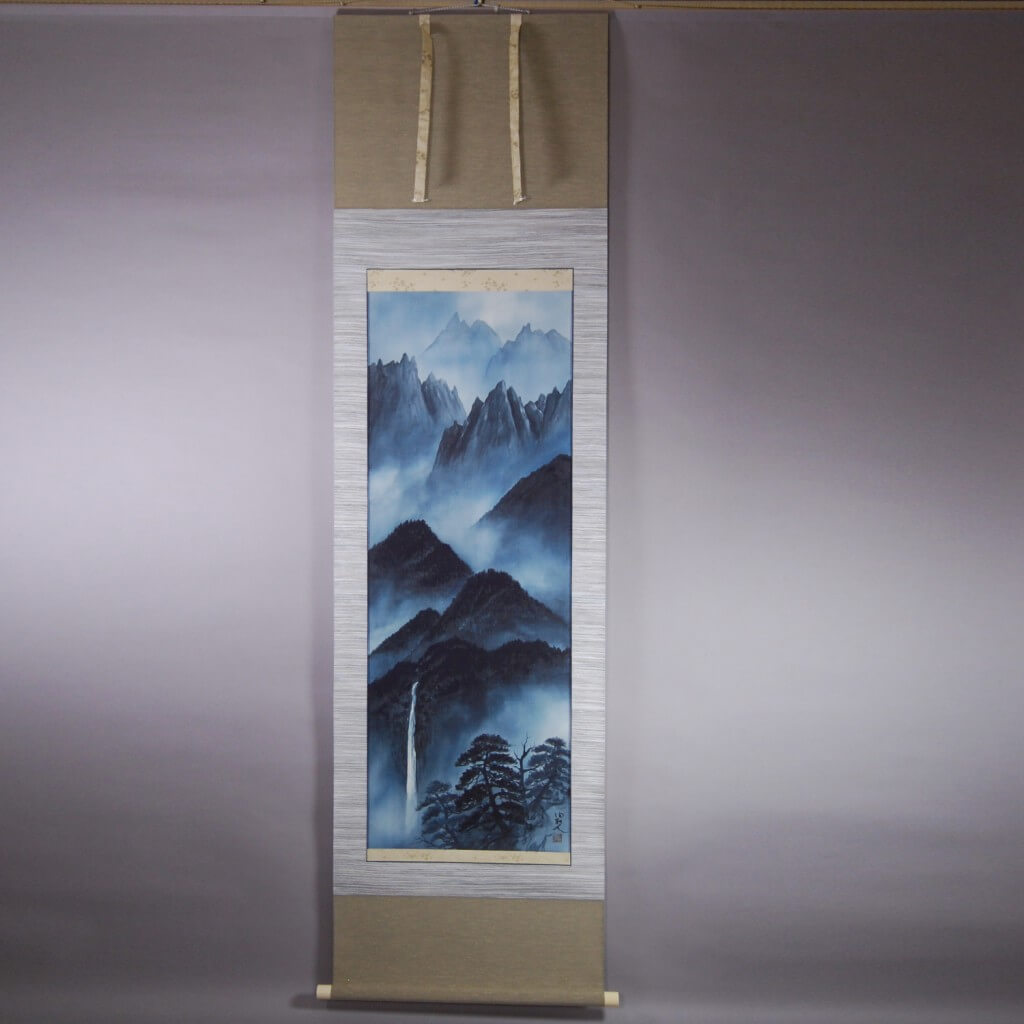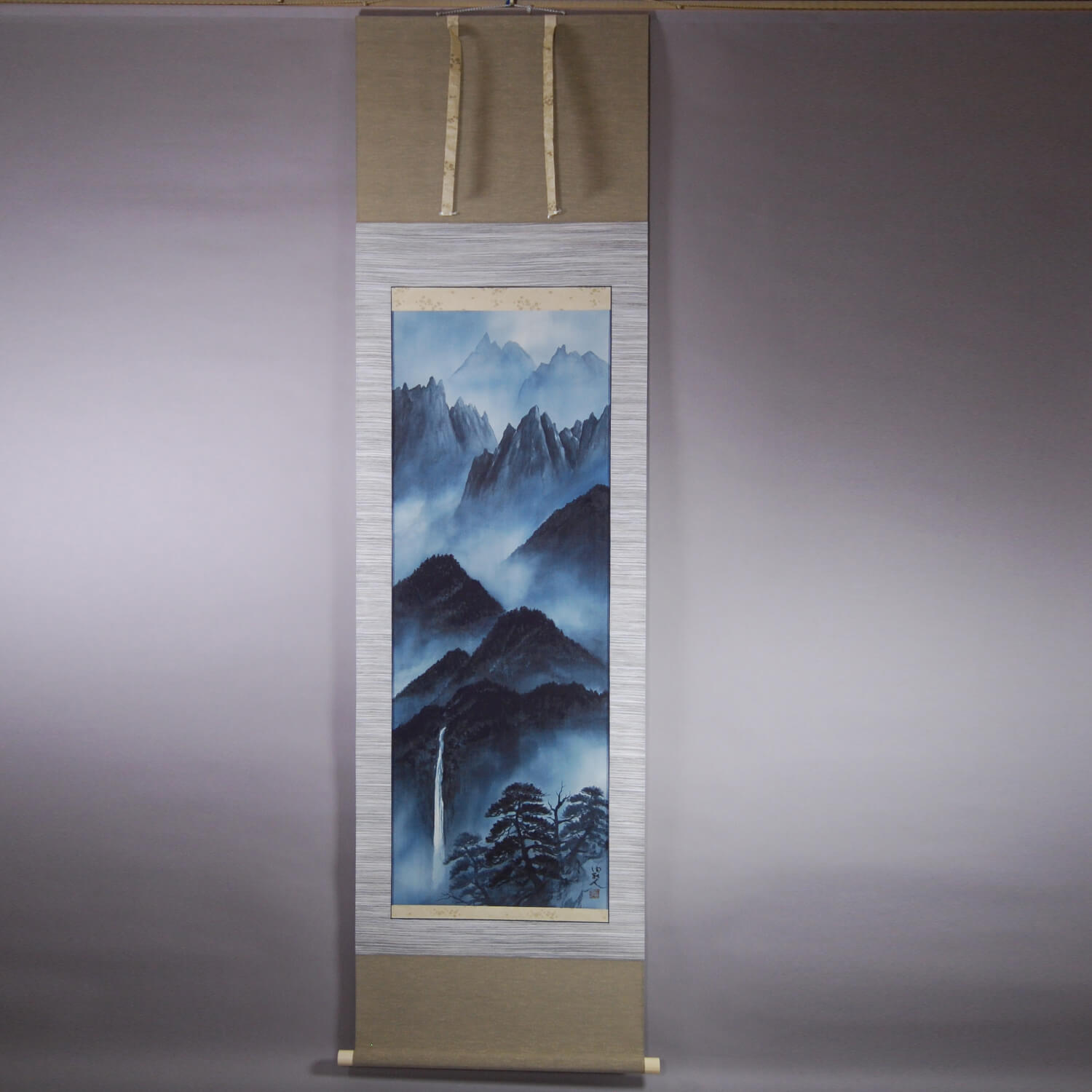 Yuri Tezuka can freely produce a variety of shades of Sumi ink and succeeded in highlighting some aspects (Mountains and trees) against others. Yuri's choice of blue Sumi ink instead of black Sumi ink creates "tension" in her artwork. It causes the viewer to feel the power of nature. She is skilled and talented in handling "colors of Sumi ink" as well as the powerful and energetic paint strokes.
Yuri Tezuka is from Hokkaido. It is a vast island in northernmost Japan and a place where people gather in Spring/Autumn seasons to enjoy the picturesque scenery. Many tourists also visit Hokkaido in the winter season for the best powdery snow in the world. However, Hokkaido is in a heavy snowfall region of Japan. For the people living in the region, snow is not always welcomed because they must cope with the impact of difficult weather and snow conditions. For Yuri Tezuka who had been facing the hard-cold winter in Hokkaido from early childhood, the winter was a very harsh thing. It must have influenced her painting style for landscape painting in Sumi ink.
She depicted the mountain range that extended from the bottom to the top, taking advantage of a vertical composition that is unique to a hanging scroll painting. Vertical composition emphasizes the height of the mountain and gives a feeling of how high the mountain is. Also, Yuri Tezuka is emphasizing it by making the color of mountain peak lighter and fade away in the distance, while depicting the waterfall and pine trees bigger nearer to the foreground. Fog over the mountain adds a mysterious atmosphere. Yuri Tezuka created a beautiful color gradation of Sumi ink by adjusting its density.
The painting is my personal favorite from our gallery store. I am very happy it is now at a customer's home in the USA. We hope the hanging scroll deepens the beauty of their home for years to come.