Restoration Antique Japanese Kakejiku Scroll: Creases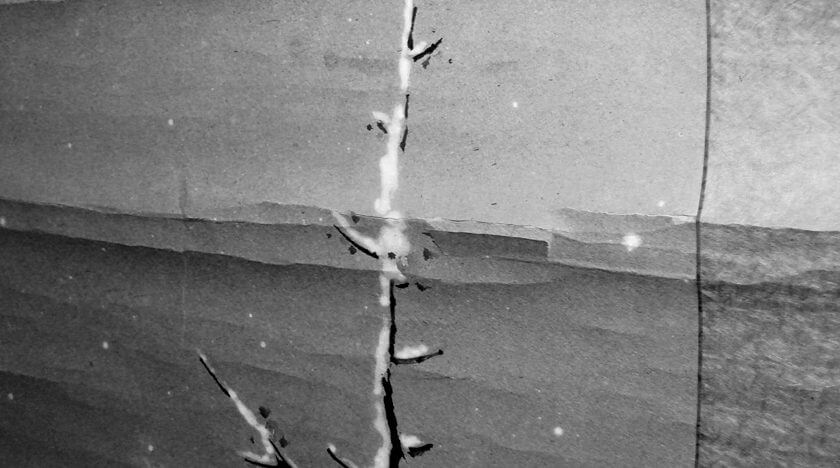 A kakejiku is prone to damage such as creases and abrasions from repeated rolling and unrolling. Creases spoil the beauty of artworks and lead to friction for fabric or the main paper/silk as well as the exfoliation of pigments. Before they get worse, we would like to propose that you have your kakejiku repaired by a mounter or conservator.
Ceases are already progressing with a kakejiku shown below, and a paper used for the painting is on the verge of painting loss.
Kakejiku with Severe Creases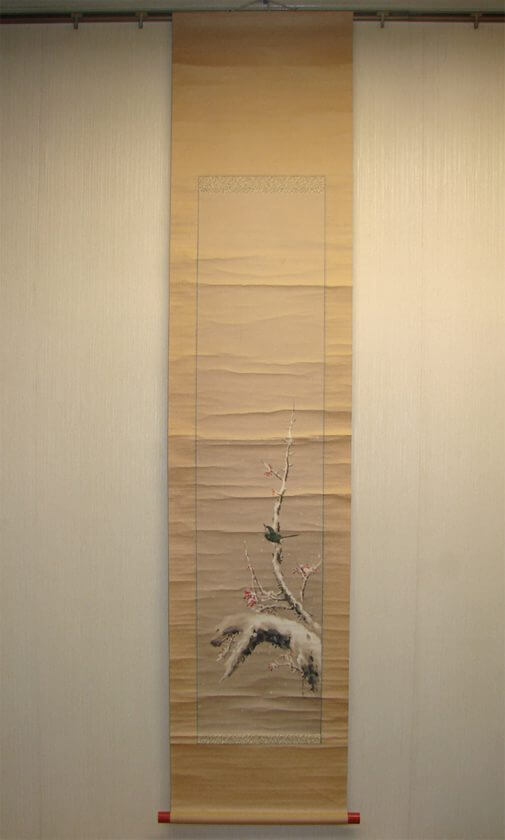 Very long and deep folds are prominent. Let's zoom in on a detail.
For a severe creased kakejiku like this, we will reinforce the creases by applying the thin strip of Japanese paper from the back of main artwork. We call the paper and the process 'ore-fuse'. Once a crease begins to appear, it means the area is vulnerable. The area is likely to produce more deep creases if unattended. Ore-fuse will help prevent this from happening.
This is the area where creases are becoming bigger and wider, then turning into a fraking/loss. (See below)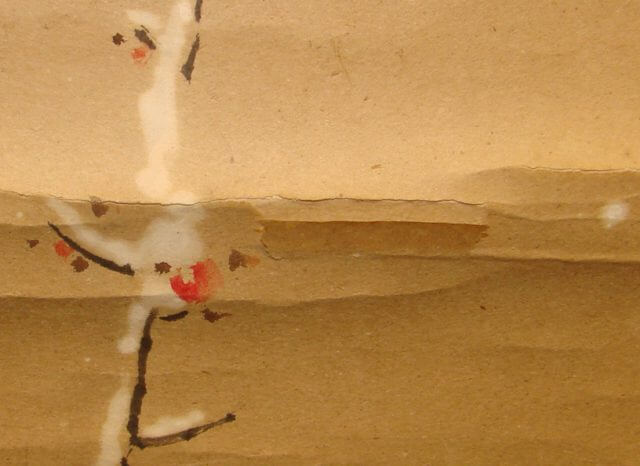 If a loss is set aside for future restoration, we can re-apply it to the lost area. Every kakejiku's circumstance is different so we deal with them on a case-by-case basis. Brittle paper or silk is very difficult to accommodate the missing pieces and sometimes they do not fit perfectly. In many cases, however, a loss is already gone or lost before a client brings an artwork to us. So we would TRUELY recommend you to take your scroll immediately to a mounter/conservator before creases turning into losses. Please do not do anything except keeping the losses. If you try to add a touch, it could make the situation even worse.
Restoration (Remounting) Process
Outline of the restoration process will be as follows:
01. Selection of the mounting fabric

02. Disassembly

03. Removal of the old backing paper

04. Hada urauchi (First backing)

05. Orefuse (Reinforcement)

06. Fabric Attachment

07. Mashi urauchi (Second backing)

08. Mimi-ori (Folding over the Edge)

09. The Final Backing

10. Finishing
If you want to know more about the restoration process, please refer to the below video.
Restored Plum Blossoms Painting Kakejiku Hanging Scroll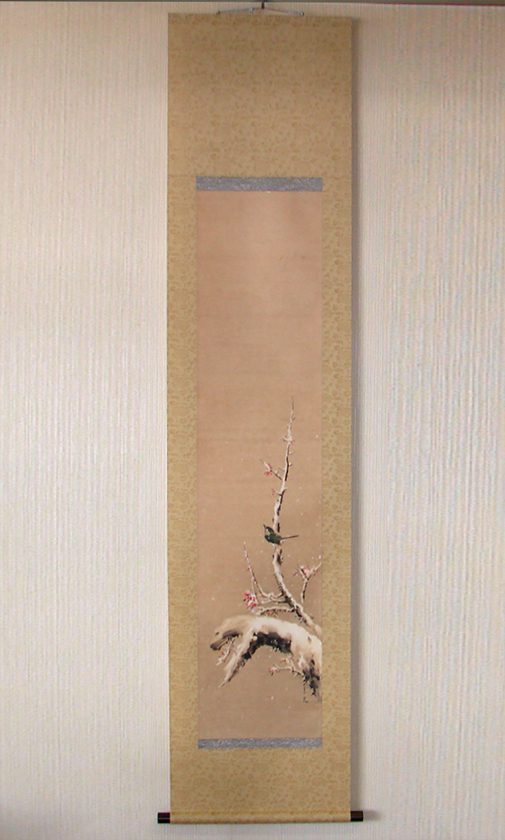 Ta-da! We have remounted the kakejiku with the process of ore-fuse. Creases were beautifully restored. You will notice the difference when you compare Before & After photos as below;
スライドショーには JavaScript が必要です。
スライドショーには JavaScript が必要です。
スライドショーには JavaScript が必要です。
スライドショーには JavaScript が必要です。
スライドショーには JavaScript が必要です。
With this kakejiku, we could join the almost-becoming-loss piece back to where it should be. Deep lines became less obvious. Please remember, once you find a sign of a crease, that is the best timing to consider remounting. The longer it takes to restore, the worse it gets. The worse news is that it results in higher restoration fee.
We are pleased to offer you a free estimate for restoration. Before the condition of your scroll gets worse, please feel free to contact us.