Make It Shine: Shin Mounting Style Maximized the Appeal of Art Work fm Switzerland.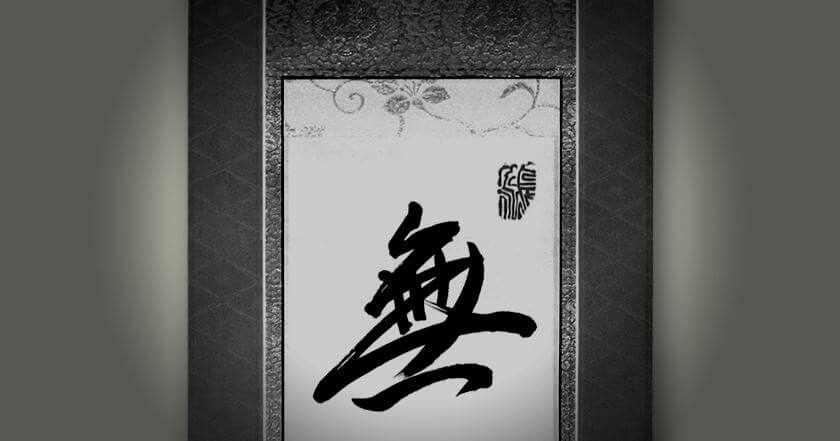 We are getting a lot of inquiries from many parts of the world. It is not definite, but we often feel national traits and cultural characteristics from the messages we received.
For example, we had opportunities to work with Swiss people in the past. We somehow feel that Swiss and Japanese people have so much common and are alike in personality. We both have an appreciation of a climate with four distinct seasons. If the seasonal change has a noticeable impact on our lifestyles and personality, it may be the reason why we find many similarities.
Today, we would like to talk about our recent order from the country. As mentioned above, Switzerland. Matterhorn, Jungfrau, Mont Blanc, Zürich – these are the places in Switzerland we would like to visit someday.

Calligraphic Work: Mu-ge-kou Sacred Light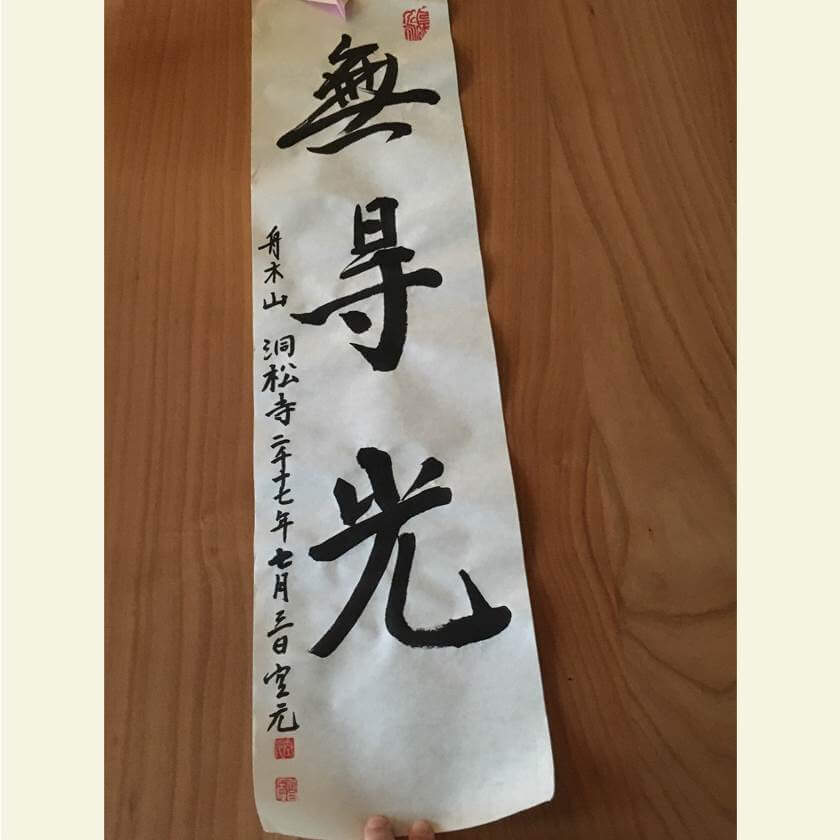 We received an inquiry from Roger-san for mounting calligraphy on Japanese paper. A priest in Toushou-Ji temple that is located in Okayama prefecture made this calligraphy. The calligraphy "無碍光 mu-ge-kou" means one of the sacred lights that is radiating from Amida(Amitabha) Buddha.
SIZE: (Length) 675 mm x (Width) 175 mm  A little bit small in size.
After mounting, it is going to be displayed at a Soto Zen Buddhist monastery. Wow, there's a Soto Zen temple overseas! We would love to visit there sometime.
Roger-san told us that the following article caught his eye.
We are so happy that the article has opened the door to new beginnings, new adventures, and new energy.
Roger-san's first request was to show him some "highest quality" mounting patterns. Patterns that would match to the work and an option of 1 paulownia wooden box.
Hmm… the highest quality for the work that will be displayed in Soto Zen monastery in the future. That'll be a challenge. To tell you the truth, it turned out that we misunderstood what Roger-san meant by "highest quality". Please read on to see a result.
We made some suggestions as follows:
6 Suggestions of Mounting Patterns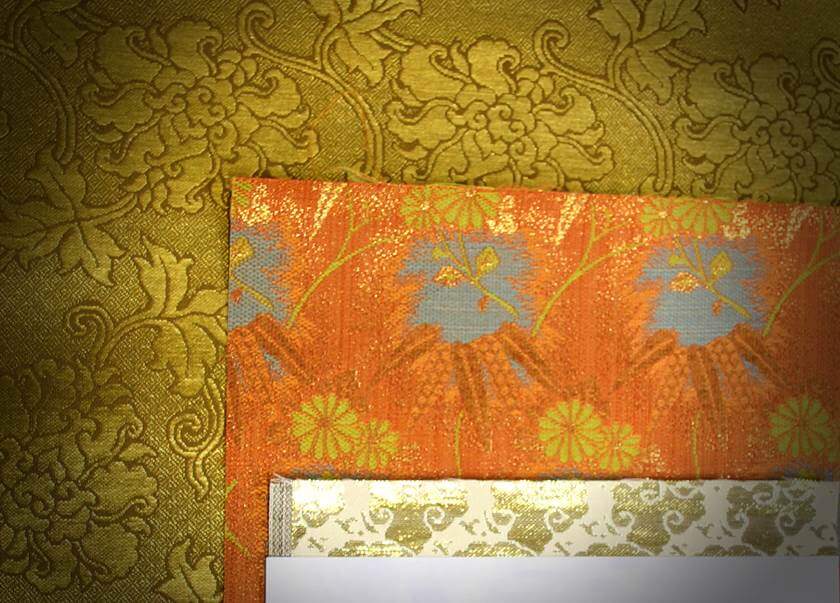 Considering the meaning and a writer of the calligraphic work, we thought Buddhist-mounting (or shin-mounting style) is the most appropriate style. So, we made some sample patterns with it. For Buddhist-mounting, please refer to the following link.
Here are our first estimate and proposals to Roger-san.
We chose all of the fabrics from the high-quality gold brocade except suji mawashi due to following reasons:
(For suji-mawashi, please refer to : https://nomurakakejiku.com/lesson_lineup/parts-name-of-shin-style)

# The calligraphy "無碍光 mu-ge-kou" means one of the sacred lights that is radiating from Amida(Amitabha) Buddha.

# Gold brocade has a characteristic that its beautiful radiance never fades away. We think this perfectly makes sense for this calligraphy.

# To respond to his request for the highest quality work
About Gold brocade
High quality gold brocade are special because they are all made with :
+ pure silk
+ superb gold thread (the pure silk thread is covered with high purity gold leaf.)
The grade of the gold brocade varies depending on the purity level of the gold.
We printed the artwork with full-size(675×175 mm) and made some mounting patterns with each different fabrics.
Image 001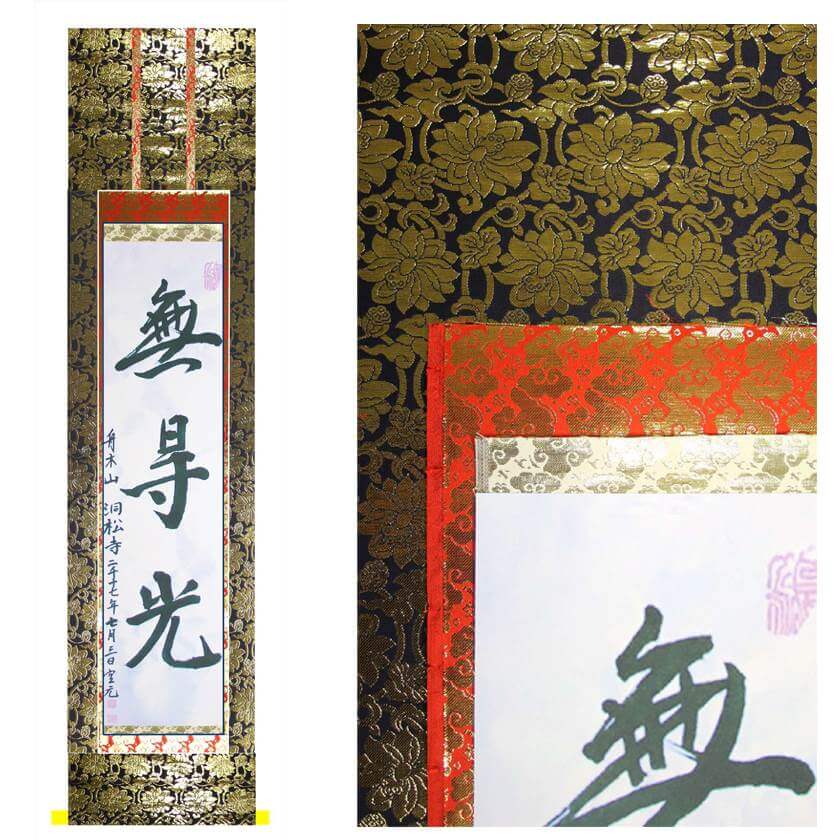 Outer enclosure
Lotus represents one of the teaching of Buddhism that they bloom brilliantly even though they set their roots deep down in mud.
Inner enclosure
Fabric called "富田雲- tomi-ta-gumo-" The shape is the combination of cloud and lingzhi mushroom(this is treasured in China & Japan). The most common and popular Buddhism pattern nowadays. Tomita is named after a samurai worrier who loved this pattern.
Ichimonji enclosure
White color of "富田雲- tomi-ta-gumo-"
Image 002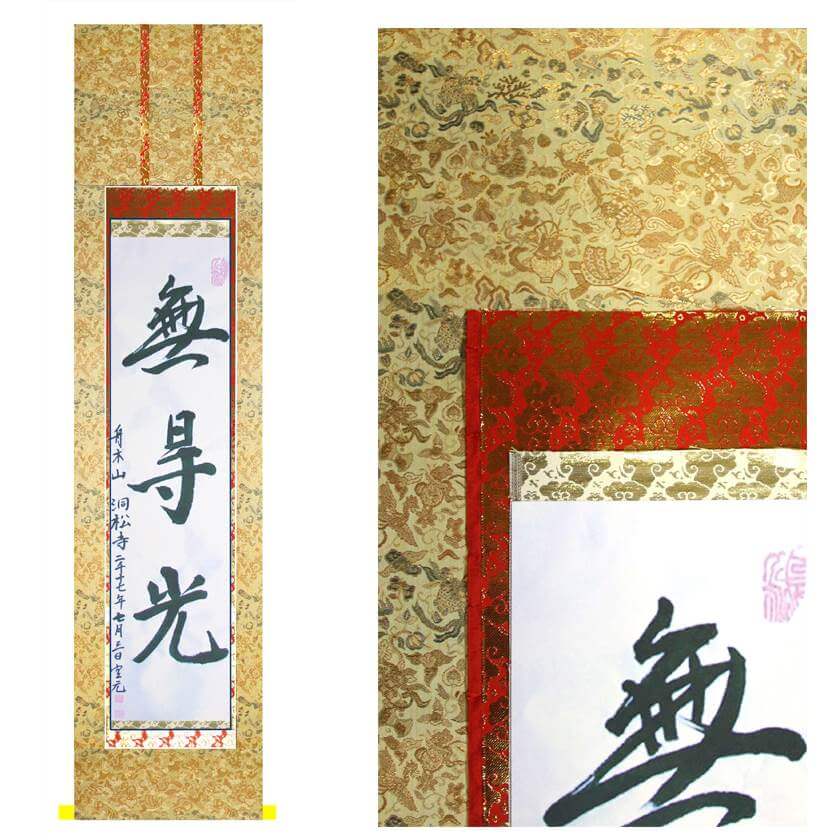 Outer enclosure
Legendary phoenix in Chinese mythology is dancing in the sky.
Inner enclosure
the same as image 001 (red tomita)
Ichimonji enclosure
the same as image 001 (white Tomita)
Image 003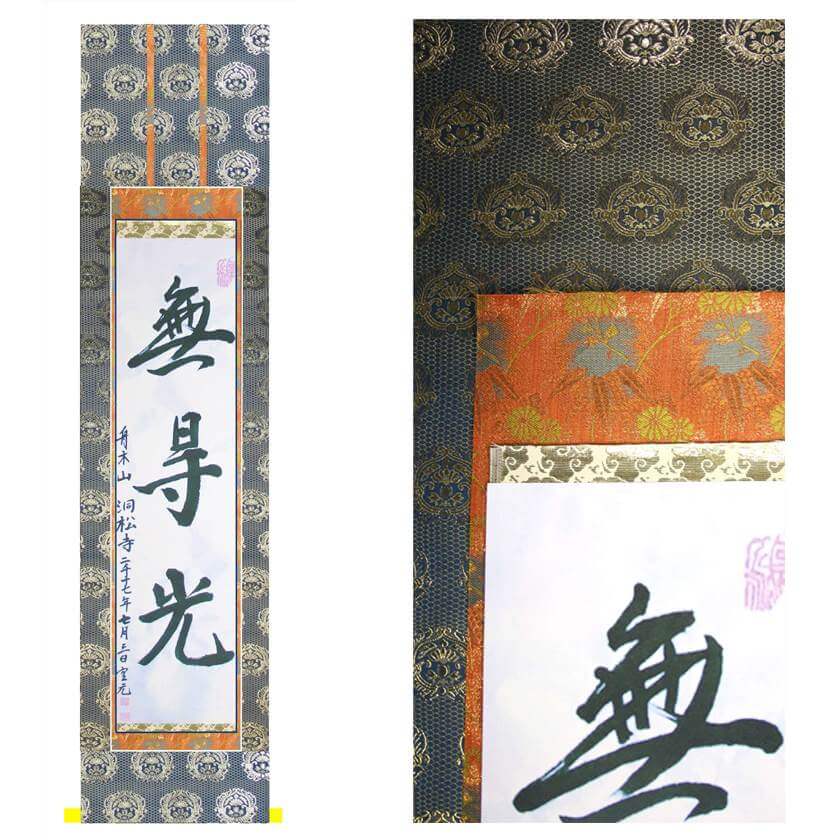 Outer enclosure
Chinese ancient crown pattren with turtle shell on the background. Turtle is one of the four auspicious beasts from Chinese mythology called "the Book of Rites".
Inner enclosure
Softly colored yellow green flowers on bright vermilion background
Ichimonji enclosure
the same as image 001 (white Tomita)
Image 004
Outer enclosure
Shokko-mon (Lattice pattern) by connecting octagon and square with Chinese arabesque. Its characteristic is that it uses a lot of different colored threads.
Inner enclosure
the same as image 003
Ichimonji enclosure
the same as image 001 (white Tomita)
Image 005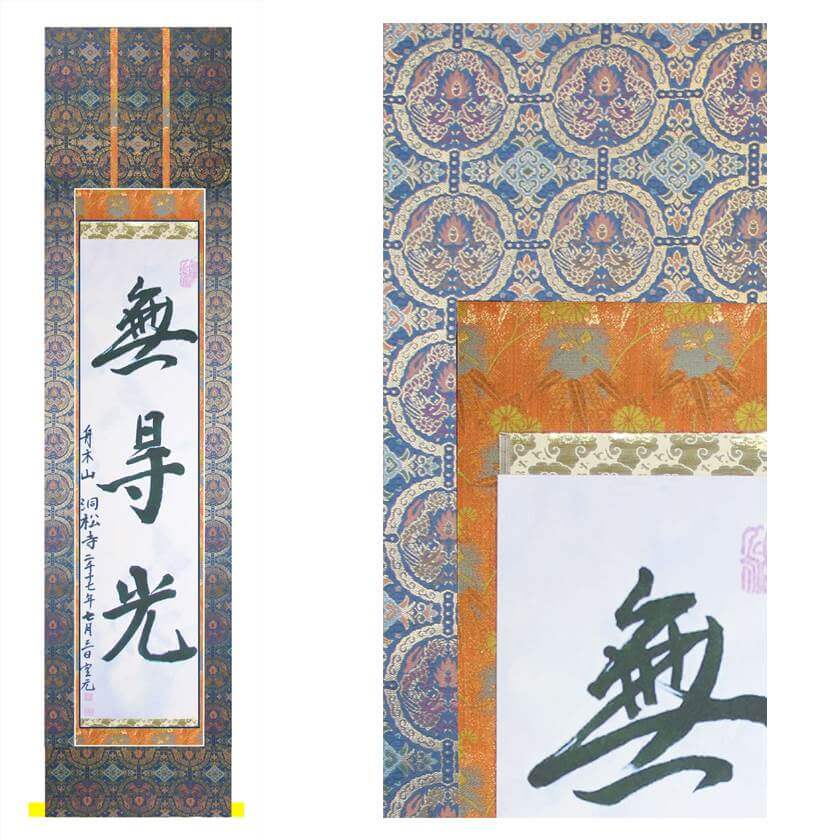 Outer enclosure
Made a few adjustments to Shokko-mon (Lattice pattern). Two dragons are facing each other in the circle. Navy on the background with a lot of different colored threads.
Inner enclosure
the same as image 003
Ichimonji enclosure
the same as image 001 (white Tomita)
Image 006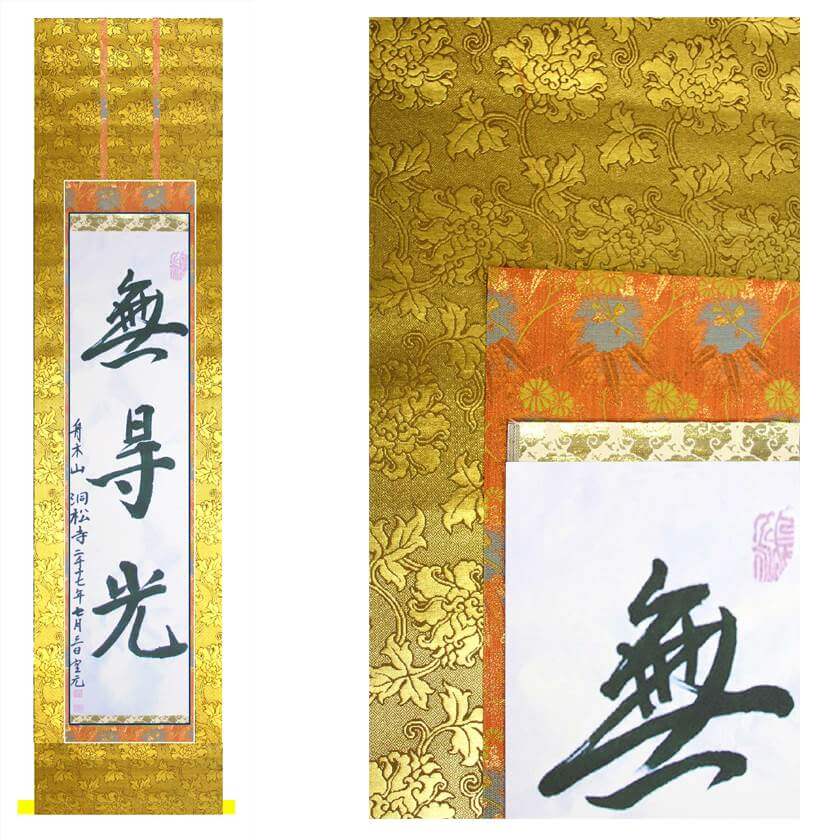 Outer enclosure
Peony pattern (peony is the king of the flowers in Japan & China).
The highest quality gold brocade with most of the fabric are made with gold thread. The scroll gets dignity and deep shine. Very glamorous. For the outline of the flowers, other colored thread is used to stand out its shape clearly.
Inner enclosure
the same as image 003
Ichimonji enclosure
the same as image 001 (white Tomita)
Fabrics we chose are all manufactured from highest-grade materials.
The prices of these highest-grade fabrics continue to rise due to a large decrease in production. Especially for Kimono industry. Also, there is a problem that the textile industry has too few young, productive workers. Thus, it is not surprising that the price of the highest-grade fabrics is going up every time we place new orders.
Accordingly, the fabrics that we chose for Roger-san might be over his budget. We also had one concern if we properly understood what he meant for "high-quality" so we sent him the first estimation with the following comment.
This time, we have prepared the mounting patterns with high-quality gold brocade to make your scroll a highest quality one. However, we are happy to cater to your needs and budget so please feel free to inform us if you have any requests.
We got it wrong!
Our guess turned out to be right. Language is a very difficult thing. As the Internet evolves, we can attach photos and files to our e-mail. Yet, misunderstandings still occur since we are not native English speakers. To avoid such misunderstandings, we share some sample images on e-mails for mutual recognition.
What Roger-san meant by "highest quality" was that "the mounting that brings out the best of the artwork". The materials of mounting needed not necessarily be expensive. He understood very well that the mounting fabrics should not upstage artworks. Artworks are the leading actors.
Roger-san kindly explained to us where the scroll would be displayed. He also informed us his preference with some examples from our website.
The spot, where the image will be hanging in the future is also important. I will provide you right with some pictures of the environment of my future kakejiku. It is more of a Zen Dojo than a Zen Monastery actually. As you can see it is very light, brillant, unobtrusive. It works mainly with textures rather than patterns; with natural, tertiary colours than with primary and secondary colours and rather with transparency and layovers than opaque surfaces. I want my calligraphy to fit into this environment. But I still want to have an authentic Shin style.

INSPIRATION

Of course, we can not go with the materials you offered me, so here are some ideas and inspirations that I found mostly on your website:

I believe, this is not Shin style, but I very much like the style (Gyou style??) which is also used in our main monastery Eiheiji for some Kakejikus. Here I like the colours, and the material. not so much the Jikusaki.

Here I like the naka-mawashi and also the soto-mawashi.

This is my preferred style (naka-mawashi and also the soto-mawashi) but maybe a little too expensive for my budget. I like the calm background and the harmony between picture and kakejiku materials.

Also here I like the calm background (soto-mawashi) and think the naka-mawashi goes especially well with the bold kanji.

Here I absolutely love the harmony between calligraphy and kakejuki colours and material! But my calligraphy is an completely other style of course and the materials in the kakejiku are most probably too expensive for my budget.

To fit our budget, the Kikejiku could also be more simple if necessary as on the picture underneath.

Here are some Jikusakis that I like:

Dear Yuuichi Nomura,

I'm sure we will find a solution and am looking forward to hearing from you. For the next days I will be at a Zen Sesshin. Therefore It might be the case, that I cannot answer you before Monday. But we are not in a hurry. I'm looking forward to hearing from you and to working with you!
Many thanks for reading our website! We can tell it from the use of technical terms. The very clear explanation is helpful for us too and the last message from Roger-san made us smile. Thank you very much! Let's find and create the original and "highest quality" kakejiku together!
2nd Suggestion with 3 Mounting Patterns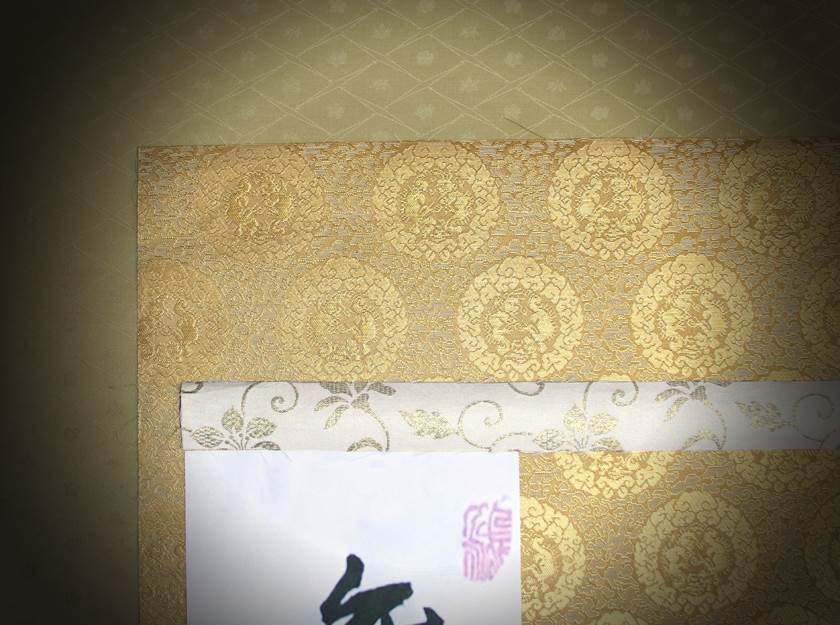 Now we got what type Roger-san liked and made the other 3 mounting images. All is done with "shin-no-gyou" mounting style and crystalline acrylic resin jikusaki (roller end knobs).
Image 007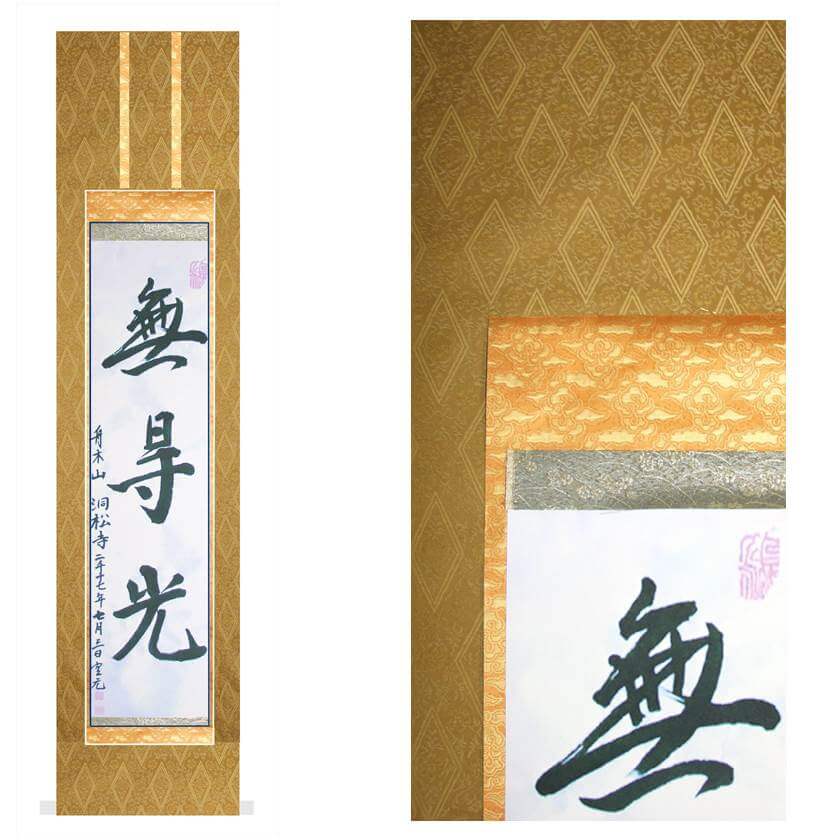 Outer enclosure
Rhombus(diamond) pattern with foliage scroll work.(arabesque pattern inspired by vines, which are vigorous plants.)
Rhombus is a traditional pattern and often used as a family crest since ancient times.
Foliage scroll work represents vitality and is loved as auspicious pattern due to its indication of longevity, development and prosperity.
Inner enclosure
Cloud with 4 wings in all directions on bright vermilion background. The color is more likely muted orange with naked eyes rather than vermilion.
It is one of cloud pattern variations. "雲" Clouds can be pronounced as both "kumo" or "un" and un(運) means lucky.
This is why Japanese people love it and created lots of clouds pattern.
Ichimonji enclosure
Silver flowers and plants pattern on gray background.
Image 008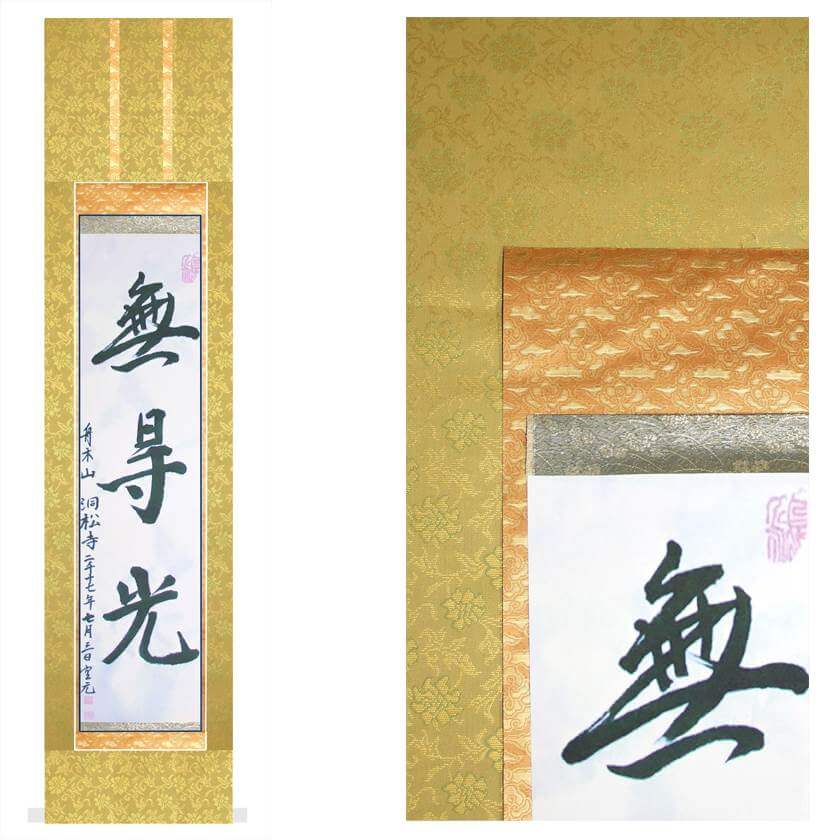 Outer enclosure
Flowers are woven with gold threads. Flowers are outlined with yellow green colour. As a whole, the fabric looks refined and soft.
Inner enclosure
The same as image007 : cloud with 4 wings on bright vermilion background.
Ichimonji enclosure
the same as image007 : Silver flowers and plants pattern on gray background.
Image 009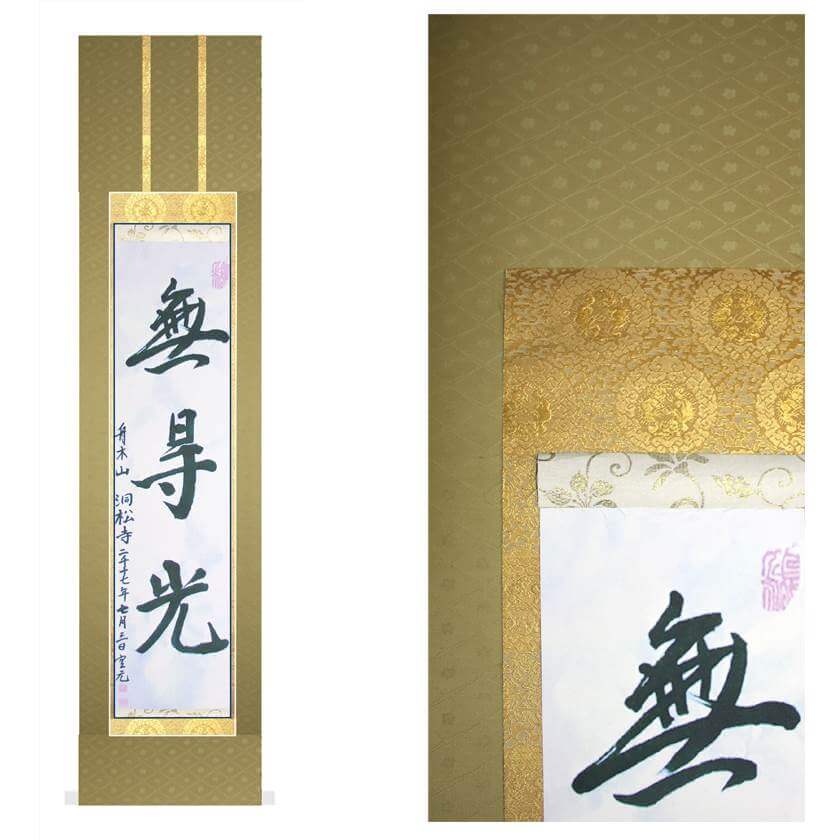 Outer enclosure
Rhombus pattern on muted dark beige(or more like tan) background. It looks elegant.
Inner enclosure
Large pattern of clouds encompassing dragons.
It is a variation of specialty fabrics called "meibutsu-gire" which represents cloths with certain woven patterns.
Ichimonji enclosure
Silver foliage scroll work on white background.
Overall impression
There is a beautiful contrast between outer and inner enclosure. Calm background of outer enclosure (soto-mawashi) accentuates both impressive pattern of inner enclosure and the calligraphy.
Final Choice
Roger-san chose Image 009 out of the three. We are happy that he found his favorite!
The following procedure will be as below :
We ask Roger-san to send the artwork to us. After we receive it, we will check the scroll condition and will offer our final quotation.
The Arrival of the Calligraphy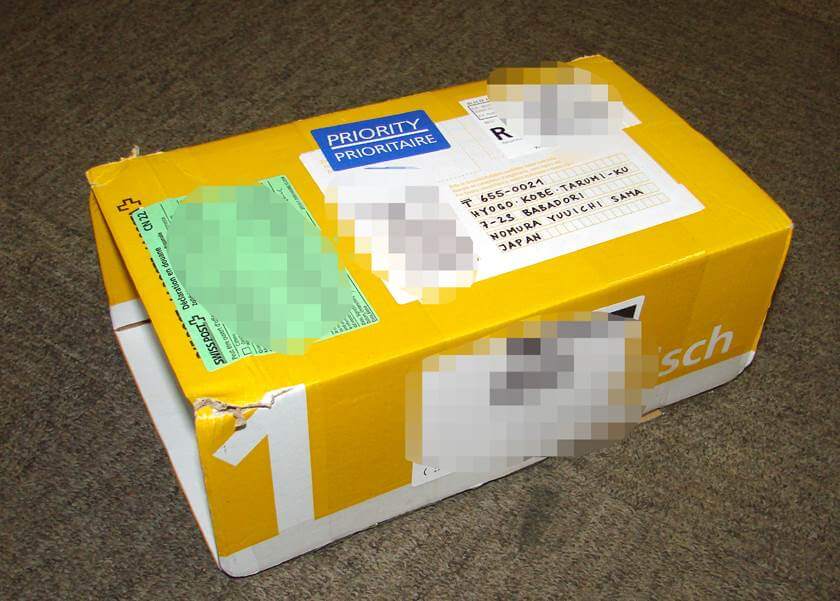 The calligraphy arrived in Japan, all the way from Switzerland!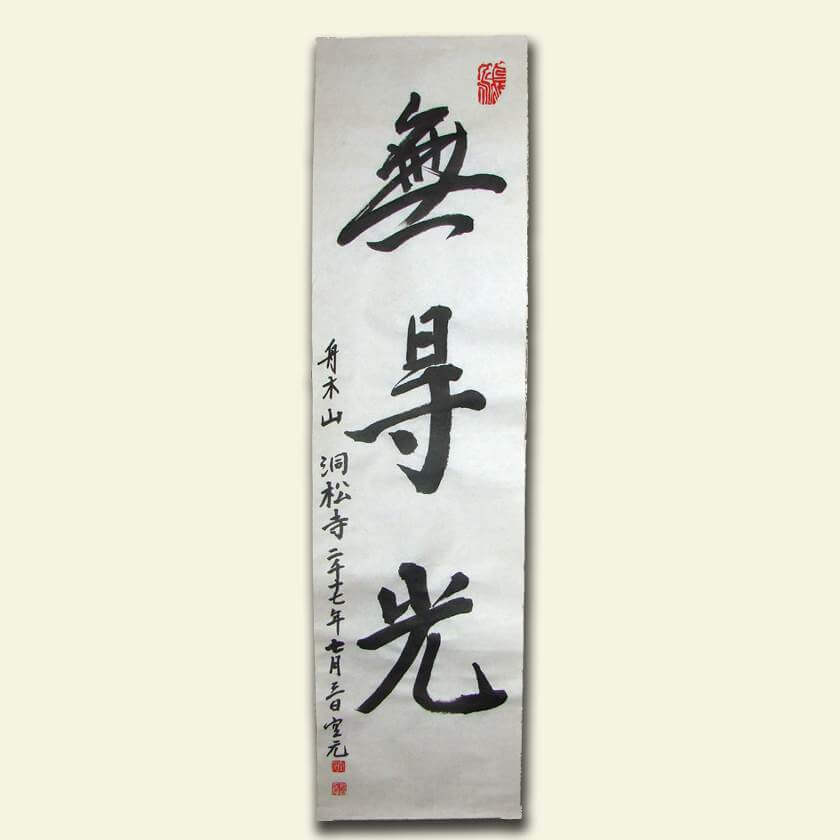 After confirming the calligraphy, we found no problems. We asked Roger-san if he has any requests for the finished size and got his reply as follows;
" Would you like to leave it to us with our recommendation? or if you have any request, please feel free to let us know."
"Yes, I would like to leave it to your artistic feeling and recommendation. "
Thank you for placing your trust in us! We promise we will not let you down.
Urauchi/ Backing
For mounting, we start with the first backing paper. Apply it directly to the back of the artwork. The paper used for this is called hada (skin in Japanese) -urashi. We use relatively thin and strong paper such as 薄美濃紙-usu-minogami for reinforcement.
Put the painted side face down as shown below. Wet it with water and flatten out any creases.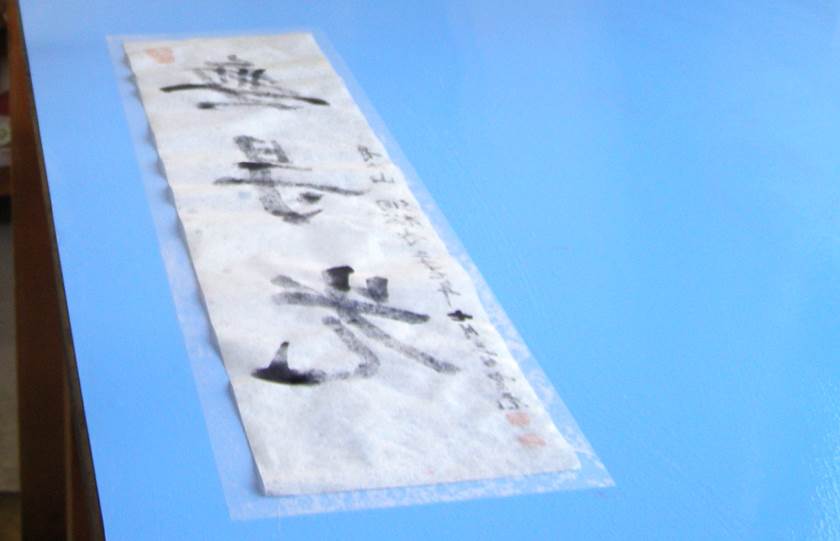 Brush the artwork. Be careful not to use too much power.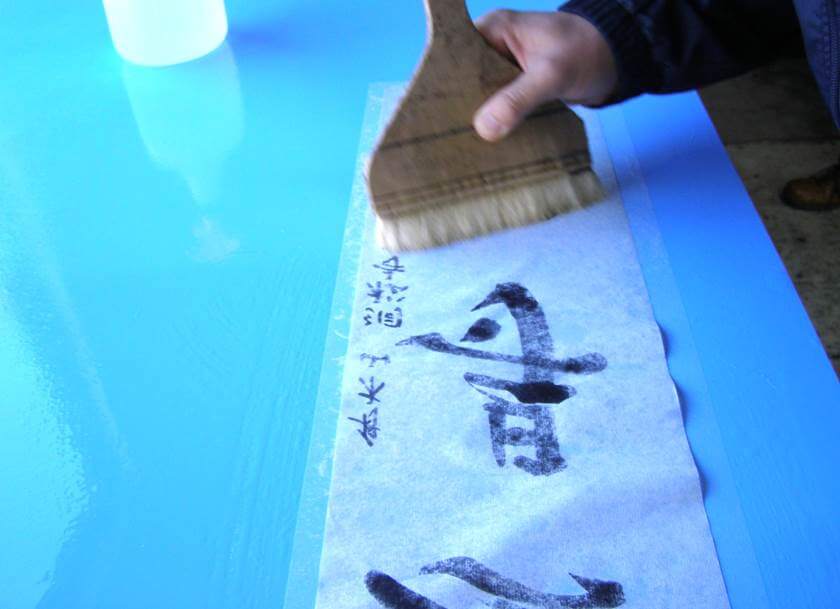 Flatten out creases like the one circled in red.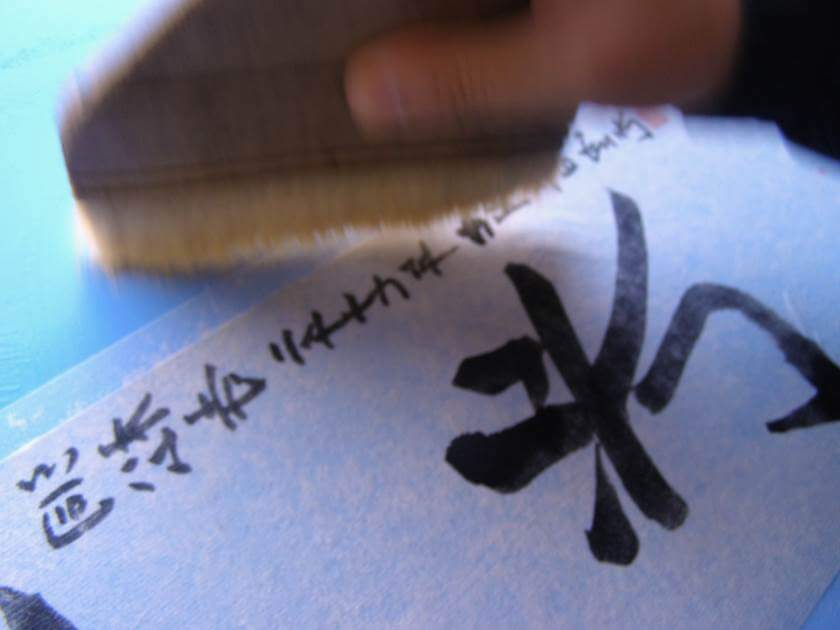 Apply glue to back of the first backing paper.
For artworks on paper, we apply thin liquid glue. For artwork on silk, we apply heavy, pasty type of glue.
After applying glue to the backing paper, pick up one end of the paper and roll it a little bit to a wooden rod, then lift it up. Put the backing paper onto the artwork and start stroking the first backing paper with a brush. When mounting, we decide which type of brush to choose depending on the situation.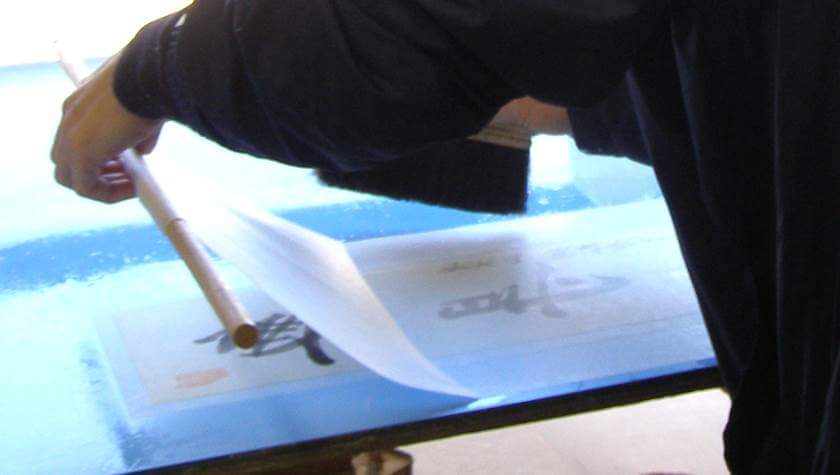 After attaching the backing paper, its surface is tapped with the brush for adhering the backing paper firmly to the main work. Keep tapping until they adhere to each other completely.
Once the first backing is done, put it on a kari-bari wooden board and let it dry.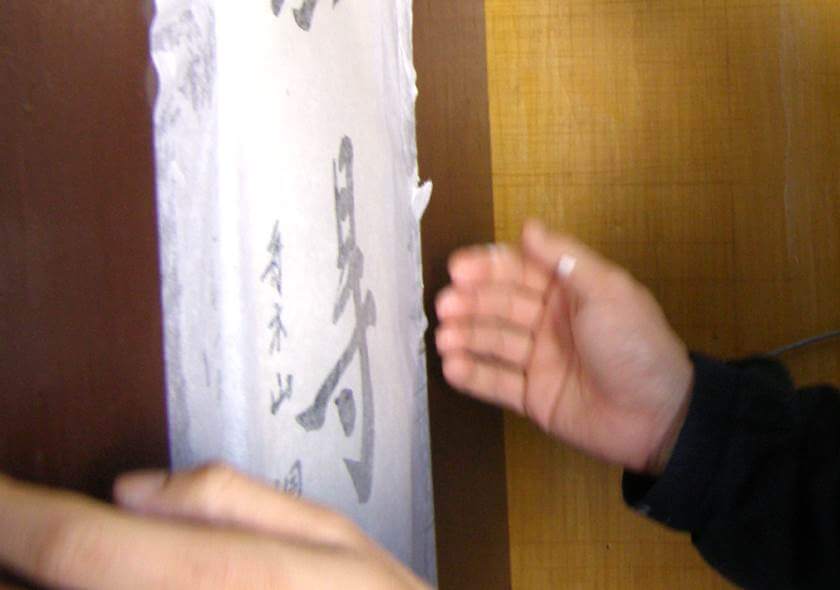 The paper shrinks during drying on the kari-bari board. As it shrinks, the wrinkles and sags are stretched. Eventually, the artwork will become flattened once completely dried.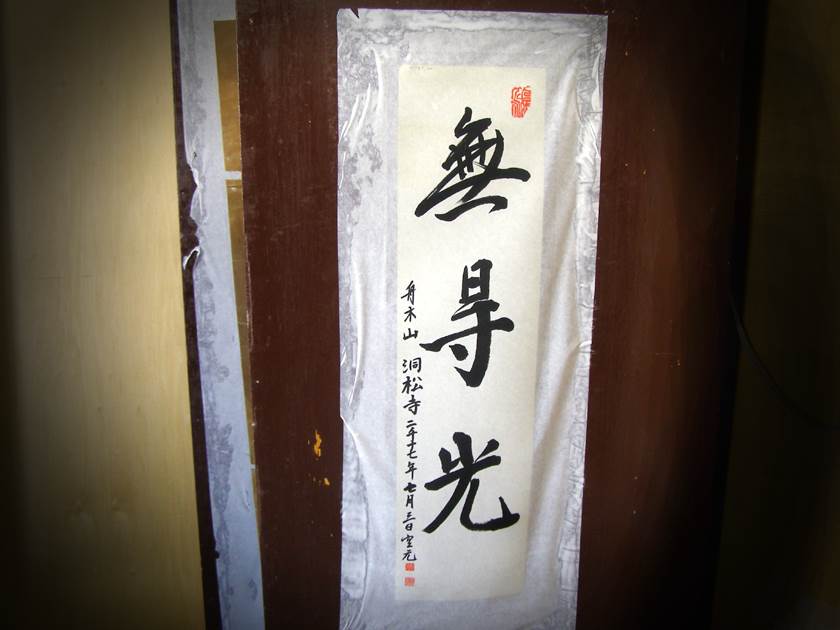 Tsukemawashi, Kiritsugi / Cut and Join: Why does Shin Style require time and effort?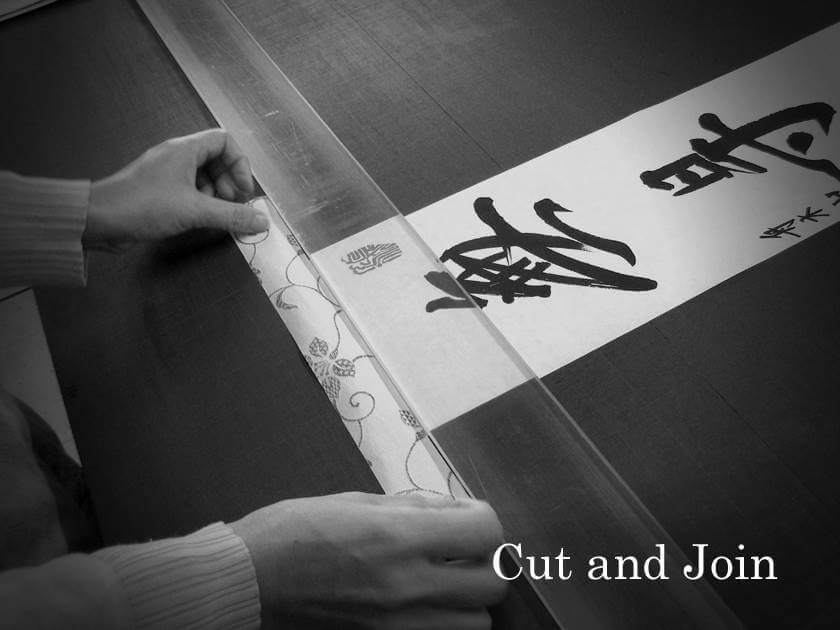 We mount this calligraphy with Shin style mounting (Buddhist Mounting). Shin style belongs to Yamato style mounting group.
Since ancient times, Shin style mounting had been chosen to mount Buddhist painting and calligraphic works for worship such as mantra, writings by Zen monks. It, in turn, was recognized as formal and chosen for mounting masterpieces. To accentuate masterpieces, many mounting parts are assembled in one hanging scroll.
For Shin-no-gyou format like this case, we use 20 fabric parts as shown below.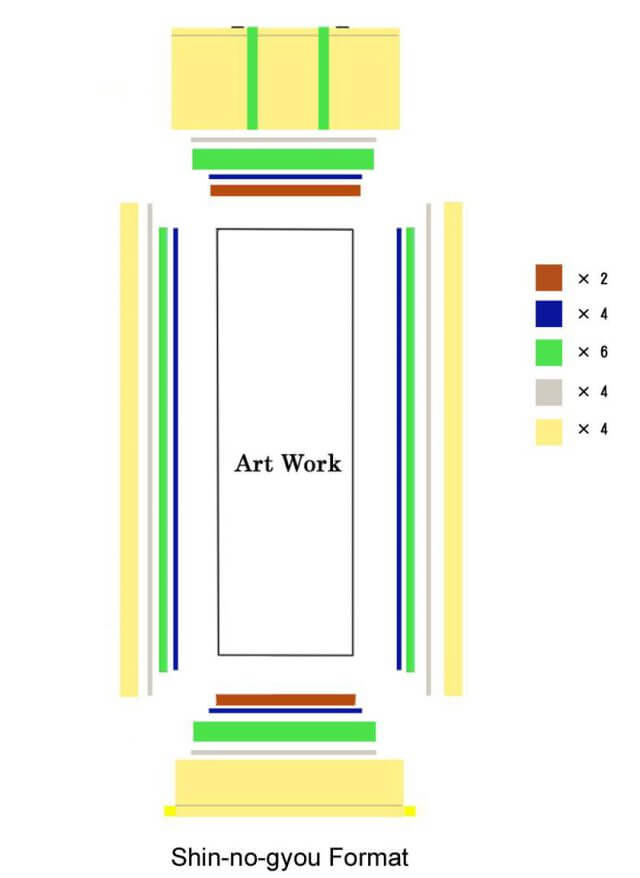 For common mounting styles like Gyou-no-gyou and Maru mounting, we use much less mounting parts. 10 pieces for Gyou-no-gyou. 6 pieces for Maru mounting. This is the reason why Shin-no-gyou format requires more time and effort.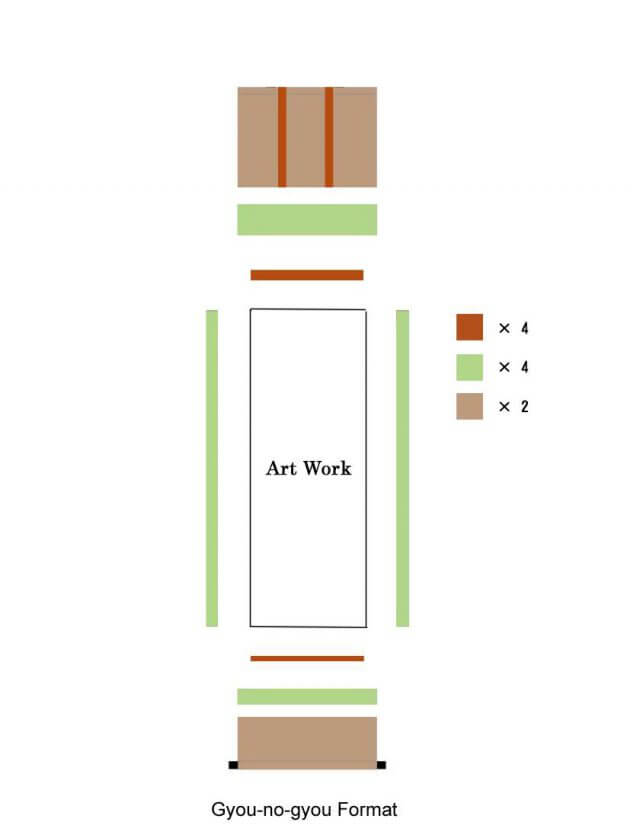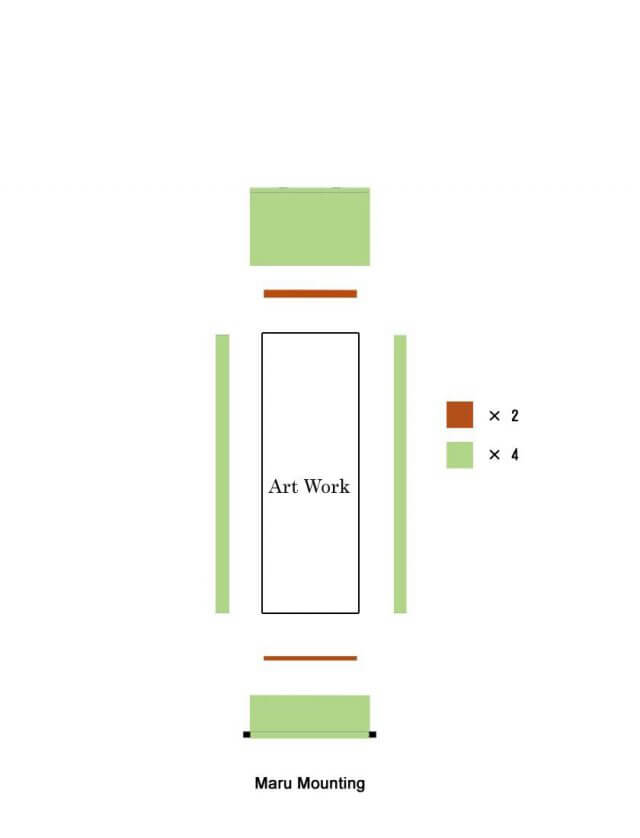 Let's start right at the beginning. Apply a small amount of glue to loose ends to stop them from coming loose.  We call it "Nori-dome."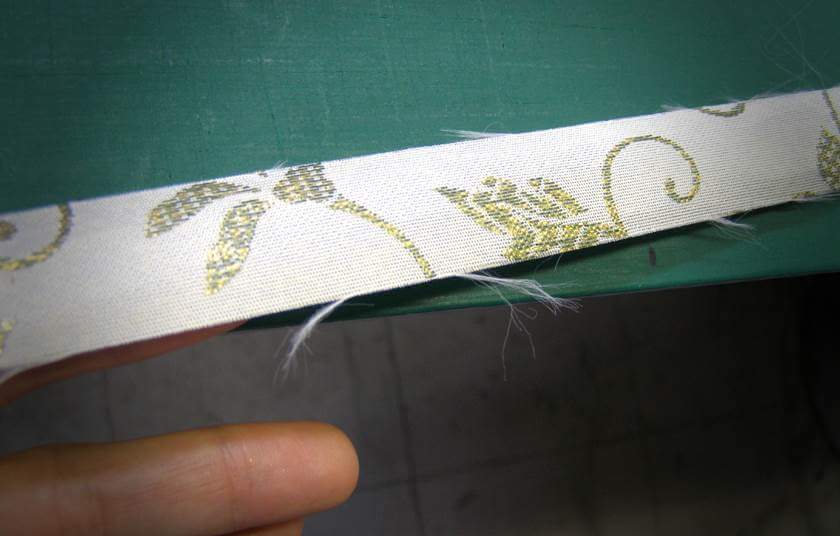 We do Nori-dome to all fabric parts. "Once nori-dome is done, you can say 80% of a mounting procedure is almost done", says our staff. Taking a little bit more time will ensure a beautiful piece of work will be loved and admired for many years to come.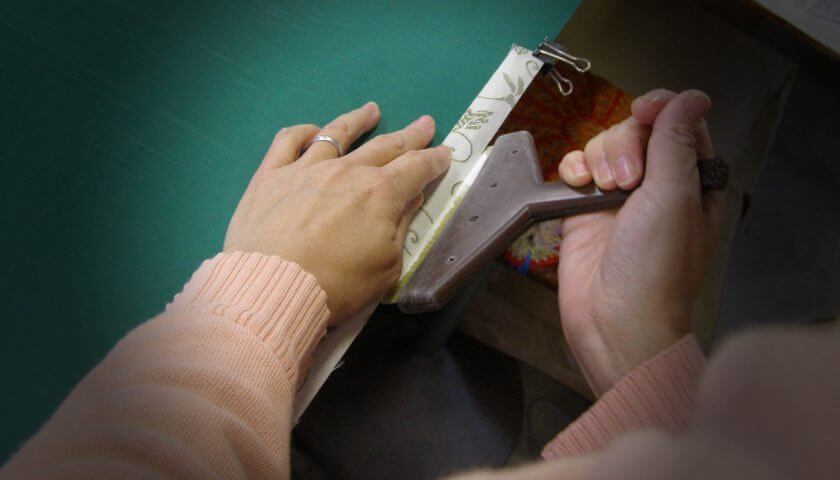 After nori-dome, start assembling fabrics one by one.
Attach thin Navy strips one by one, from the back.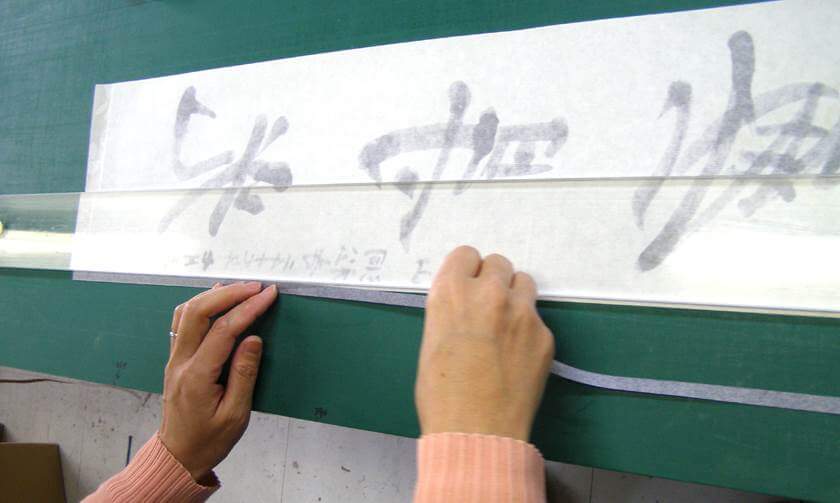 Naka-mawashi (inner enclosure) comes next. Apply glue on the surface of navy strips and put naka-mawashi on it, leaving the area of navy strips visible for 3mm wide.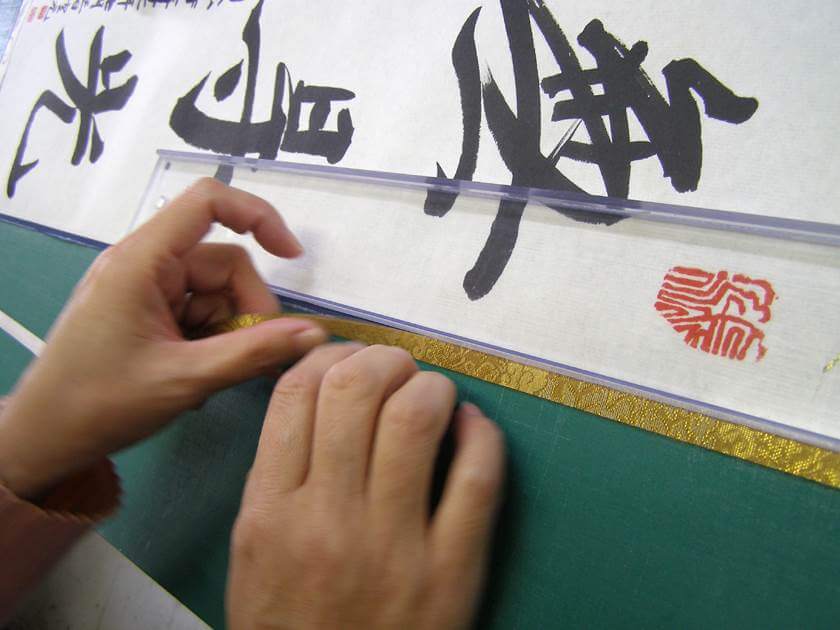 Naka-mawashi is done and we have reached the halfway point of mounting procedure. We still have a long way to go.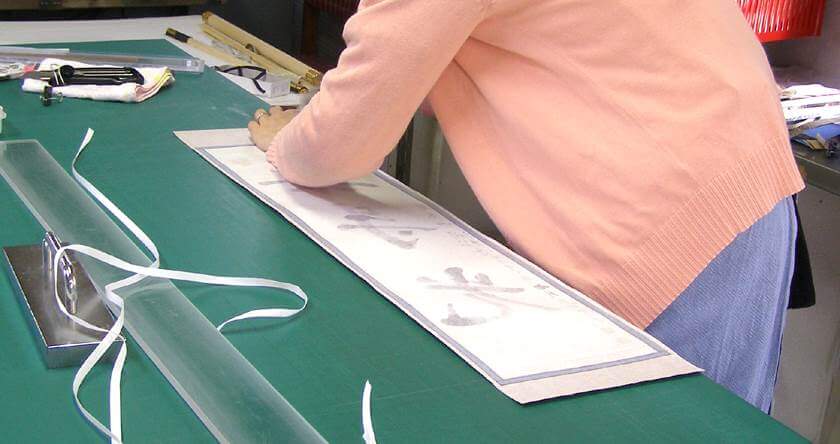 Here, we are applying the white strips that surround naka-mawashi fabrics.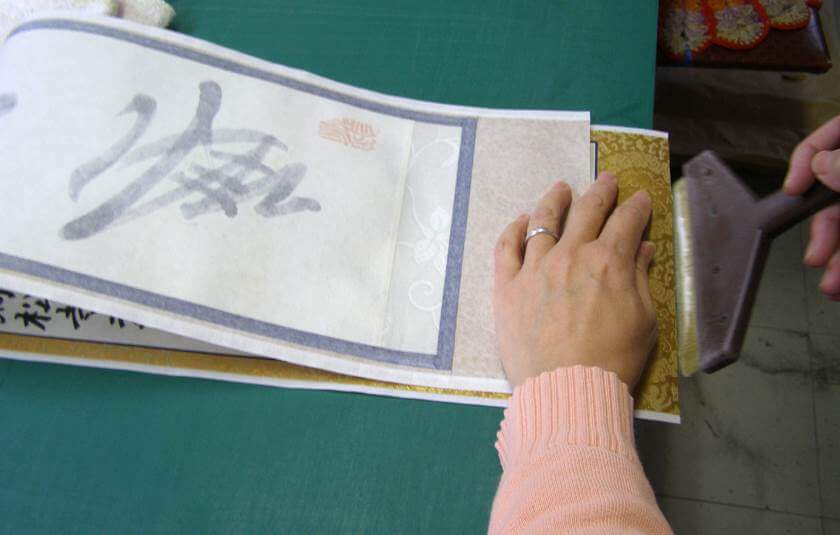 Attach soto-mawashi fabrics (outer enclosure) on white strips.
The reason Shin mounting style is more valuable is that  it takes an extra time and effort to produce it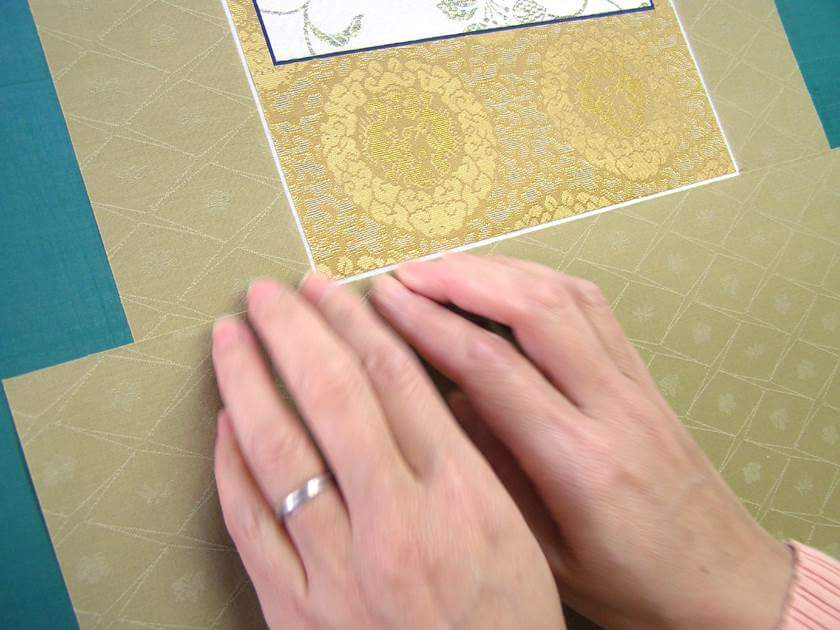 Finally, we have finished cut and join! Shin style is worthy because it gives an artwork class.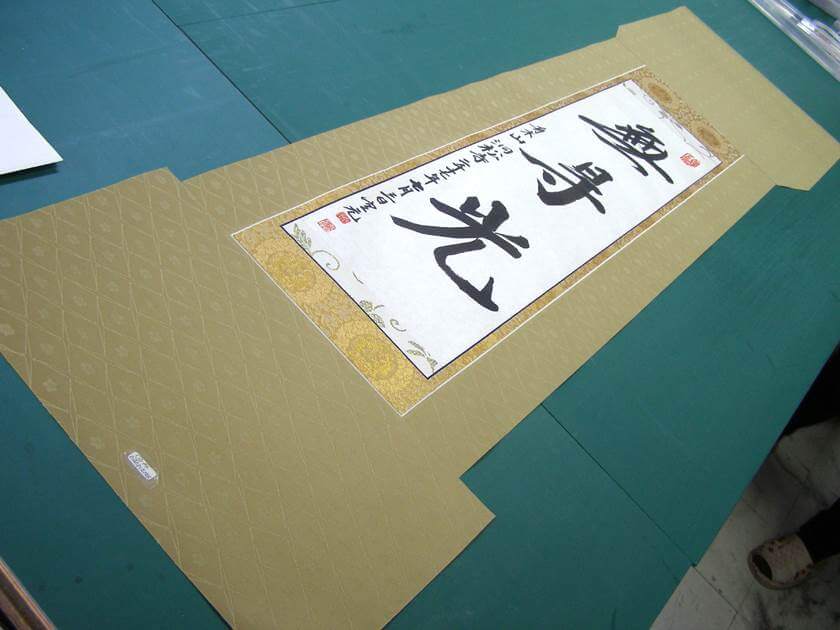 The Second Backing
The second backing is called "mashi-urauchi". (subsidiary backing of the main work and mounting fabric.) Mashi-urauchi is for adjusting strength between artwork and mounting fabrics. For thin, less tensile scroll, we use a firmer, thicker paper. For a high tensile scroll, we use a thinner paper. A fluid scroll can be achieved by adjusting balance and make it easy to unroll and roll up.
Tachiawase / Cutting to Size
After the second backing, take the artwork from the kari-bari board and cut it into required size.
Mimi-ori / Folding over the Edge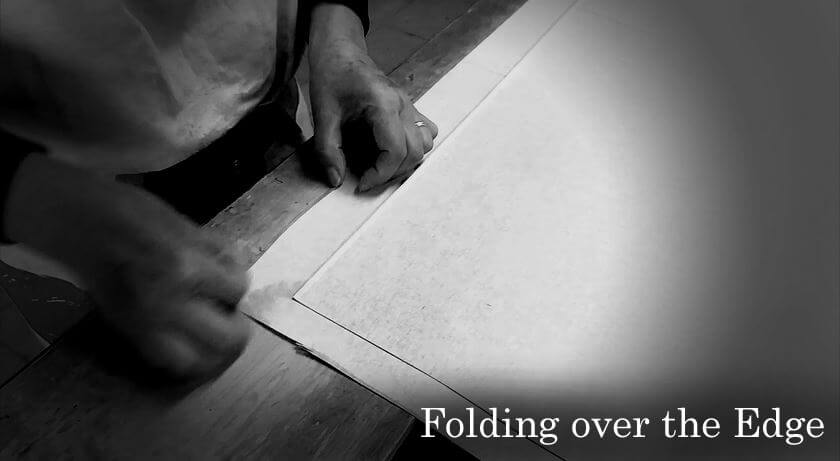 An act of folding flaps over the edges (by 3mm fixed width) is called "Mimi-ori". The mounting fabric itself is firm so it will not bend easily. To be able to fold both sides more smoothly, the sheet of the scroll gets weakened along the so-called "creasing line".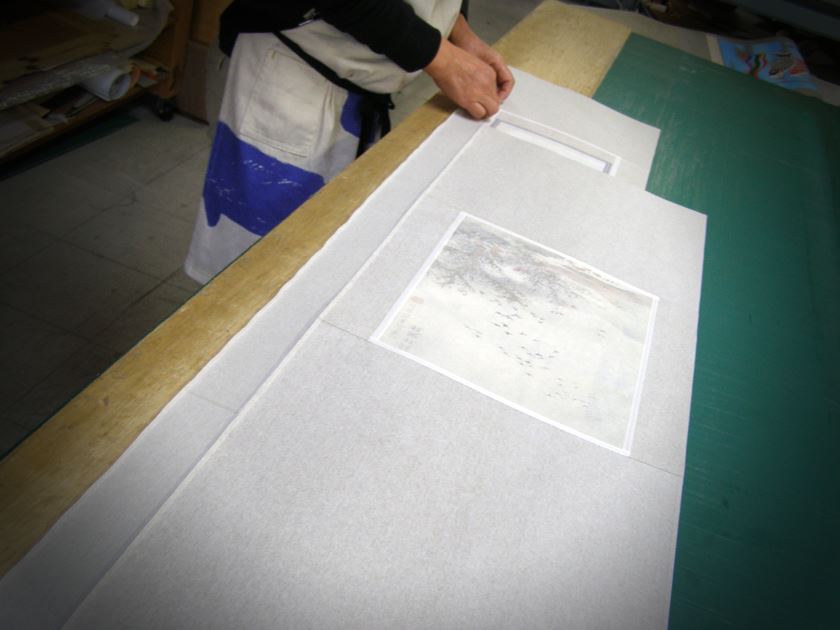 Apply glue to a flap and fold it over.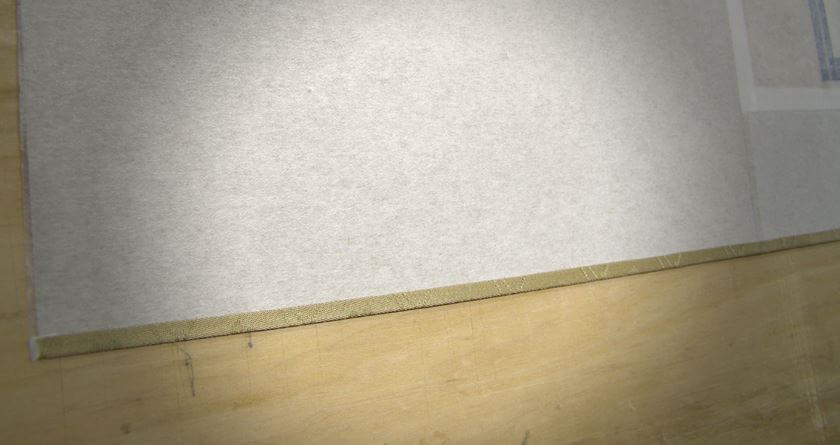 Mimi-ori has two effects as follows :
+ helps to stop the fabric from fraying.
+ makes the pillar ends thicker and strong.
The Final Backing
An act of applying the last backing paper is called "sou-ura-uchi". This is done to adjust the balance of the hanging scroll.
Finishing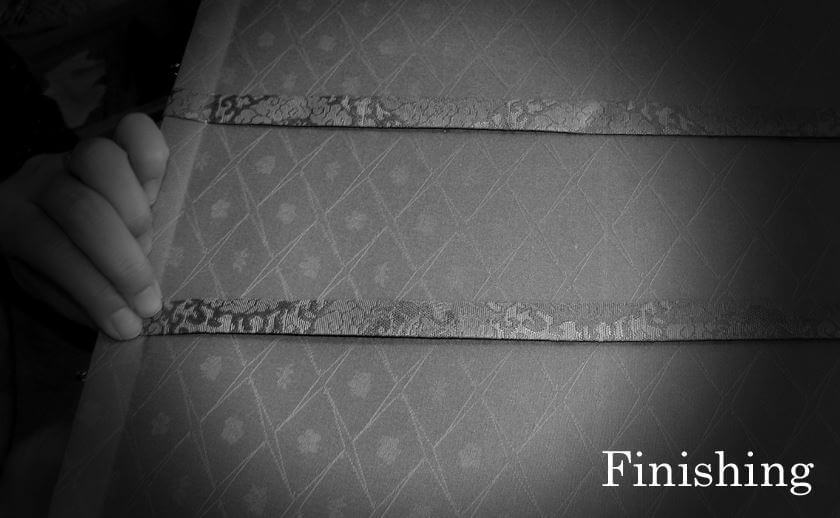 Now, we have finally come to the finishing process. This is a detailed work. One of our staff, who is very good at fiddly work, is in charge of finishing.
First, decide where each ring tack to be spotted and mark.
Put ring tacks in the upper hanging rod.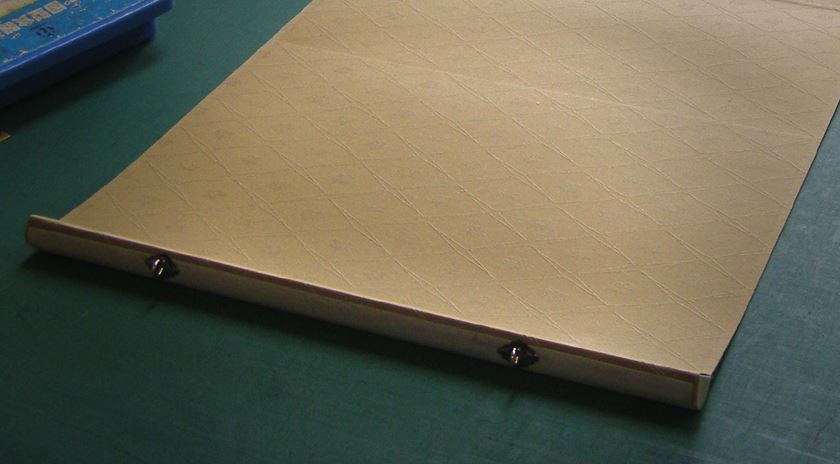 Attach decorative strips near the ring tacks.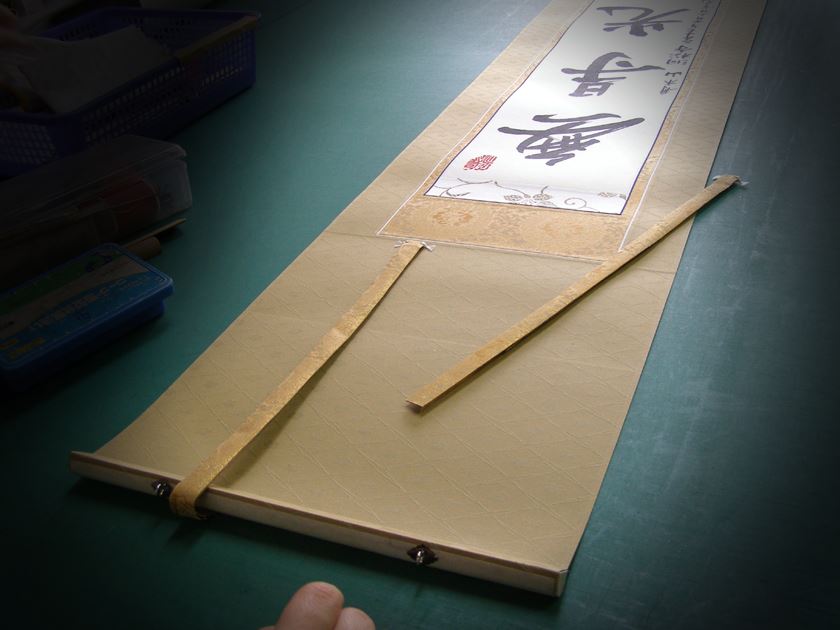 Sew the decorative strips on the upper hanging rod.
If you take a closer look at where the decorative strips are attached, you will find a white thread.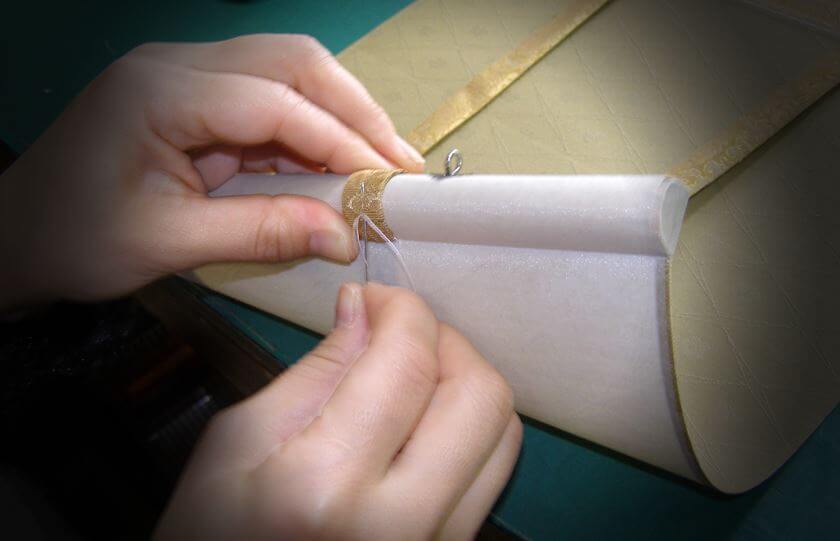 Attach both a hanging cord and a wrapping cord. Fixing these cords around ring tacks can be tricky until you get used to it.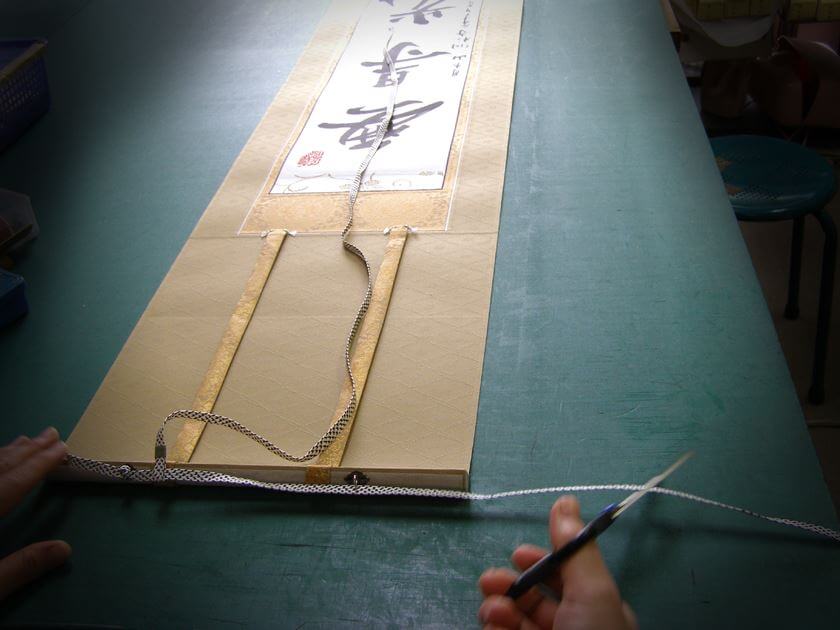 Let us move on to the bottom part of the scroll. Here, we attach a roller rod. Jikusaki (roller end knobs) we used for this calligraphic work is a crystalline acrylic resin as Roger-san requested.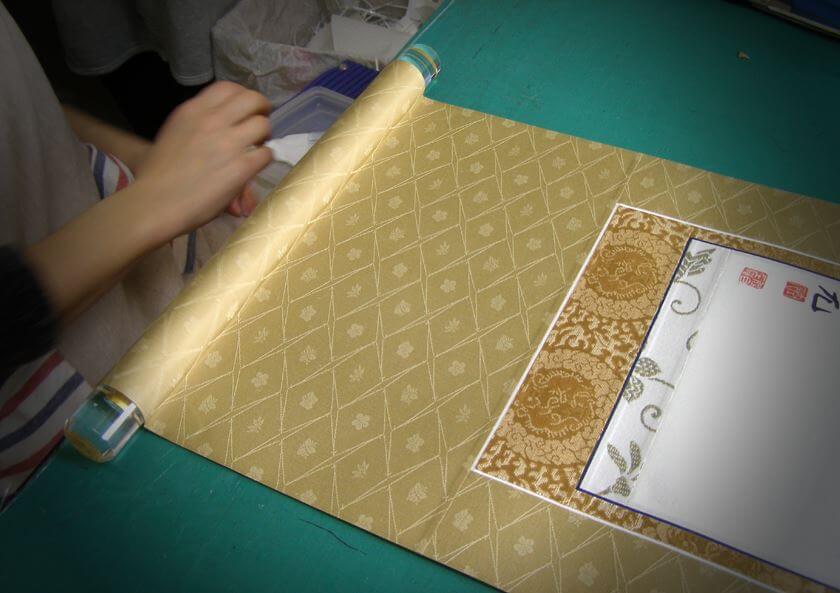 All the process is done and here is the finished hanging scroll.
Wow, it looks very impressive, as if it is illuminated by divine light.
Shin Mounting Style Maximized the Appeal of the Mu-ge-kou Work!!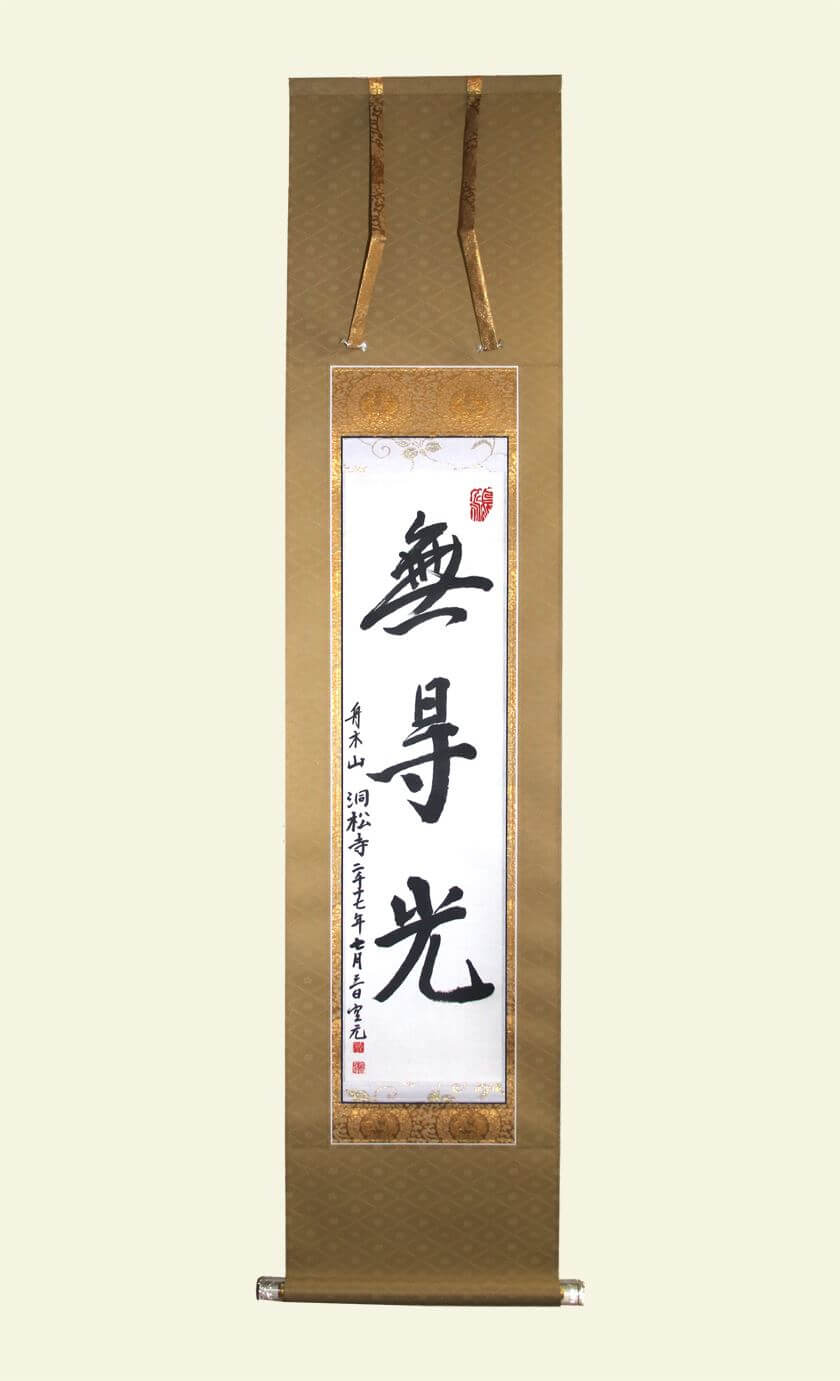 We usually use fabrics with big patterns for outer enclosure because it produces good appearance. However, with this calligraphic work, we chose the opposite way on purpose. We put gorgeous fabric with large patterns of the dragon for inner enclosure so that the artwork can draw attention to the very center. Calming shades of outer enclosure effectively accentuates the inner enclosure. As a hanging scroll, all parts are united and synthesized.
It looks as if gold brocade of inner enclosure expresses the meaning of Mugekou. "The sacred lights that are radiating from Amida (Amitabha) Buddha." Navy strips give a sharp look while white strips highlight the calligraphy. Shin style mounting turned the calligraphic work into a hanging scroll of great presence.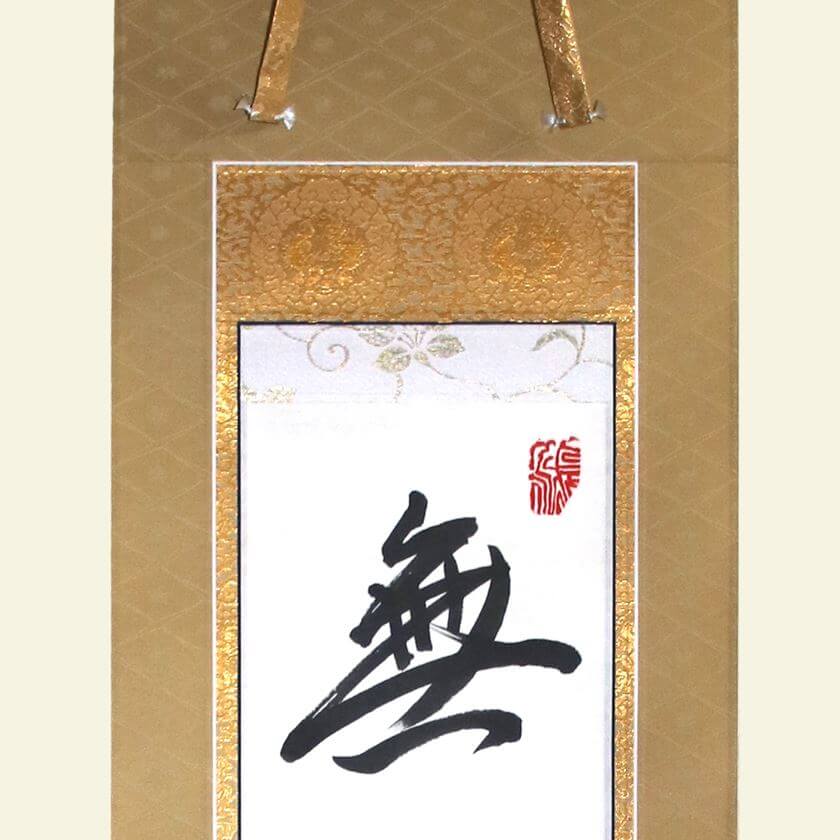 Japanese Kakejiku Art in Switzerland
A finished scroll returned to Roger-san after mounting. We were informed from him that the scroll arrived in perfect condition and he loved our work. He also shared some photos with us. Above is the scroll in a Zen Dojo. It means so much to us that our work is now displayed at a Zen Dojo in Switzerland.
Oh, there's a Zabuton in the picture! Zabuton is a Japanese sitting cushion. It is nice to find Japanese cultures in other countries.
We treasure communication with our clients.
When making a hanging scroll/kakejiku, we highly value communication with our clients. Sometimes, it takes a few months. Especially with international orders, kakejiku will be displayed in various settings. (mostly not in a tokonoma alcove like in Japan) Every client has different requests and tastes. We try not to miss them.
This time, Roger-san showed us what kind of kakejiku he liked with some pictures. It was invaluable in getting to know him and focusing our ideas. This was our first time to mount an artwork from overseas with Shin style, so we were very excited to work on" Mu-ge-kou". Shin style maximized the appeal of it and we felt very happy when Roger-san felt happy with our work. Working on international orders is like collaborative communication towards one common goal, that is to make a hanging scroll.  We enjoy that! Diverse cultural perspectives that we receive from our clients inspire our creativity. This also inspires us to see "beauty" differently.
If you are thinking of mounting/remounting your artwork into a hanging scroll, how about working together with us? We are looking forward to receiving your inquiries.
Thank you for taking the time to read the entire post!
Movie