Order from the United States of America: Remount Chinese Kakejiku Hanging Scroll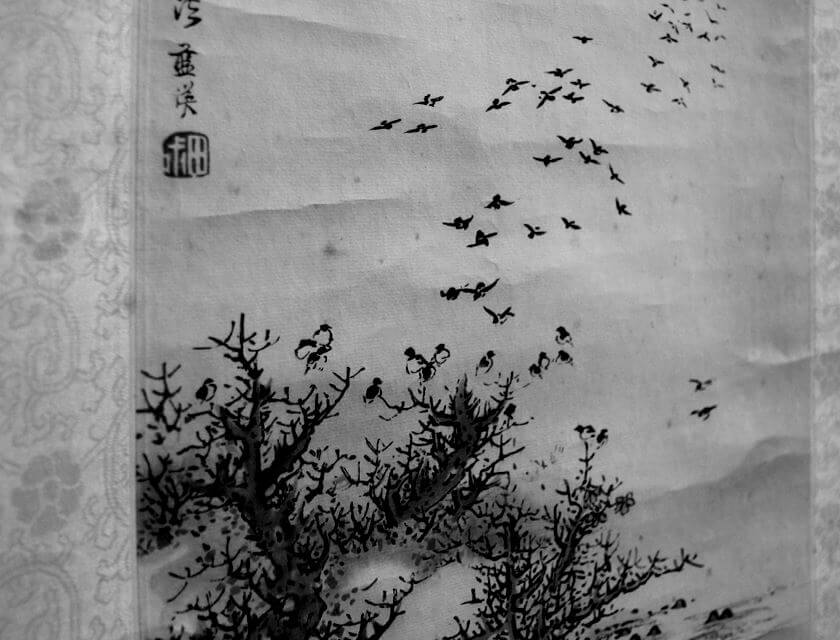 Kakejiku, a hanging scroll, has its origin in China.
In Japan, hanging scrolls evolved in unique ways especially with the development of the tea ceremony during the Muromachi period, greatly influenced by Zen.
The Chinese scroll is finished in a relatively simple style compared to the Japanese mounting. They also developed in their own ways and created many art motifs and styles.
Want to know how to distinguish Chinese scrolls from others?
There are some distinguish features of Chinese painting scrolls. This is not definite but we can tell by painting style, types of Chinese characters (kanji), mounting style and attachments such as roller end knobs.
Both Chinese and Japanese scrolls are loved and enjoyed by many scroll enthusiasts. Today, we would like to introduce how we have remounted a Chinese painting scroll lately.
Inquiry by Russ-san from the United States of America
We had an inquiry by Russ-san from the United States of America about remounting a Chinese hanging scroll. He told us that the work was very important since a long-time friend gave it to him many years ago. It is getting worn out so he wanted the precious scroll to be renewed.
Here's a close up picture of the painting.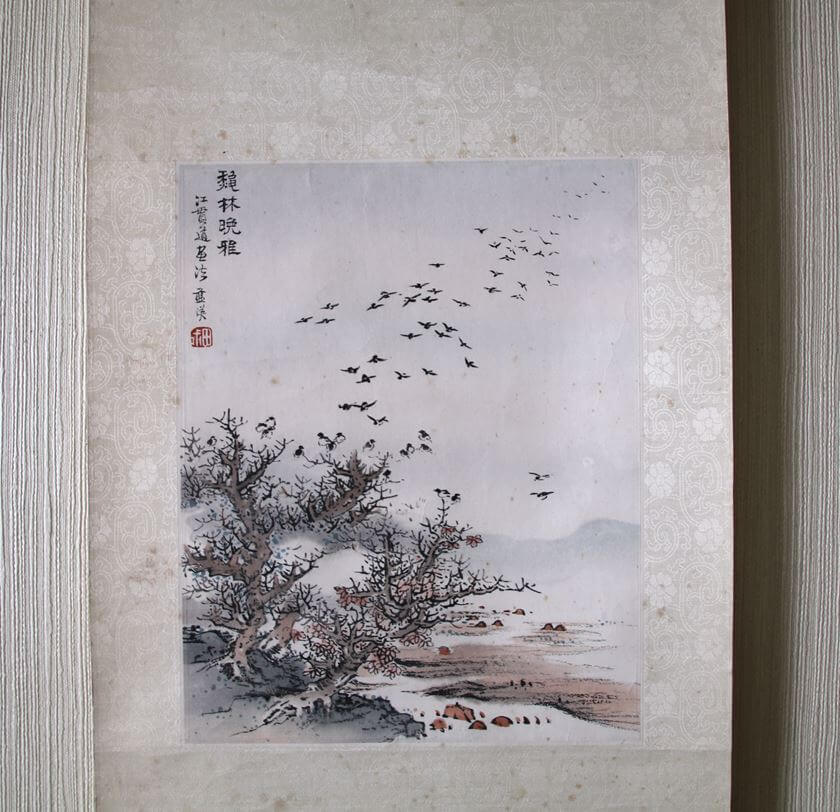 There are small creases on both honshi (painting) and fabrics. Also, there are a few light water stains on honshi but we were told that Russ-san was not concerned if these could not be repaired.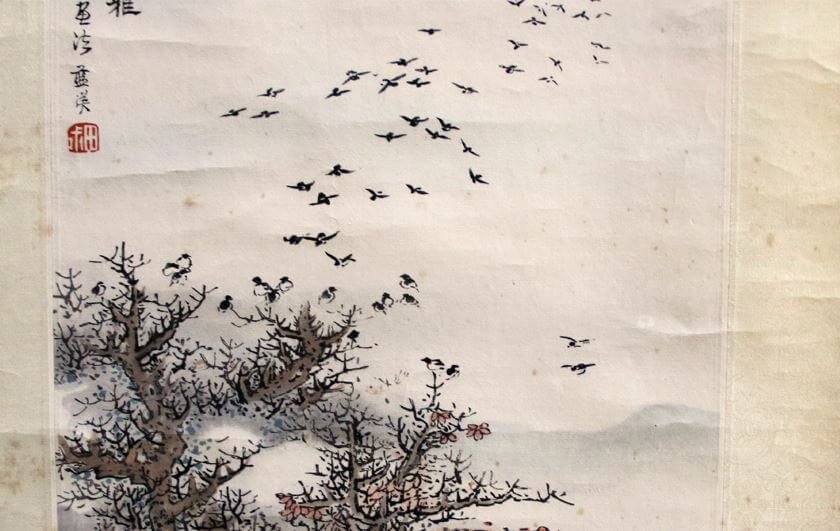 Creases can be more clearly seen when viewed from side. They do not look severe at the moment but will break in time if left as they are.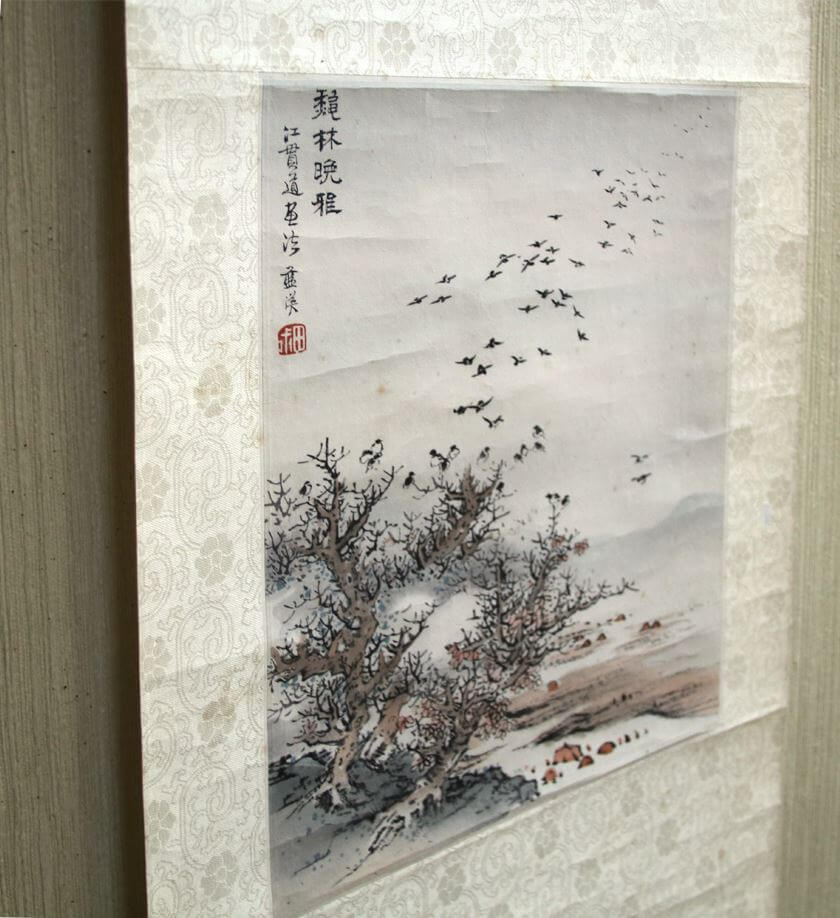 Fabric Choices & Suggestions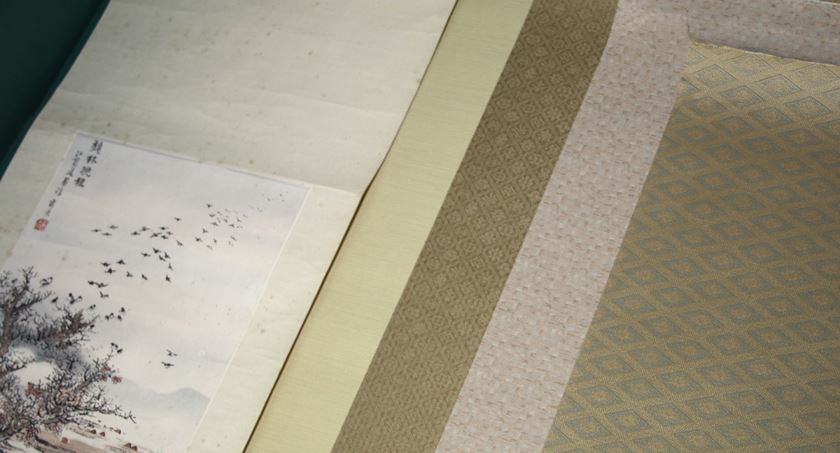 Russ-san's request for his kakejiku was to keep it very simple as per following comments;
Once you receive the work, I would like your recommendation regarding an appropriate fabric. I prefer something simple since the honshi itself is very simple and used muted colors. The most simple mounting style is fine for me as long as it seems appropriate for the honshi.
We asked Russ-san which mounting style he preferred, Gyou or Maru.
Overall, I want to keep the scroll as simple as possible and not too large so that it doesn't interfere with the honshi. I prefer the Maru mounting style, and will leave the finished size to your recommendation.
Thus, we decided to proceed with Maru mounting style, which is more simple.
However, when we actually held the scroll in our hand, we decided to keep the current mounting style, "fukuro mounting with suji-mawashi" because it would perfectly suit Russ-san's preference.
<Fukuro Mounting>
For suji-mawashi (a painting being surrounded by strips), we chose white strips the same as before.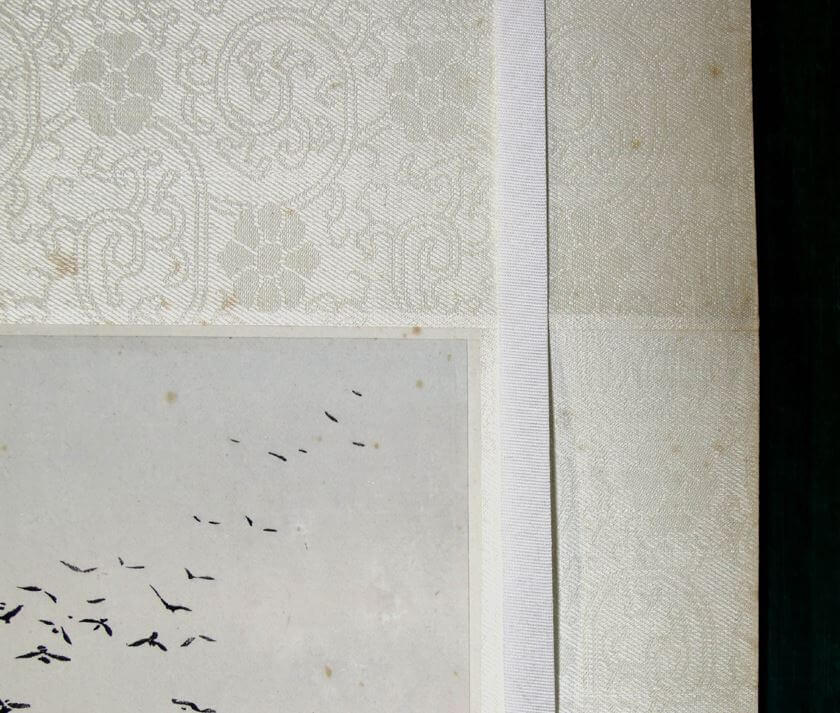 We prepared four fabrics of muted colors and patterns.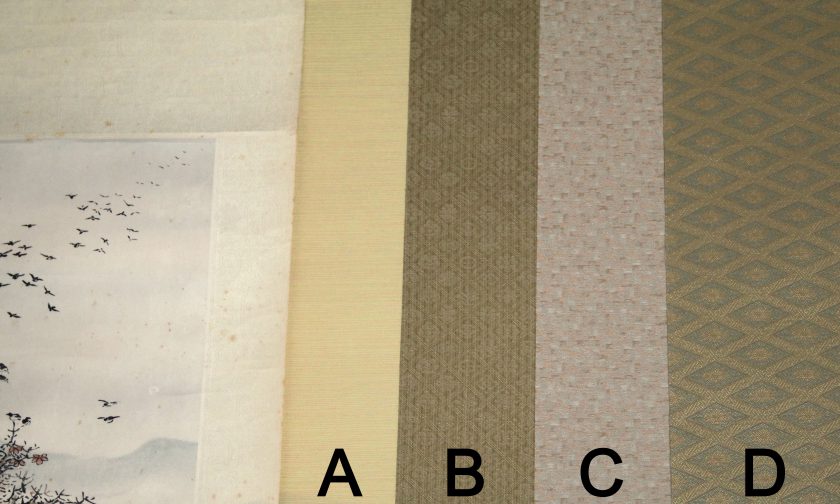 We make sure to prepare several sample mounting images so that our clients can easily pick up a favorite one. This is helpful for us to find out clients' preferences. We always welcome your ideas and suggestions so please do not hesitate to tell us your opinion at this stage! We determine whether it is within our capabilities and try to realize your ideal scroll.
Pattern A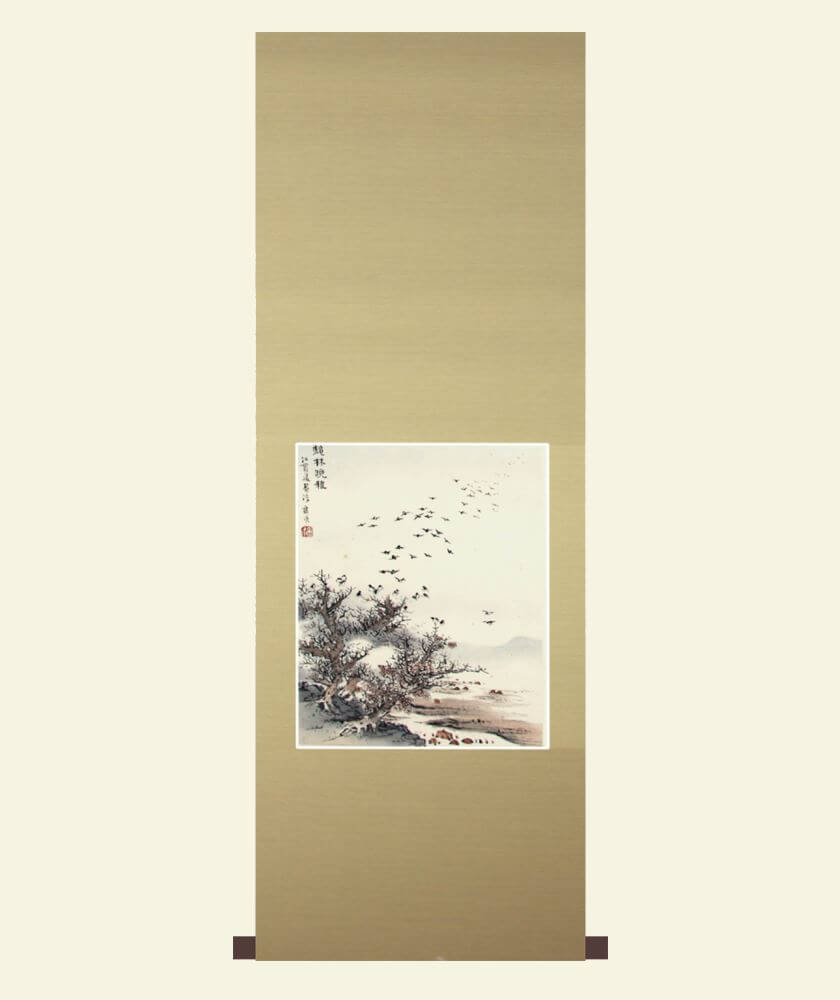 Pattern B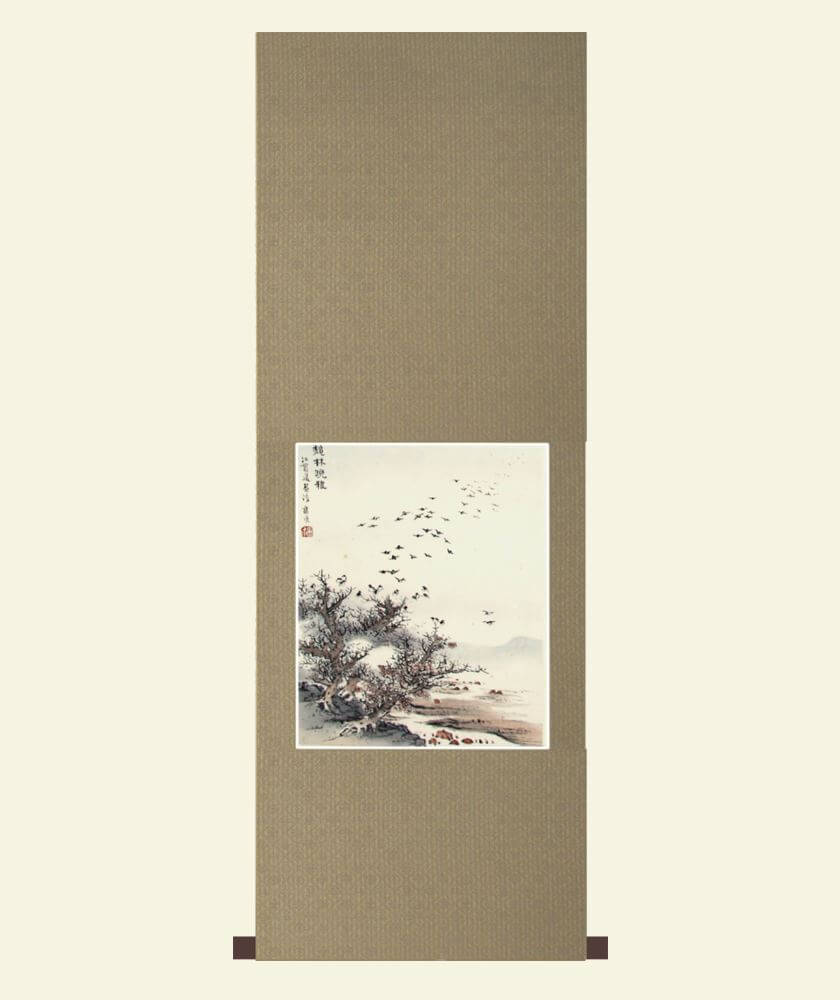 Pattern C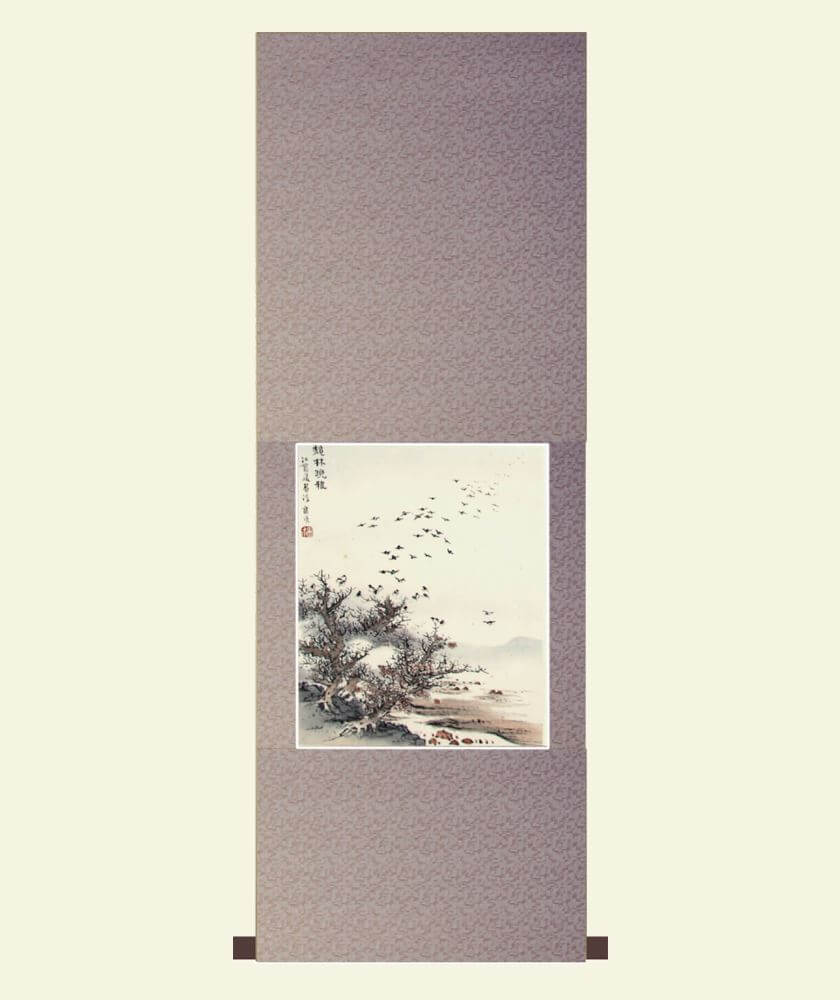 Pattern D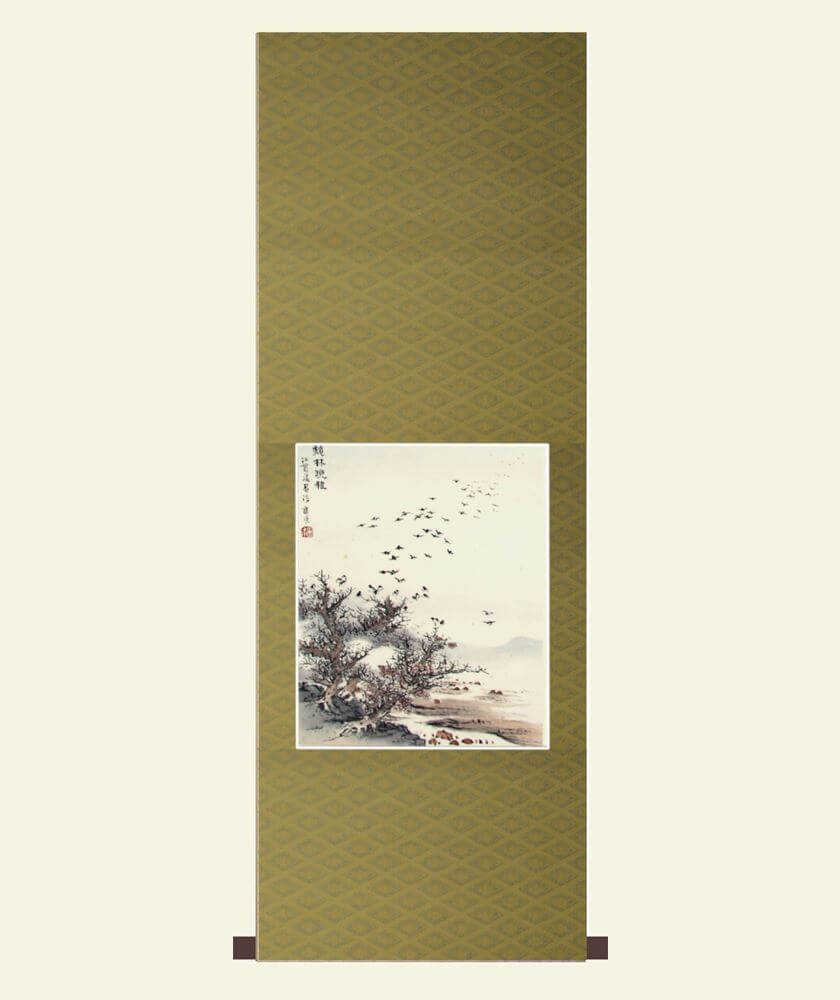 Russ-san's choice was pattern B.
Remounting of the Chinese Hanging Scroll with Autumn Landscape Painting
Russ-san had a clear idea of what he wanted for his scroll so the details were confirmed quickly.
+ Fabric: No. B

+ Mounting Style: Fukuro mounting in the manner of white suji-mawashi
—– Smoothening wrinkles
—– 1 plain paulownia-wood box

+ Size: Maintain the original size

+ Packing: In a paulownia-wood box then in an export carton box.
 It's about time to begin remounting!
Mekuri / Removal of Old Backing Paper
  – Caution for Peeling Chinese Backing Paper –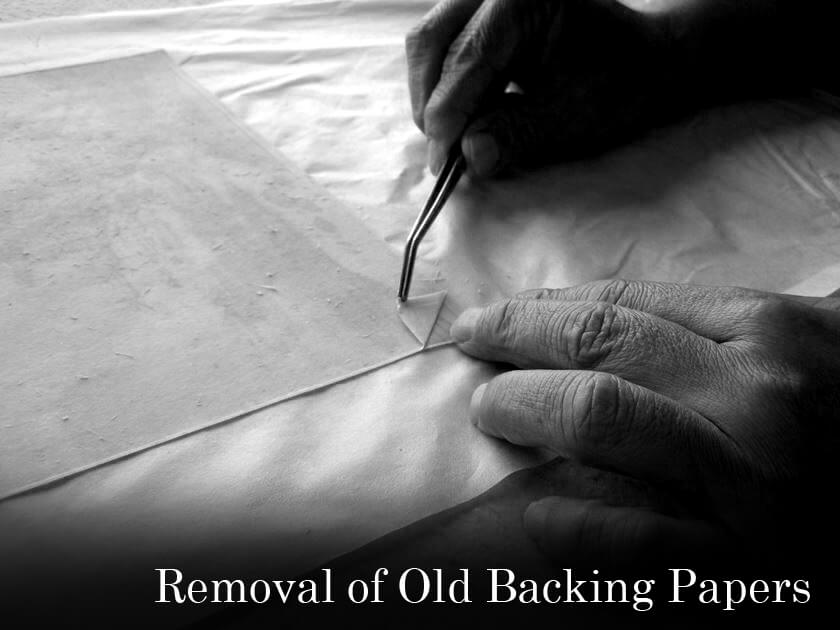 The remounting process starts with removal of old backing paper, regardless of type or its origin including: hanging scroll, scroll, screen, folding screen. It is regarded as the most difficult process of all. It gets more difficult depending on the damage condition and types of paste used in the former mounting.
We must proceed with caution with Chinese scrolls since there is high probability that they were mounted with strong paste (from our experiences). Strong paste makes it difficult for us to remove old backing paper. In order not to break honshi (painting), we take a longer time to soften paste with water. This takes time but helps to reduce viscosity. We always get butterflies in our stomach before starting to peel, especially Chinese scrolls. We were so relieved that backing paper moved more readily than expected.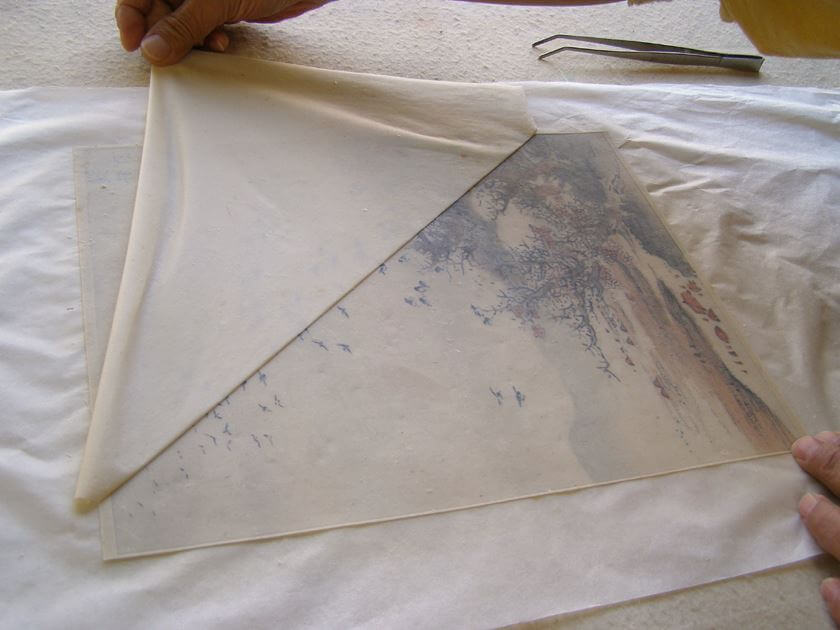 Urauchi /Backing, Karibari and Drying | In Case of Stiff Paper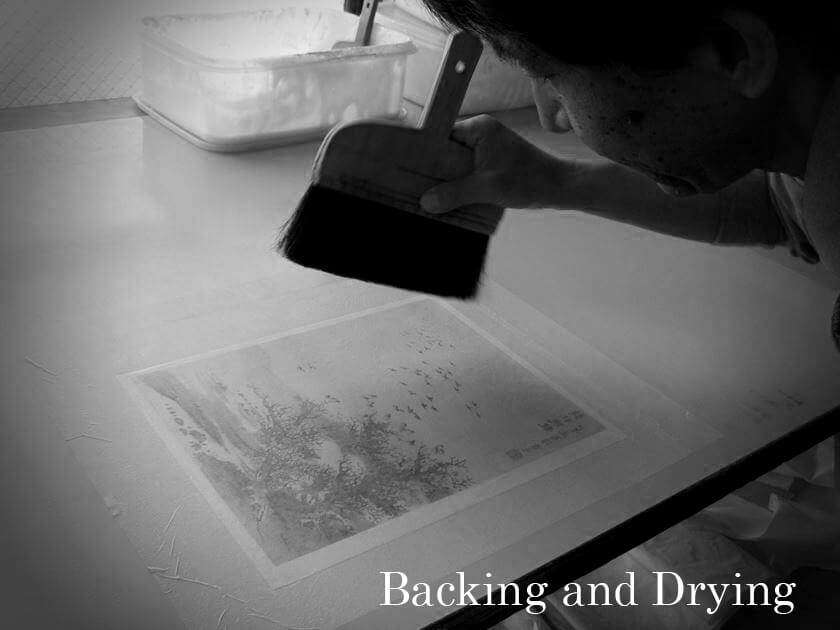 After peeling backing paper, stretch wrinkles and creases on honshi and apply new backing paper. According to the condition of the honshi, we make adjustment to make a fluid scroll by choosing appropriate pieces or types of backing paper. With painting on stiff paper/fabrics, we use thinner backing paper or use less pieces of paper to realize fluidity. If we do this as our usual way, it gets too thick and the scroll will have creases when rolled up.
Water a paper that would be placed under the painting for support.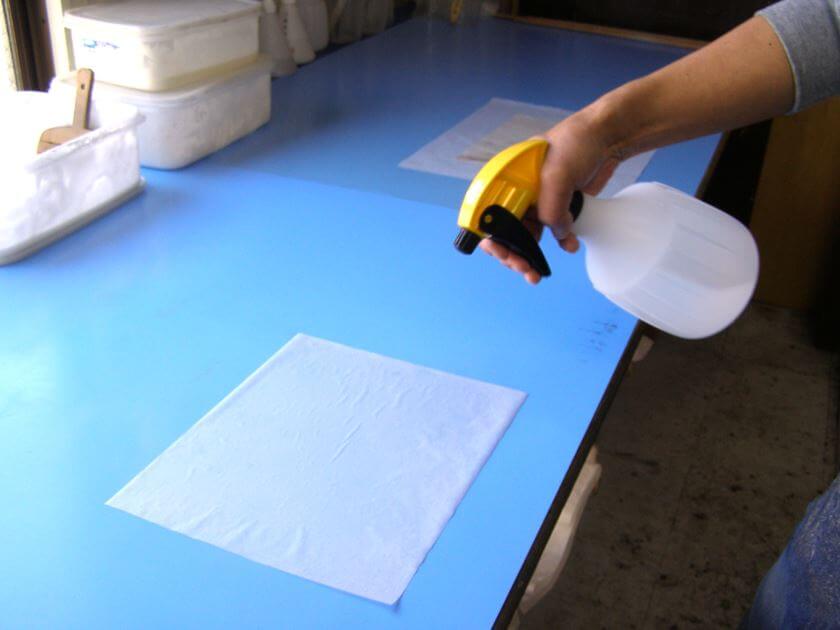 Stretch wrinkles with brush. This paper is called "ategami" and helps to protect a honshi from dirt or damage while remounting. If ategami cannot be stretched properly, neither the painting on it can. This seems quite a simple process but is not so easy as it seems.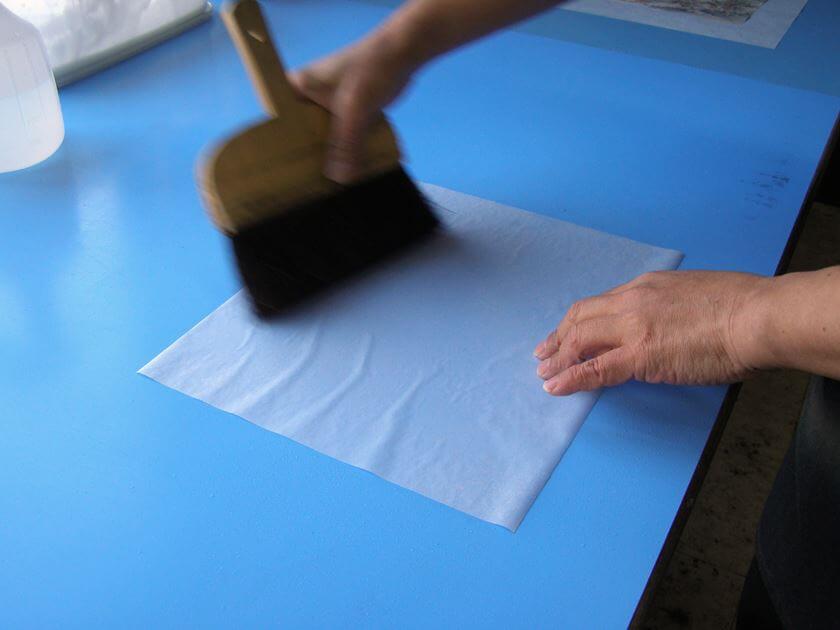 Once all the wrinkles are smoothed out, "ategami" is ready.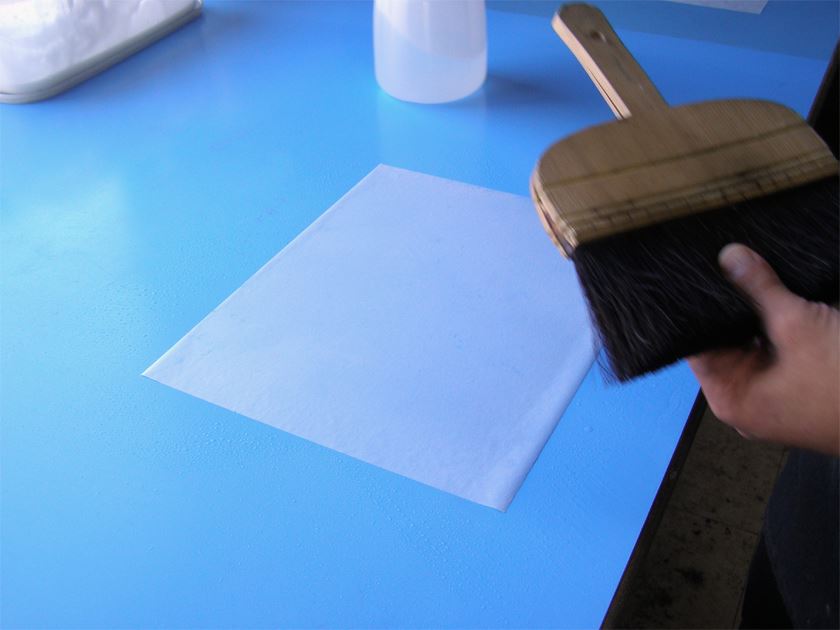 Put the painting on "ategami". Repeat the process again.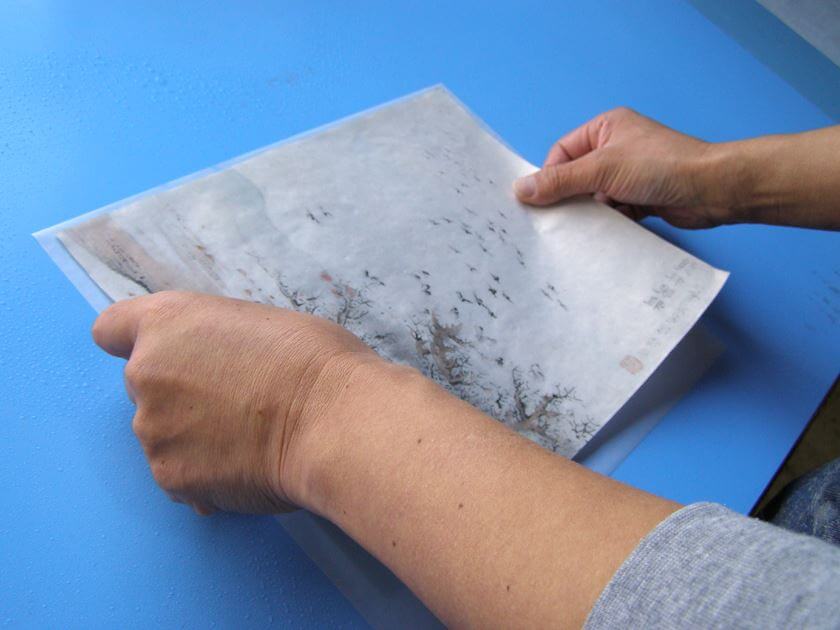 Too much water will make pigment/sumi ink bleed. No matter how firm we have done color fixing, pigments/ink cannot be secured 100% so make sure to give water little by little while stretching.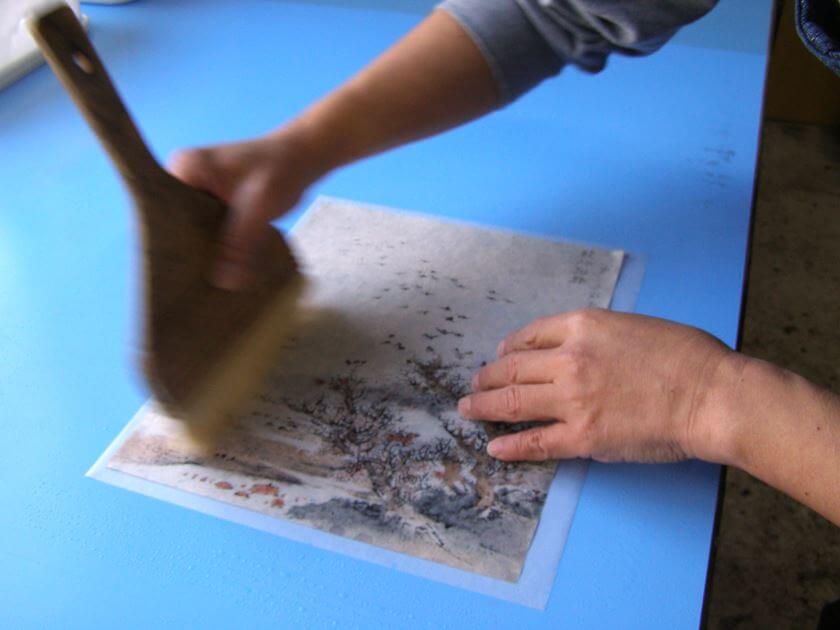 Finished smoothing honshi. Small wrinkles and creases can be smoothed out at this stage. For those that cannot be smoothed out here need to be reinforced with "ore-fuse" to prevent further creases after it is completed as a hanging scroll.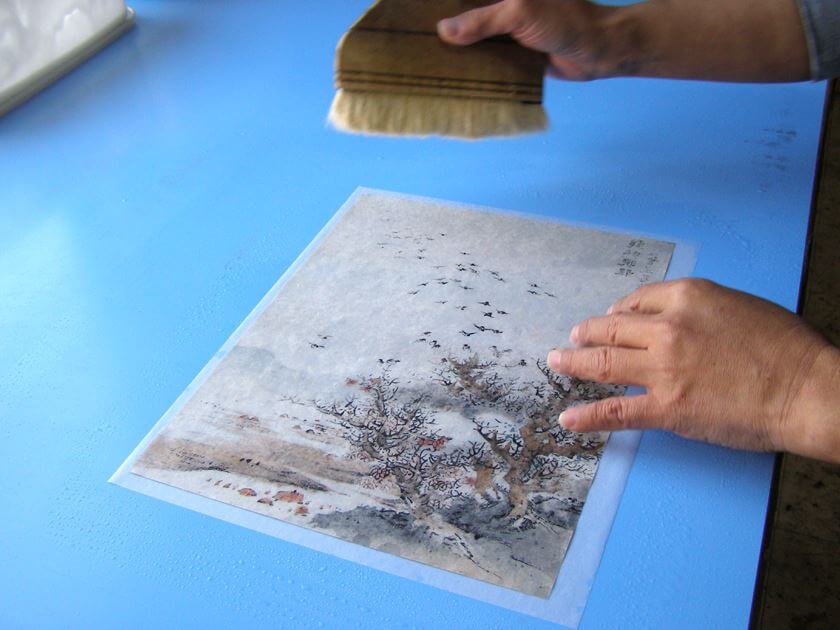 ≪For more info on Ore-fuse≫
Evenly apply paste to a brand-new 1st backing paper.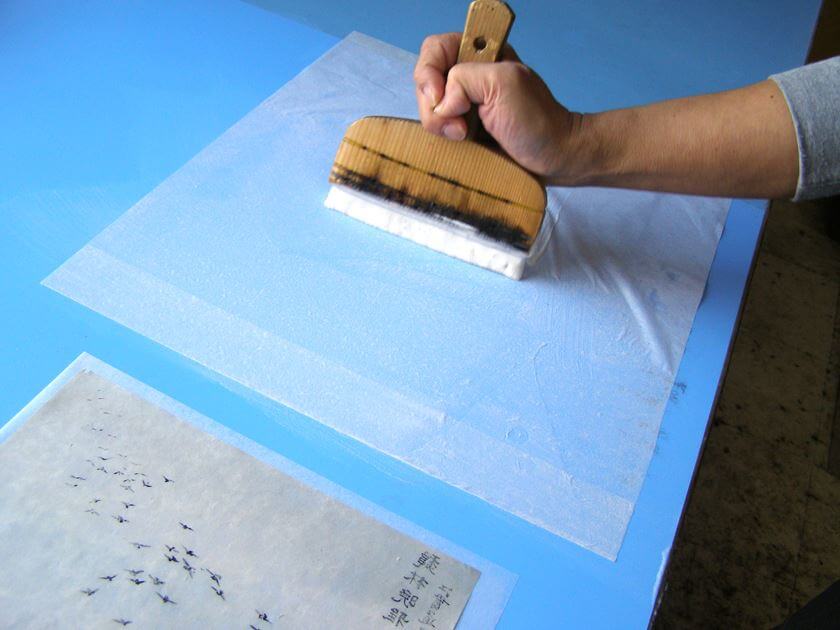 Too little paste will make the backing paper peel off. Too much paste makes the whole scroll stiff. Finding the perfect balance between them requires a craftsman's extensive knowledge and experience.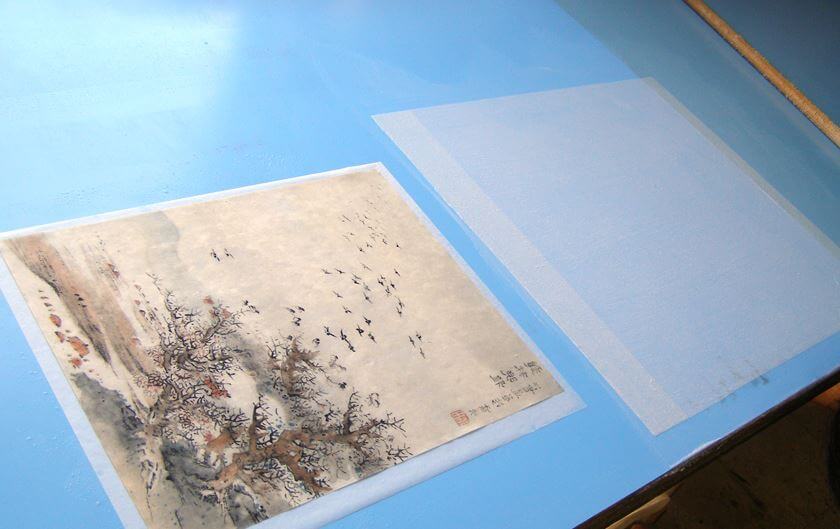 Place an end of the backing paper to a wooden rod and slowly take it from the table.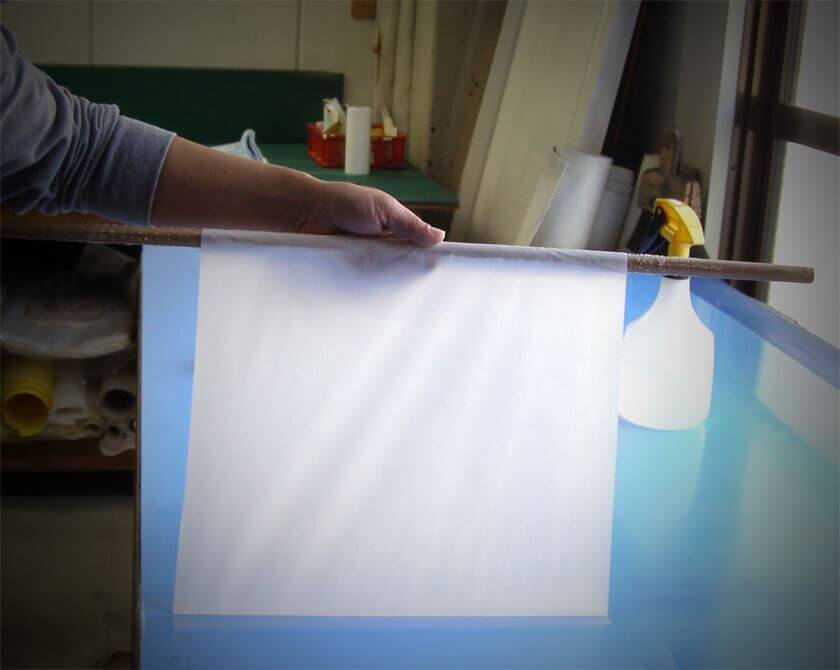 Start stroking the backing paper onto honshi with brush. Be sure not to let air bubbles in or to leave any wrinkles.
Repeat stroking with brush to until a honshi and a backing paper adhere firmly.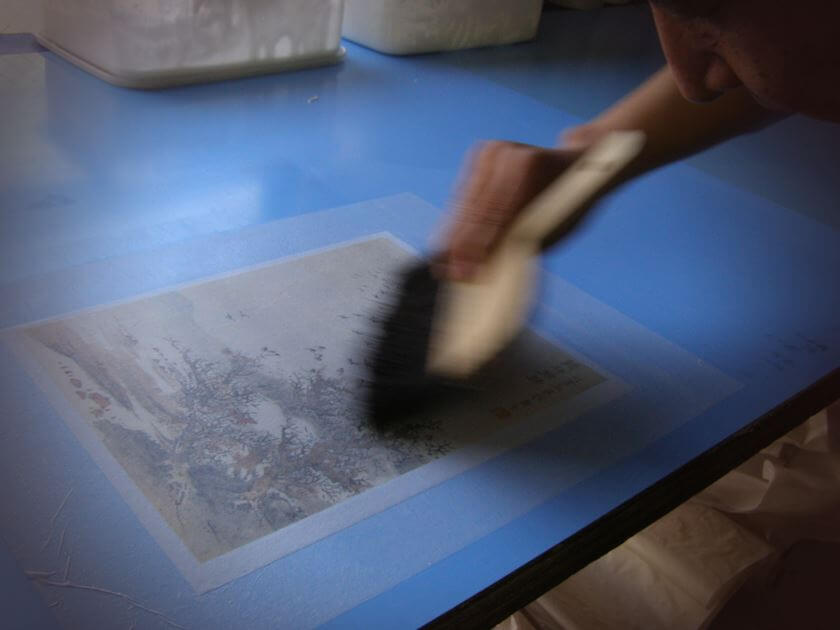 After attaching the backing paper, its surface is tapped with the brush for adhering the backing paper firmly to the main work. Keep tapping until they adhere to each other completely. Also it helps to remove all the air between them.
Now backing process is done. Let it dry and rest on a "karibari" board.
Karibari is a drying or conditioning technique used in Japanese traditional mounting, and is a method that utilizes restraint. It gives tension to an object during drying and conditioning to achieve a flat and stable result.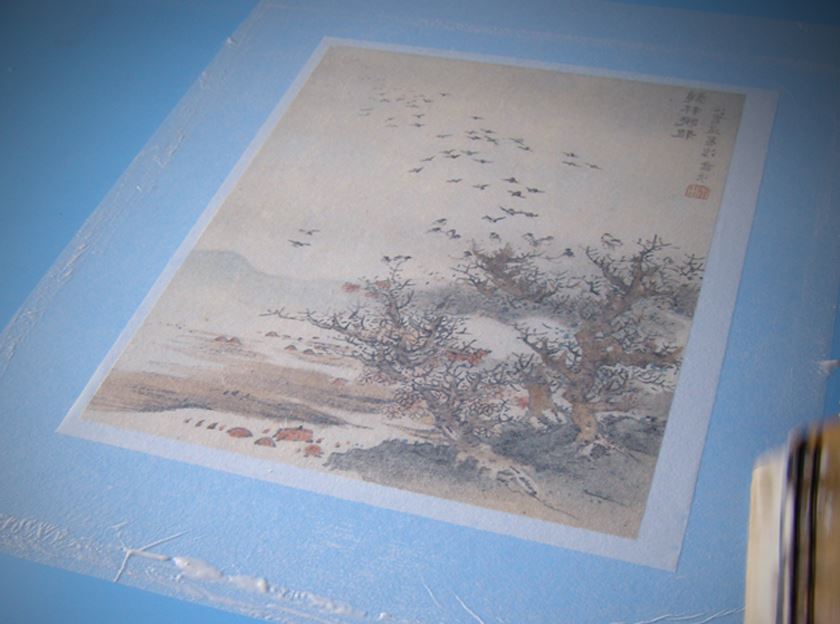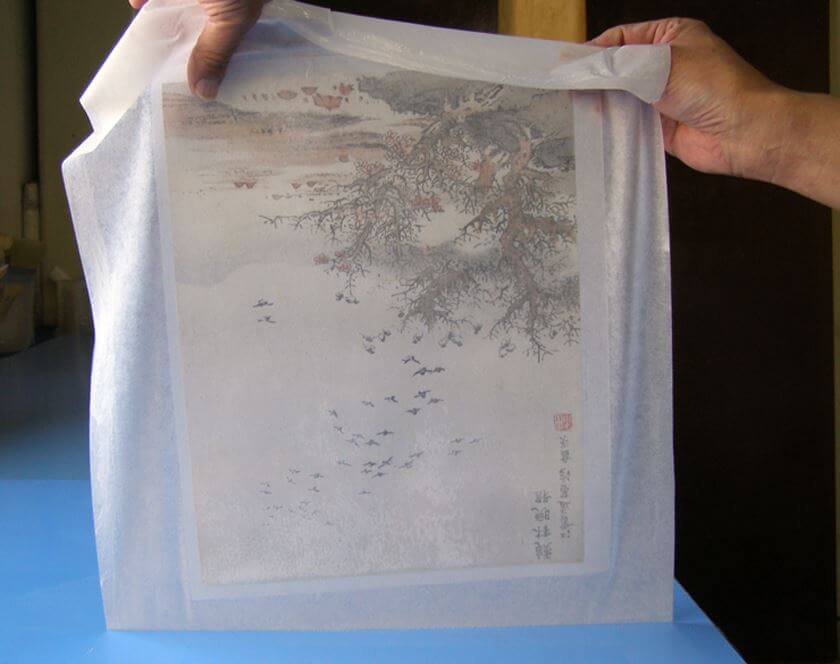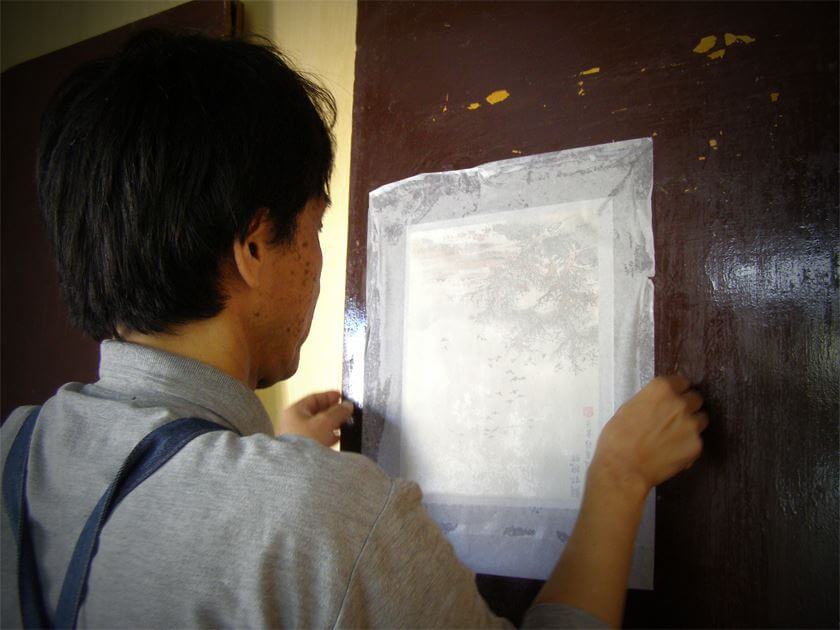 Tsukemawashi, Kiritsugi / Cut and Join
Remove the honshi from "karibari" board then cut it into a rectangle. Now it is ready to cut and join.
Cut fabrics into required sizes.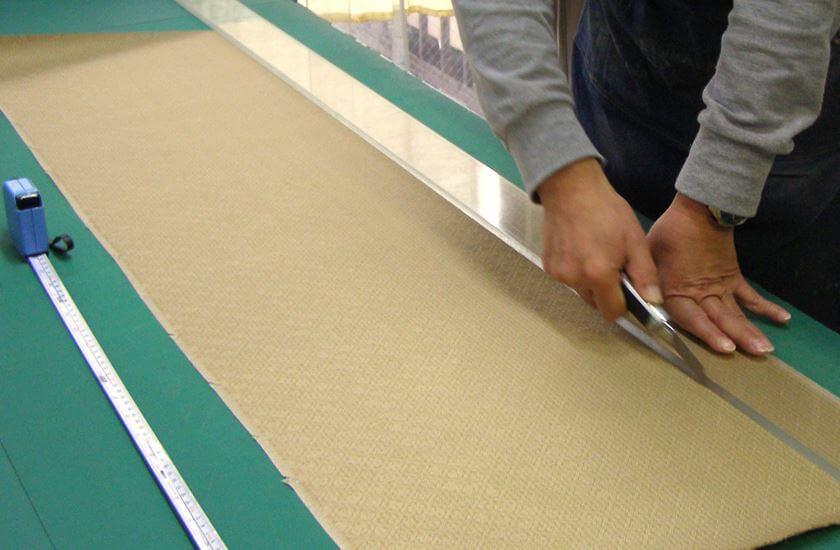 These are white strips that will surround honshi. It is called "suji-mawashi".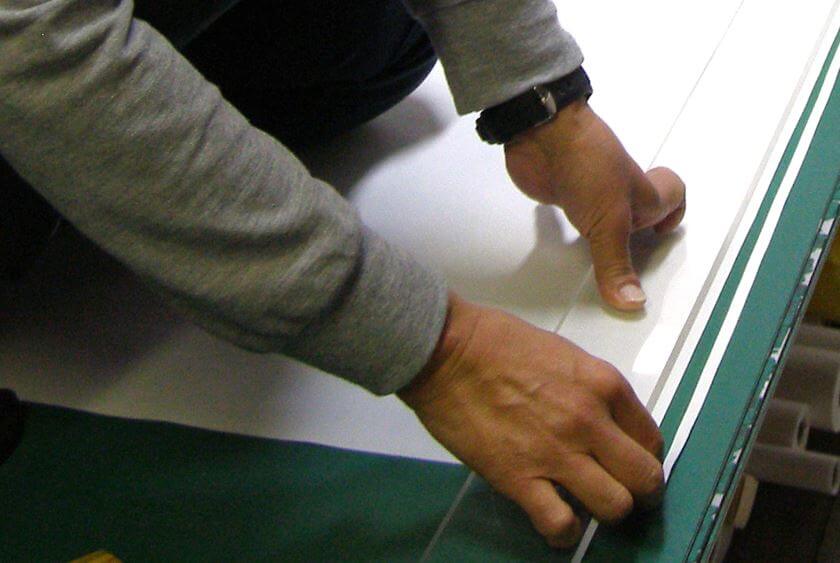 Very thin strips will be used for "suji-mawashi".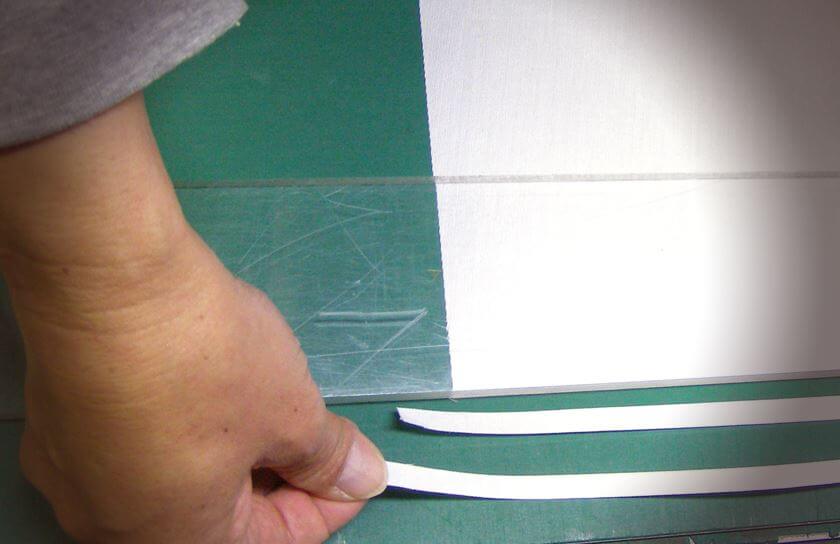 All the necessary parts are ready. For this artwork, 8 pieces of fabrics in total will be attached.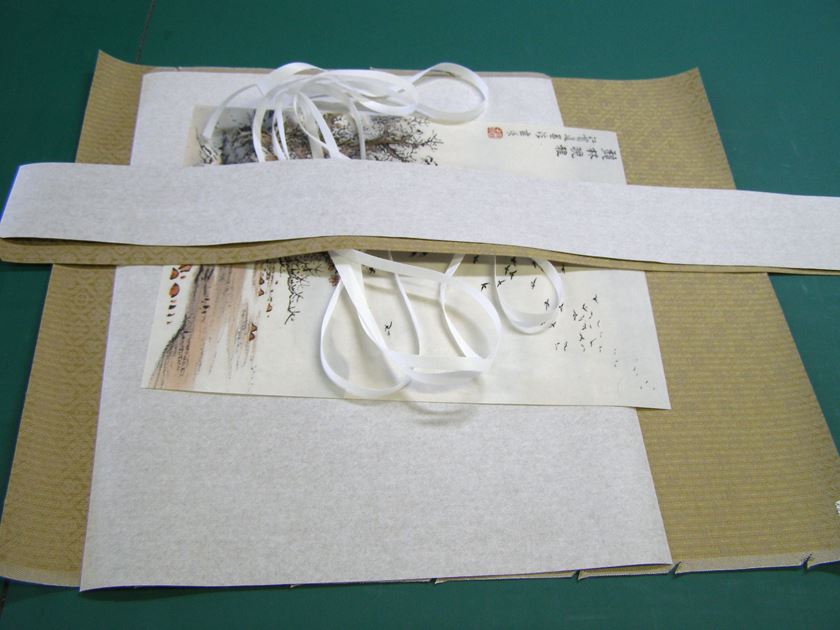 Start surrounding honshi with white strips.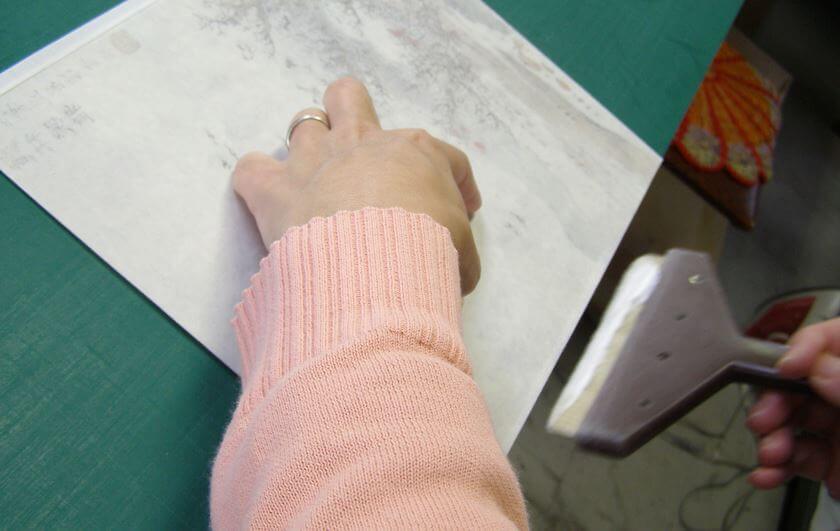 From the back, put a string straight on each side.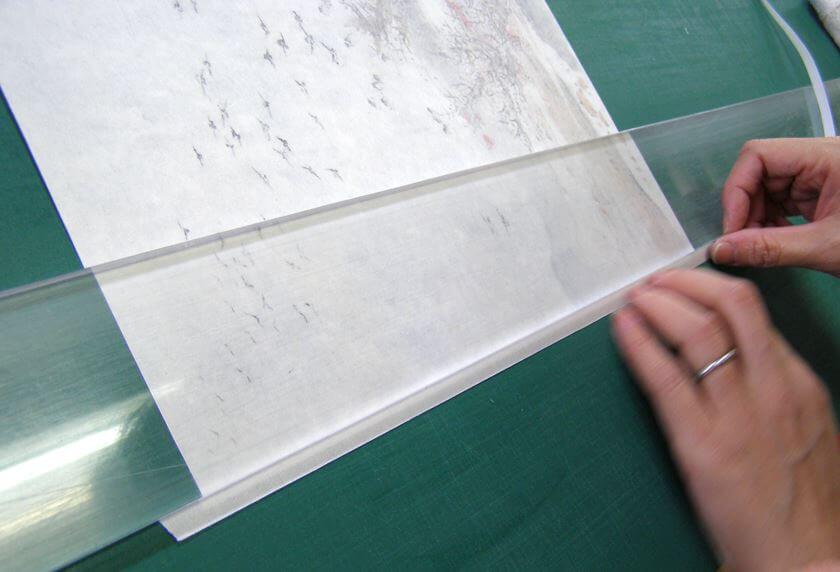 Cut the excess fabric and paste the edge in order to prevent pilling and fraying.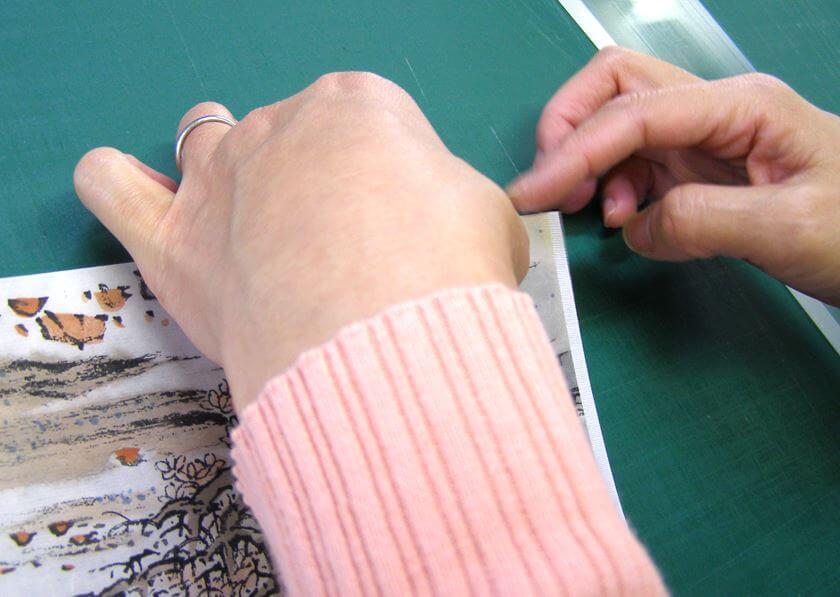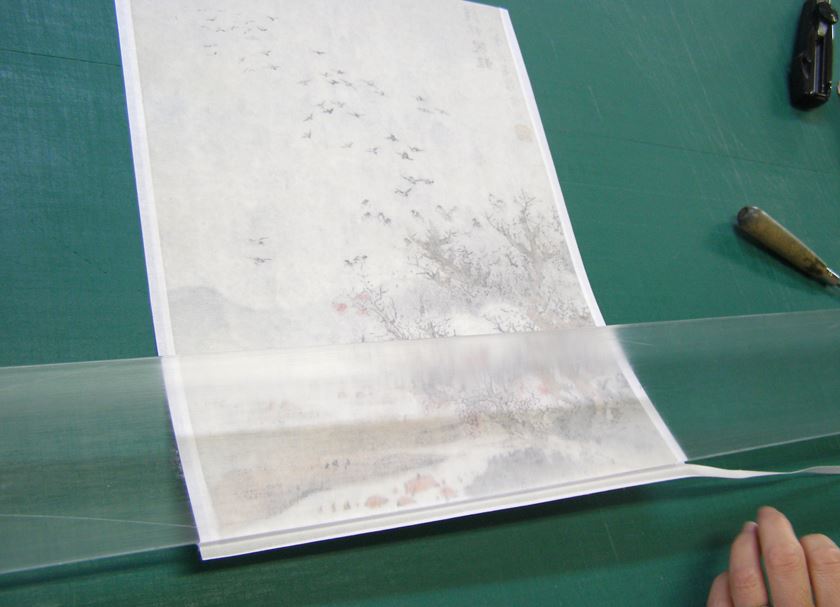 Next, apply paste on outer fabrics that would become pillars of a scroll.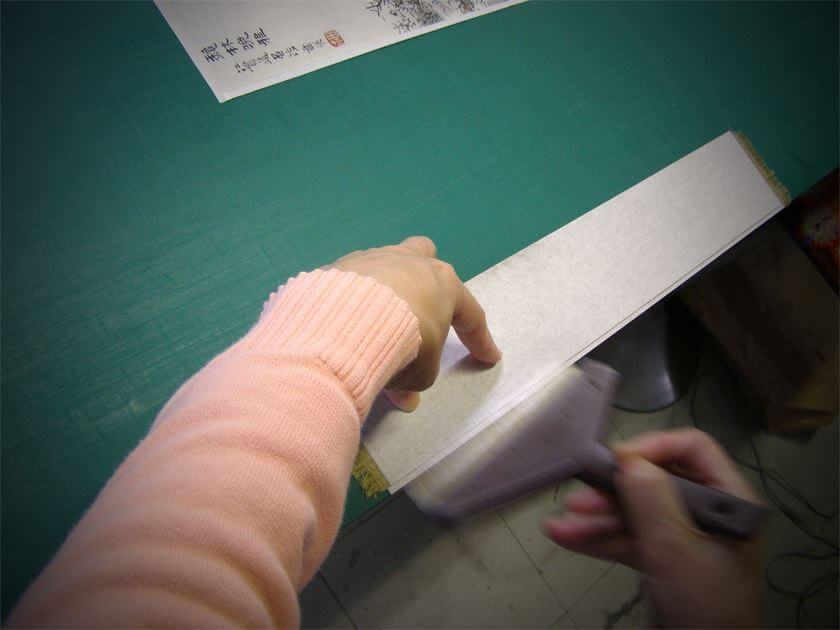 Put it strait on the white strip. White strips must be clearly seen so the margin left for paste is only 3 mm. Very little.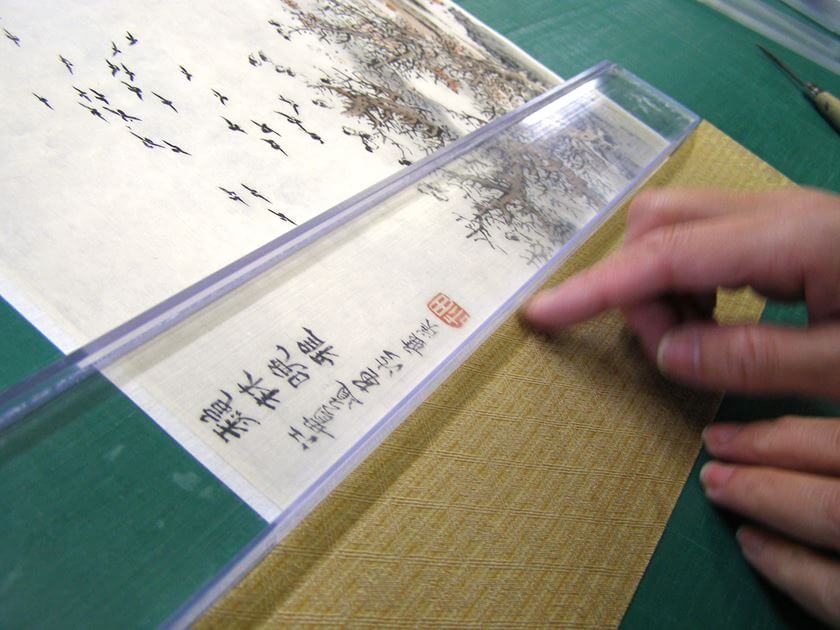 Below picture can show you how narrow the margin is.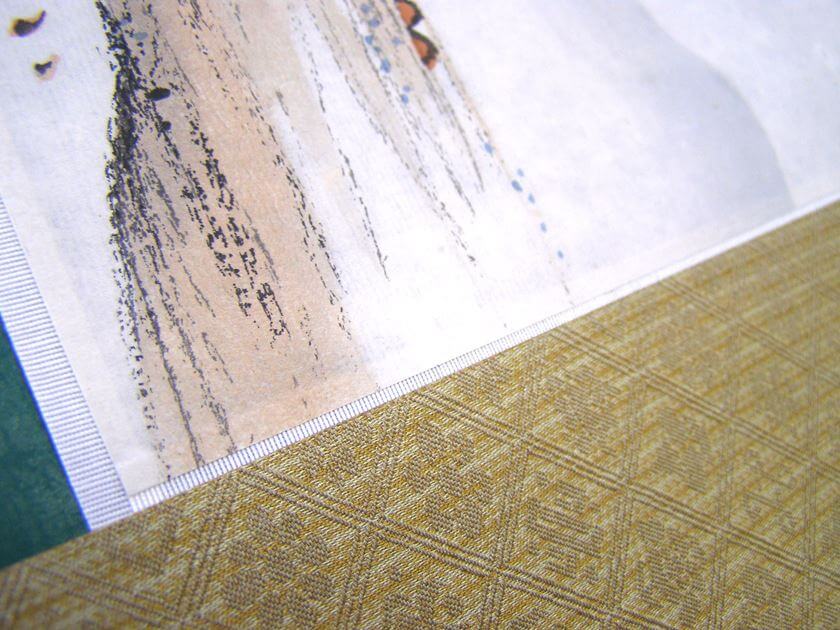 Cut excess fabric of pillar parts then move on to the next step.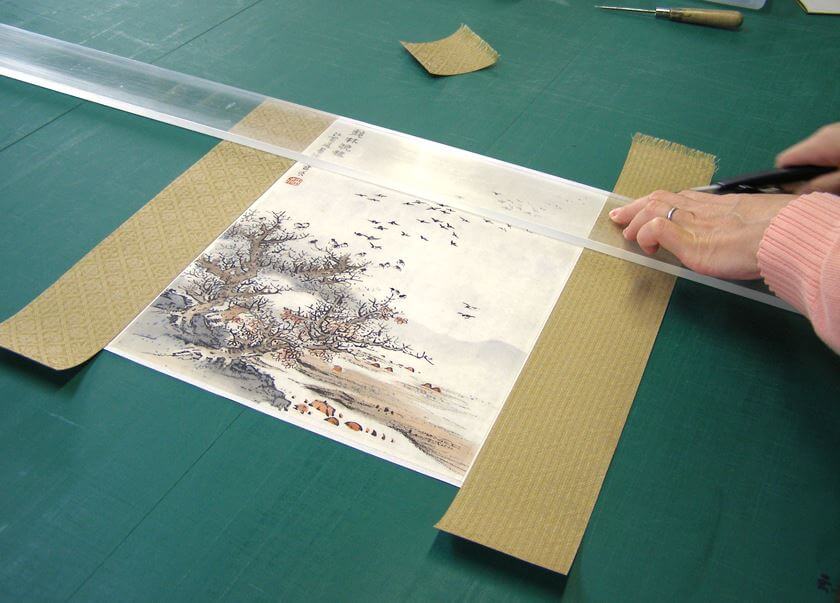 Apply top and bottom. Cut and join is done.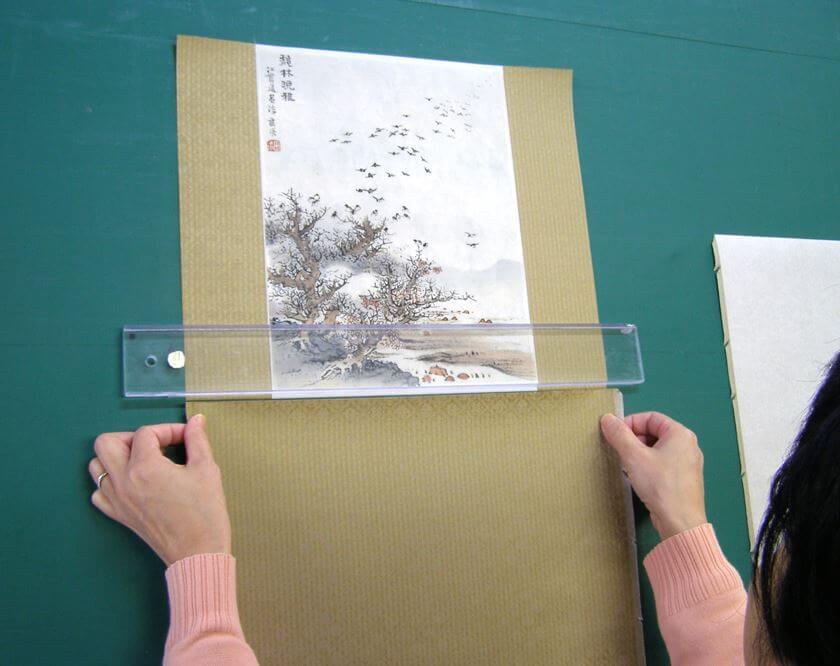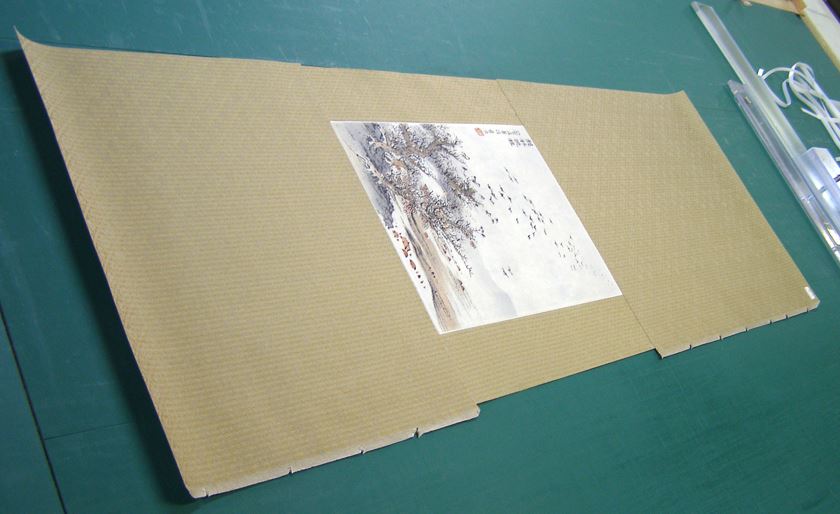 The Second Backing
The second backing is called "mashi-urauchi" (subsidiary backing of the main work and mounting fabric). It is added to maintain balance between the main work and the mounting fabric, in terms of their thickness and strength.
Tachiawase / Cutting to Size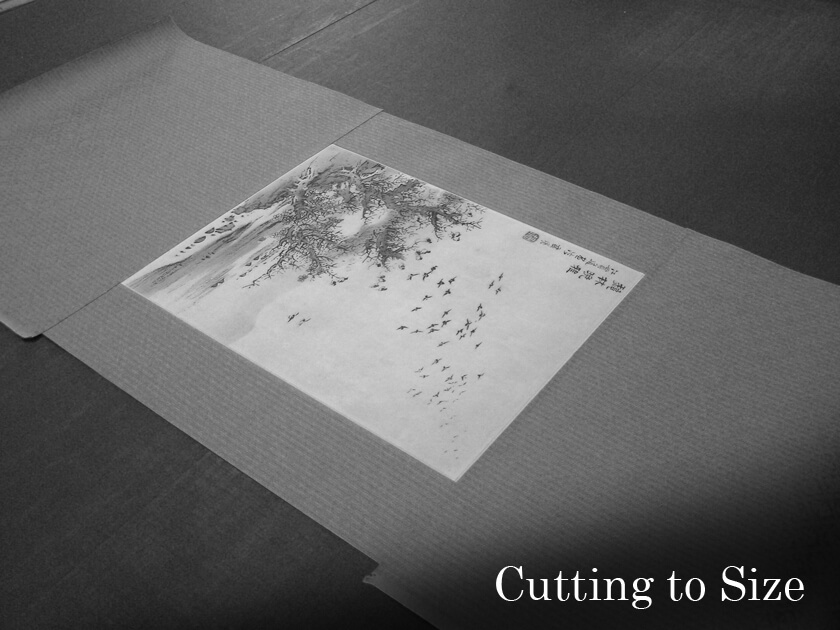 Each piece of mounting fabric is cut larger than the actual finished size. After cut and join, we cut a sheet of scroll into the finished size. This is called "tachi-awase"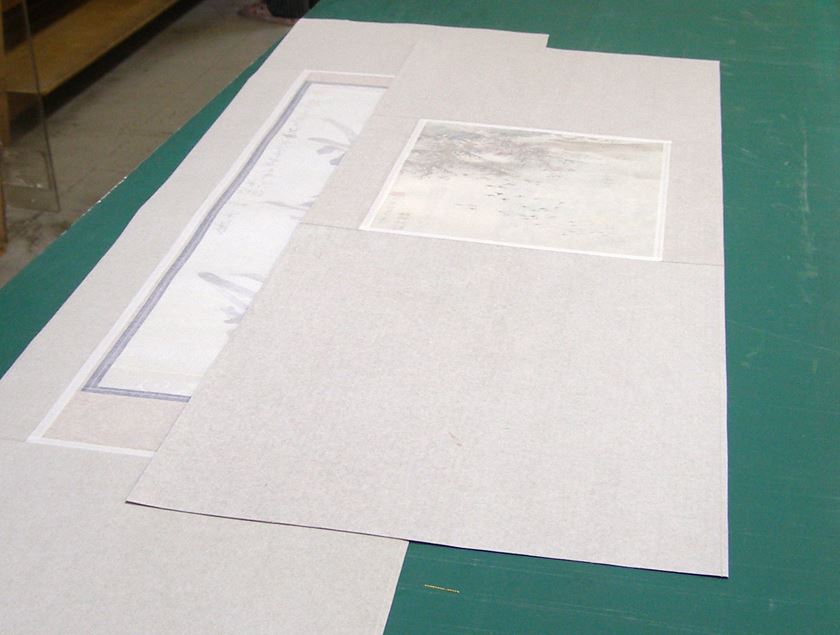 Mimi-ori / Folding over the Edge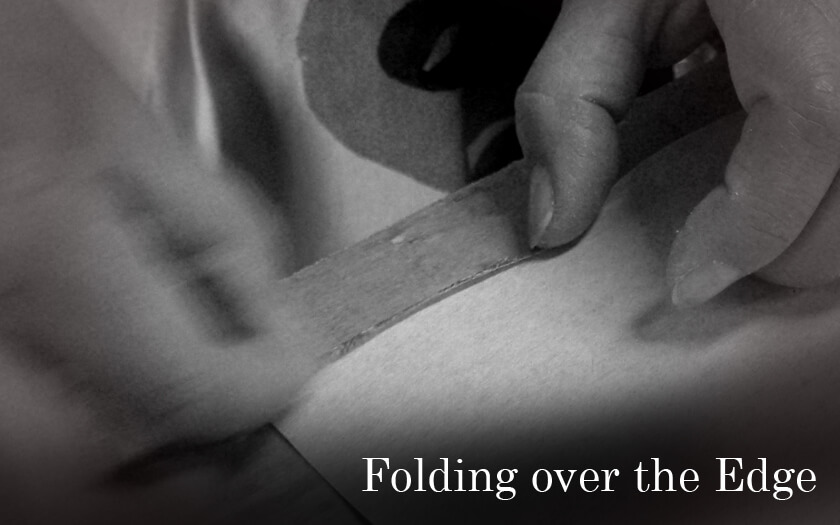 "Mimi-ori" is an act of folding flaps of both sides inwards
Width of flaps varies according to a size of hanging scrolls. Generally, it is 3.0mm to 4.5mm wide.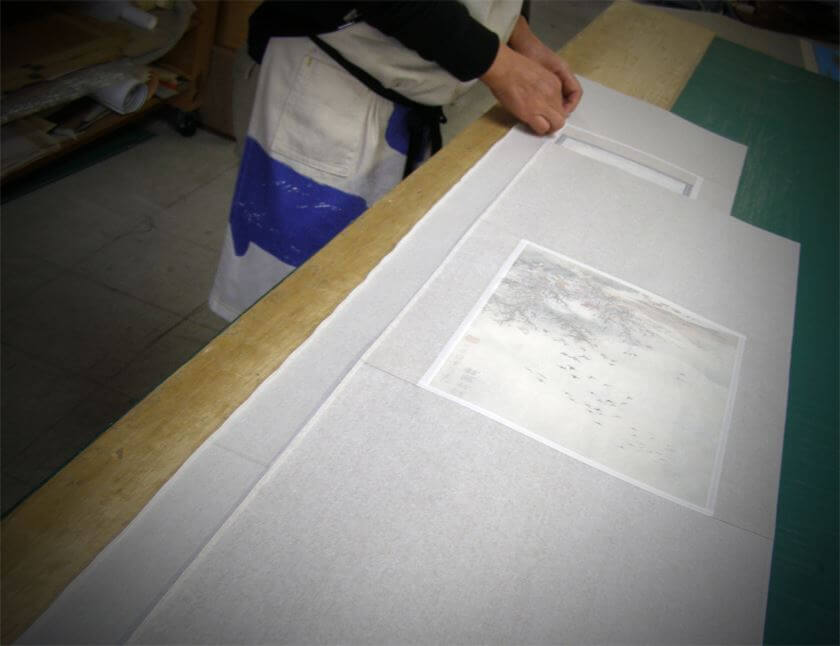 Fold flaps over with the paste. Flatten and make sure it is secure. "Mimi-iori" makes both sides of scroll thick and extremely strong. It also helps to avoid fraying. Both sides become thicker and they make a slight difference on a scroll sheet. When rolling up a scroll, the painting can be protected since it can avoid direct contact with the backing paper, thanks to the very slight difference created by "mimi-ori". "Mimi-ori" is just a small process but it is meaningful.
After mimi-ori, apply a sheet of paper on the end of top and bottom. This will be a bag to wrap in a hanging rod and a roller rod.
The Final Backing
The final backing is called "sou-urauchi." It is added to obtain a flat and smooth finish, so that the kakejiku can be rolled up smoothly.
Finishing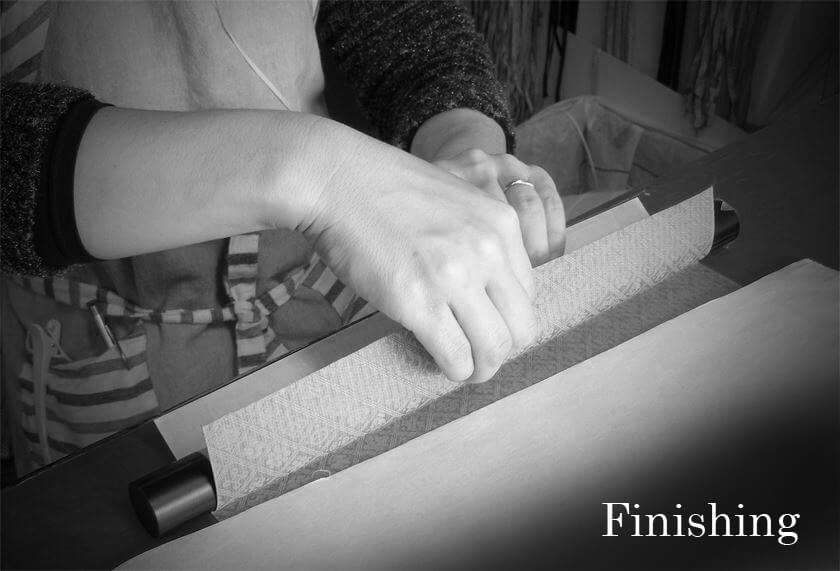 Now that we have come this far, a scroll will be completed soon.
Apply paste to a sheet of paper that was attached to the top before the final backing.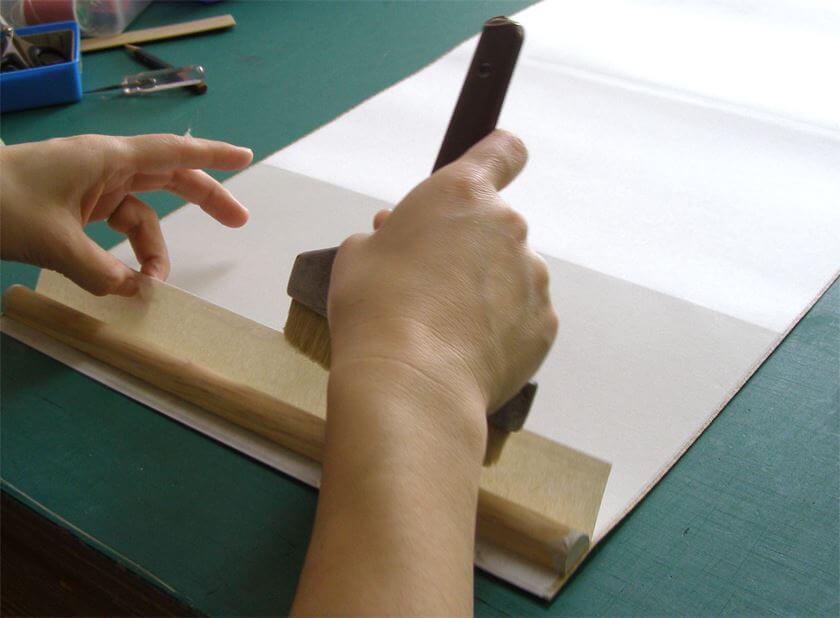 Attach a hanging rod and wrap it in.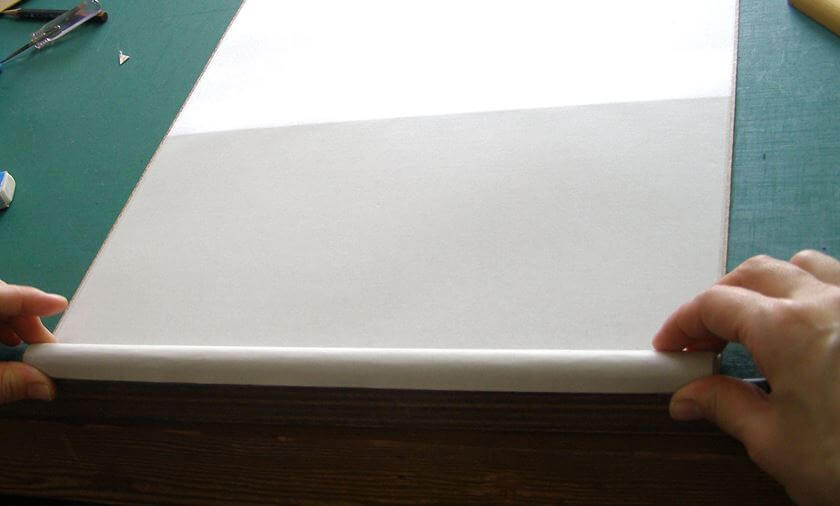 Hammer ring tacks in the hanging rod. Attach both a wrapping cord and a hanging cord and the top of a hanging scroll is done.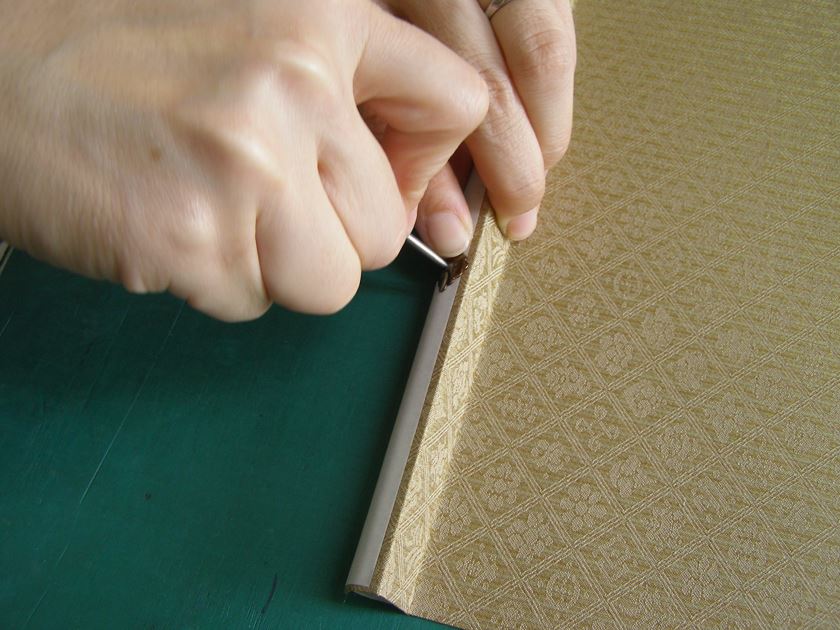 For the bottom, do the same as the top and attach a roller rod.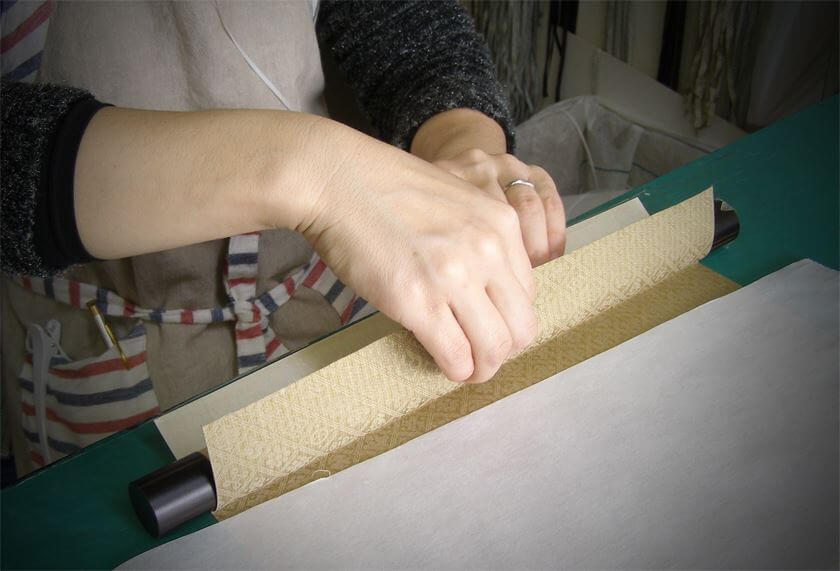 We carry out an inspection over and over until we confirm everything is OK.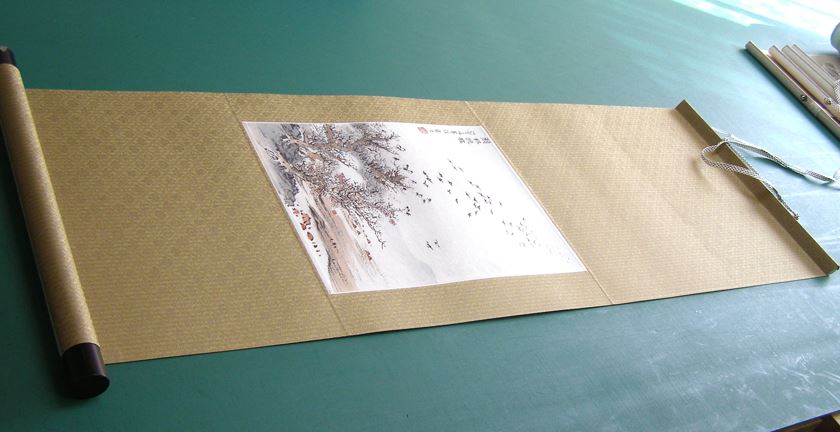 Now, we have finished remounting.
Remounting Completed! Here's a New Hanging Scroll!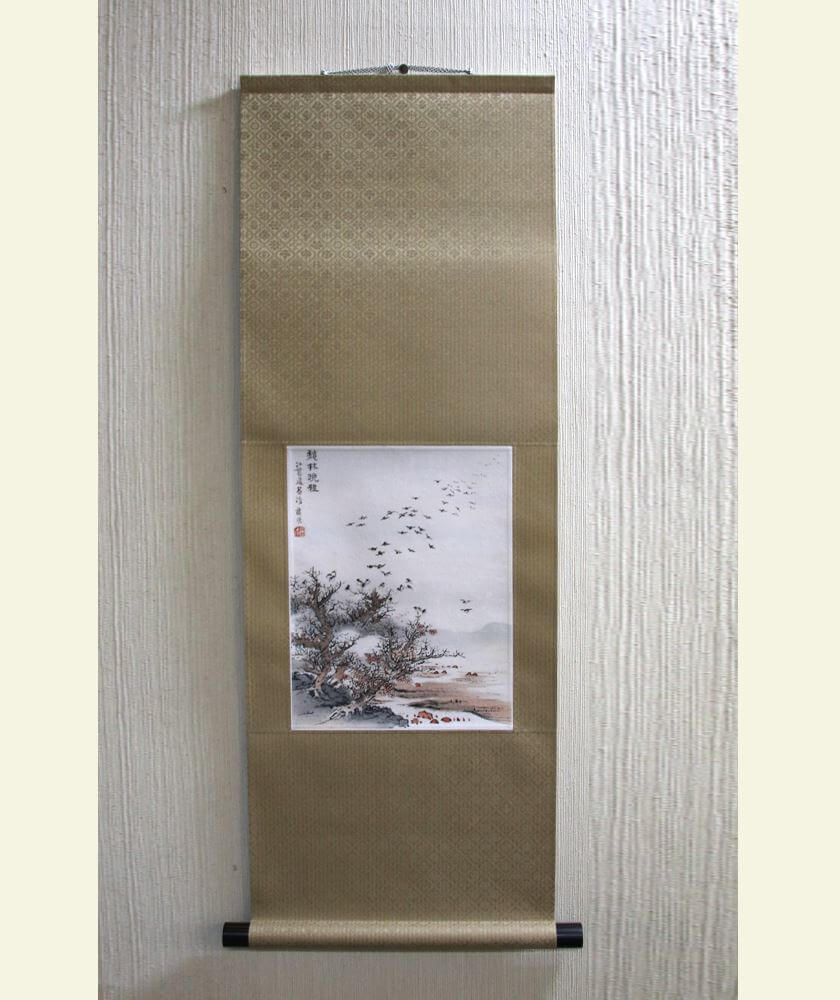 As requested by Russ-san, it is a nicely done hanging scroll of muted color. The painting is relatively small so softly colored fabric matches very well to it.
Chinese Kakejiku Scroll | Before → After
Small wrinkles were smoothed out. The brown spots faded a little bit. The use of water during remounting had an effect of water washing. Also the brown color of mounting fabrics distracts the eye from brown spots.
We are happy that the hanging scroll became beautifully fluid by adjusting backing paper.
スライドショーには JavaScript が必要です。
スライドショーには JavaScript が必要です。
スライドショーには JavaScript が必要です。
スライドショーには JavaScript が必要です。
Client's Voice
We were so grateful to receive a heartwarming message from the client :
Dear Yuuichi-san.

Thank you so much for the caring and expert work you've done on this scroll. After having been shipped in the paulownia-wood box you provided, the scroll looks even better than in the photos you provided, as the rolling has made everything very even and smooth. The honshi itself is also so clear and bright. I didn't imagine that it could look this good!

As I mentioned to you earlier, while we have a number of scrolls, this particular one is very important to us. Thank you for restoring and remounting it so beautifully!
Whether it is Chinese or Japanese, there are many people who own hanging scrolls. It is our great pleasure to be able to help those who need their scrolls repaired. Remounting a hanging scroll requires deeper specialized skills than making a brand-new scroll. If you have any problem with your scroll, please feel free to reach us via e-mail or contact form.
Thank you for reading this post to the end.
Youtube Video
---