Owl Cafes Are All the Rage in Japan.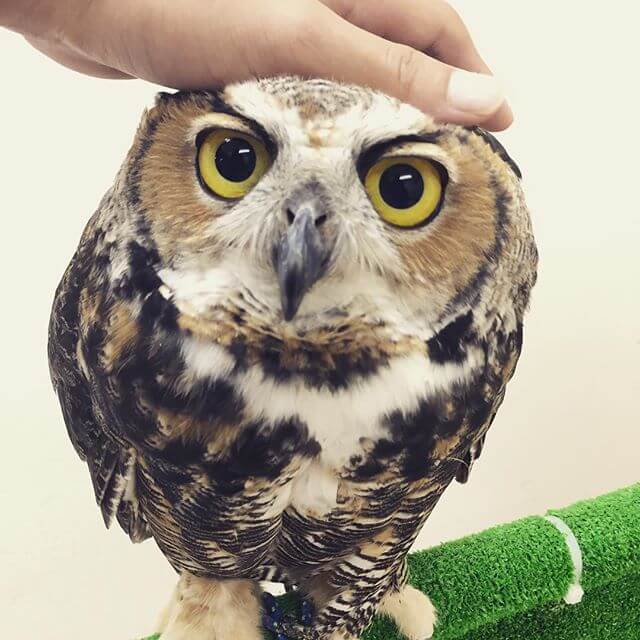 Owl Cafes
Fukurou cafes (owl cafes) are becoming a popular tourist spot throughout the SNS region. Many owl cafes have recently launched in various urban areas.
The Tokyo Metropolitan area

•Fukurou no mise (Tsukishima)
•Tori no iru cafe (Kiba)
•Phakchi Bar 8889(Takada no Baba)
•Musashino cafe and bar fukurou no sato (Kichijouji)
•Takajou chaya(Mitaka)
•Fukurou sabou(Kokubunji)
•Fukurou Cafe "Akiba fukurou" (Akihabara)
•Owl no Mori (Akihabara)
•Ikefukurou Cafe and Dining Shingeki (Higashi Ikebukuro)

The Kantou Region

•Fuwafuwa (Yokohama)
•Fukurou (Yokohama)
•Shounan Fukurou Park (Shounandai)
•Fukurou no Mori (Hiratsuka)
•Cafe little ZOO(Narashino)
•Fukurou no ie (Tsukuba)

The Kansai Region

•Quill (Osaka)
•Fukurou no mise (Osaka)
•HUKULOU COFFEE (Osaka)
•LUCKYOWL (Doutonbori)
•cu (Sakai city)
•Crew (Minou)
•BiBi&GeorGe(Kobe)
•Slow Space cafe (Kobe)
•Fukurou no kazoku (Kobe)
•Watawata (Nara)
The Owl Is an Auspicious Bird.
According to Greek mythology, owls are a symbol of Athena. Athene is the goddess of wisdom, so in many cases, owls represent wisdom.
Owls are called "fukurou" in Japanese. Fukurou can be written in different sets of characters: One with the meaning of luck (fuku, luck; ku, to come; rou, serene), and the other as protection from hardship (fu, no; kurou suffering/hardship/trouble). This is why owls are very popular as an auspicious bird in Japan.

Owls Painting Kakejiku
Owl painting kakejiku (Japanese hanging scrolls) are very popular, as are *"everyday" kakejiku.
Pine trees are often seen in Japanese art, so the owls in some works are perching on a pine tree's branch. Pine trees are called "matsu" in Japanese and matsu sounds like "wait," so these works symbolize waiting for happiness to come. How auspicious!
---
*Everyday kakejiku: A kakejiku, whose subject is "perennial." In this case, "perennial" doesn't mean that we can leave the kakejiku displayed for a long time, but that we can display it freely, regardless of the season.
スライドショーには JavaScript が必要です。