Zuma / Contemporary Japanese Style Restaurant
Japanese Cuisine Restaurants
Japanese culture has recently become extremely popular all over the world. Japanese cuisine (called washoku) is as popular as Anime and Manga. Washoku, a traditional Japanese food culture, was registered as an Intangible Cultural Heritage by UNESCO in 2013. The number of Japanese cuisine restaurants in the world is now over 88,700. The image the world has of Japanese cuisine is that it is "healthy" and "expensive", according to a certain survey. Japanese cuisine is even becoming a status symbol for wealthy people.
Although there were a lot of restaurants of poor quality which didn't have accurate knowledge and cooking methods of Japanese cuisine, the number of authentic restaurants has recently been increasing through training in Japan. The competition among such restaurants is expected to become more intense in the future, and it will be a key issue in how they differentiate themselves from other restaurants.
Shitsurae and Omotenashi
It is necessary to understand the spiritual and cultural values and characteristics of the Japanese people in order to further improve the authentic restaurants. This is because Japanese cuisine involves not only dishes but also a comprehensive art born through "shitsurae" (preparation for guests) and "omotenashi" (Japanese hospitality). An example Japanese cuisine's beautiful arrangement and selected tableware characteristic of Japanese cuisine. Japanese people change tableware, equipment, interior decoration and atmosphere depending on seasons, occasions and guests. This is based on the spirit of hospitality, and this spirit accentuates dishes. Japanese food culture includes them too.
You can feel "Omotenashi" more through this video.
スライドショーには JavaScript が必要です。
However, chefs can easily notice the tableware and the arrangement of the cuisine. The differentiation by them becomes gradually difficult and saturated someday. So what I'd like to propose is the differentiation by "kakejiku" (Japanese hanging scrolls).
Kakejiku Japanese Hanging Scroll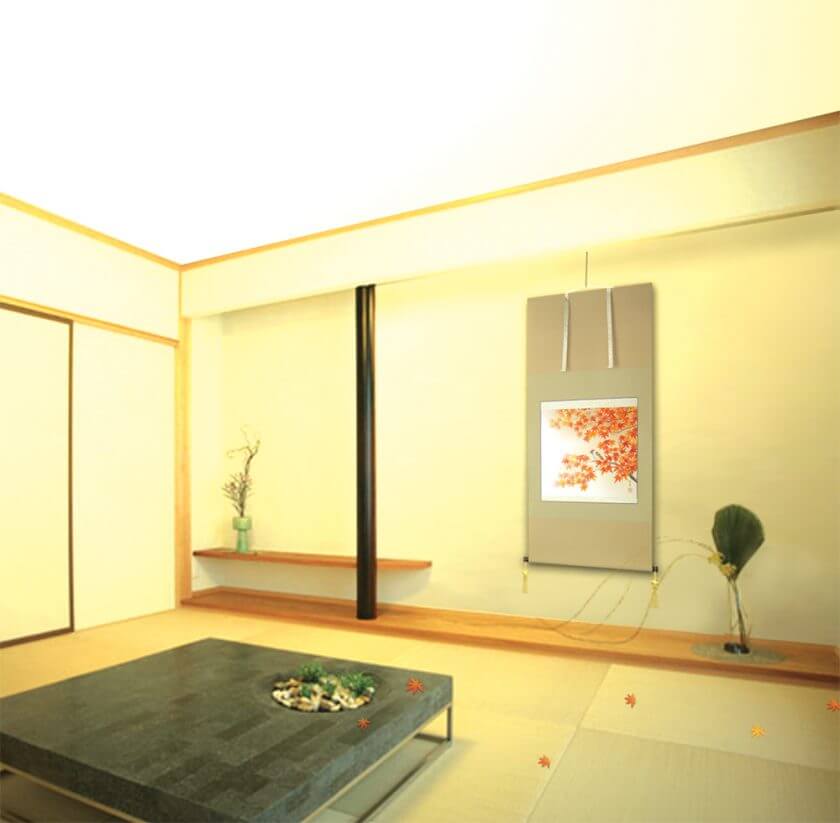 There is tokonoma alcove, a sacred space, in washitsu (Japanese traditional room). Kakejiku (Japanese hanging scroll paintings) are displayed in tokonoma and they are tools to express the host's hospitality to guests. In Japan hosts display a suitable kakejiku depending on seasons, guests and occasions, and entertain guests by making the mood the best. That is to say, kakejiku functions as art and tools to convey the spirit of hospitality. Japanese people liven up the atmosphere by displaying paintings as in Western countries. They decorate trees for Xmas and pumpkins for Halloween. In addition, the kakejiku is the most suitable form to allow for easy changing of the paintings at any time. The beauty of scrolls is that they can be rolled up, which makes them compact, portable and easy to store. Moreover the kakejiku is very light and easy to handle. We can easily change our own wall gallery depending on how we feel on the day.
The mounting, which is both decorative and also serves to protect the main work, is called the hyougu. People appreciate the combination of the two as one work of art. Elegant gorgeous damask (donsu) and gold brocade (kinran) are used for the kakejiku. The hyougu can also give a unique atmosphere to the room. Kakejiku are displayed even now in high- class Japanese-style restaurants and Japanese-style hotels.
If Japanese food restaurants abroad pay attention to the tradition, understand kakejiku and differentiate themselves from others as a real Japanese cuisine restaurant, they are certain to grab the interest of customers.
Zuma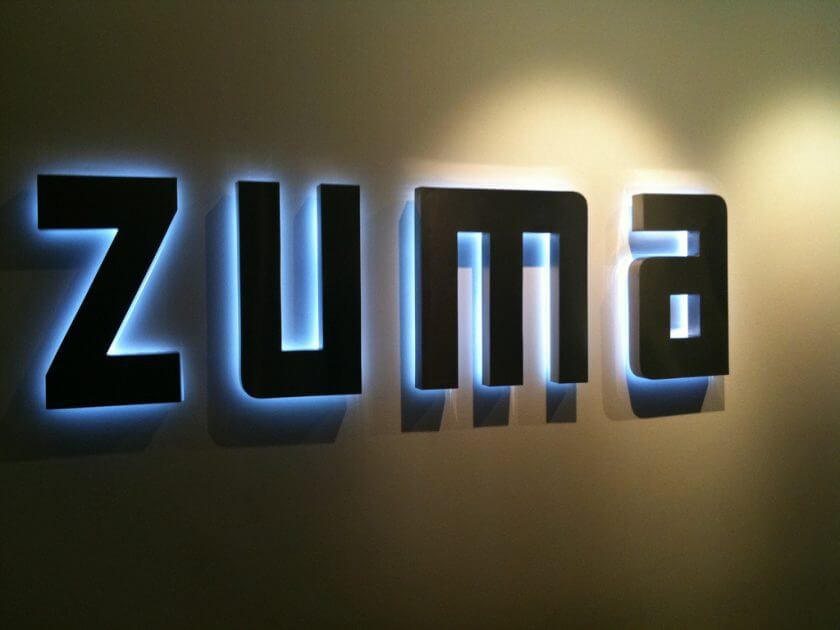 I like to surf the net, so I looked up Japanese cuisine restaurants around the world online. And then, I found an interesting one. This restaurant's name is "Zuma," which is a global restaurant chain with the slogan "Contemporary Japanese Cuisine." According to Rainer Becker, the co-founder, the name Zuma doesn't have Japanese meaning, and he gave the uncommon name to the restaurant for the purpose of attracting more attention. In 2002 Rainer launched Zuma's first location in London. Its success led to the opening of Zuma restaurants in Hong Kong, Istanbul, Dubai, Miami, Bangkok, Abu Dhabi, Datça Peninsula and New York. Rainer talked about the motivation for his startup as follows.
"In Western countries Japanese cuisine is almost synonymous with "sushi" (a Japanese food consisting of cooked vinegared rice combined with other ingredients, seafood, vegetables and sometimes tropical fruits), "sashimi" (a Japanese delicacy consisting of very fresh raw meat or fish sliced into thin pieces) "tempura" (a Japanese dish of seafood or vegetables that have been battered and deep fried) and "misoshiru" (miso soup). However, I have lived in Japan for 6 years and knew many more kinds of Japanese cuisine. For example, I like barbecue, so I took a great fancy to "robatayaki" (Japanese barbecue-style cooking). This is why I wanted to introduce various Japanese cuisine to other people."
スライドショーには JavaScript が必要です。
The concept of his dishes is "unexpectedness not influenced by traditional style" and we can enjoy a unique menu at the restaurant. Besides, Rainer says "Zuma designs harmony of ingredients" too. This means that Zuma doesn't mix too many ingredients and completes dishes simply to bring out their characteristics. In addition, only 4 materials are used for the interior; stone, glass, iron and wood. Zuma serves urbanized menu items such as Japanese sake cocktail and shouchuu (distilled spirits) cocktail in the bar. Also, only raw fruit is used in the bar to make the most of the ingredients.
Rainer (a German man) took part in the opening of Park Hyatt Tokyo (a five-star hotel) as a chef and has lived in Japan for 6 years, during which he recognized the beauties of Japanese cuisine. He fraternized with Kenichirou Ooe, who is a chef of the "Kozue" restaurant in the hotel, and learned extensively about Japanese cuisine. Zuma makes good use of that knowledge.
Although I've not visited Zuma yet, I'm really pleased to hear that people from other countries love Japanese cuisine like this. That is especially why I would like to let Zuma know about kakejiku, one of the most important elements of Japanese culture, and adopt them.
The restaurant's atmosphere is so sophisticated. The first restaurant in London was designed by Takashi Sugimoto, one of the most famous Japanese interior designers. I feel strong preference to the interior through the selection of designers. By the way, I feel more familiar with Zuma's interior because Mosaic Garden, a symbol of Kobe city (my hometown) was designed by Takashi Sugimoto too.
スライドショーには JavaScript が必要です。
I'd like Zuma to display kakejiku to entertain customers. I suppose that seasonal kakejiku will suit the restaurant and calligraphic kakejiku are interesting too. Please imagine that every time customers visit Zuma, the paintings in the restaurant are changed. In short, this is an Japanese style restaurant with an added element of picture galleries. It is impossible that the customers would ignore them.If the customers ask about the kakejiku, please teach them various things, such as the profound kakejiku history and the customs of omotenashi (Japanese hospitality). I don't mind if Zuma utilizes our company's HP. It would be interesting for us to collaborate on the project with Zuma. There is surely something ahead which makes customers will get absorbed in. The addictive attraction will increase the customer repeat rate and the reputation of the restaurant will spread through word of mouth. Zuma will eventually succeed as a unique Japanese style restaurant.
Zuma Rome
In the spring of 2016, a new Zuma restaurant will open at the PALAZZO FENDI, an iconic building in Rome.
FENDI, the representative luxury brand of Rome will collaborate with Zuma, which won many international awards. Zuma Rome is located at the Piazza Calro Goldoni and an exclusive entrance is provided along Fontanella Borghese street. The restaurant occupies two upper flowers of the building, and we can see "The City of Water" from a beautiful terrace on the rooftop. The cooperative relationship between two international enterprises is producing an excellent synergistic effect.
Zuma Rome is Zuma's 10th restaurant, which was designed by Noriyoshi Matsumura, a Japanese designer of STUDIO GLITT. The new restaurant was designed by Noriyoshi and Rainer from the beginning so that it would extol the energy of that place while retaining Zuma's style and spirit. The Roman atmosphere elegantly accentuates the taste of the dishes.
I hope that kakejiku will be displayed someday at the Zuma Rome, a commemorable restaurant.