Kakejiku Store in Kobe Welcomed American Traveling Customers!
スライドショーには JavaScript が必要です。
ART NOMURA Co., Ltd. is a hanging scroll/kakejiku store with over 50 years of history located in Kobe City, Hyogo Prefecture.
On the ground floor, there is a gallery where a variety of kakejikus are displayed to trade.
Before the pandemic, foreign tourists from all over the world came to visit our store for purchasing kakejiku yet since 2020, the crisis significantly dropped the number of those customers.
Nevertheless, eventually the entry restriction intended for a covid-19 measure has been lifted in Japan since October 2022 and that brought about a sharp increase of foreign visitors.
The figure of the visitors from abroad was 1.5 million in both January and February of 2023 that shows the recovery of the numbers almost equivalent to the monthly record high, 1.52 million, hit in March 2015.
Amid this trend, in March 2023, Mr. and Mrs. Peter the American couple visited our store looking for a kakejiku.
As the couple requested to take a look at our landscape kakejikus, we showed them various kakejikus of this kind such as one portraying Mt. Fuji, and others like shrines, temples, and sightseeing spots in Japan.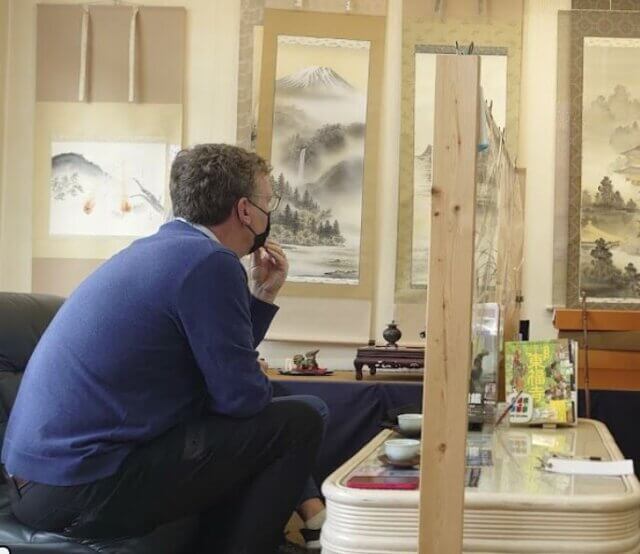 Giving them the interpretation of the artwork of the kakejikus, we watched their reactions for seeking their liking. It is really pleasurable to select our customers' one and only, no matter what their nationalities, it's like a treasure hunt for the destined one.
After thinking long and hard, the couple decided to purchase a kakejiku depicting the Hōryū-ji Temple.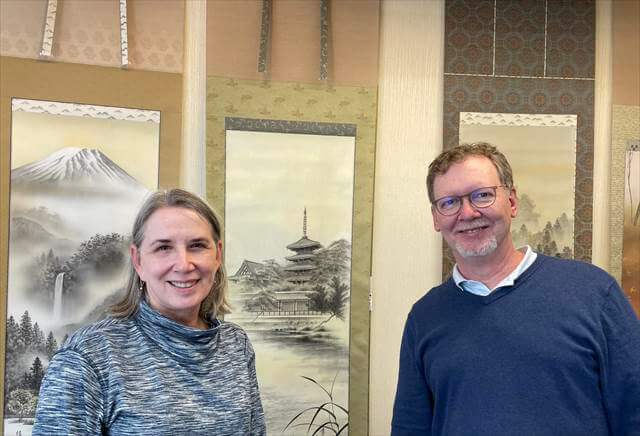 While serving them, I was capable to explain the fact that Hōryū-ji is the oldest wooden architecture in the world in English and that was a gratifying experience for me as well.
It was joyful serving Mr. and Mrs. Peter who are always smiley and gentle and carefully listened to our explanations.
We were sure that the couple had been enjoying what Japan has to offer to the fullest by knowing their plan to see Mt.Fuji the next day and we found it gratifying too.
We were rated high on TripAdvisor by the customers that we sincerely appreciated.

Our store trades in kakejiku all over the globe and very much welcomes the visit of anyone interested in the traditional art.
We have kakejikus with a wide range of themes. As well as a painting of Landscape, we have other categories such as a painting of flowers & birds and calligraphy.
We would recommend you find your favorite piece and add some life to your room.
Kakejikus are not a simply popular ornament, they are in fact very ideal as a gift and souvenir too.
Why don't you choose a kakejiku as a gift for your loved one?
Our team dedicated ourselves to our customers wholeheartedly with our satisfying service.
Please feel free to contact us for inquiries regarding the information on kakejikus and how to choose them.
We, from the heart, look forward to seeing you at our store.