Mounting Work for Dai Mandala Kakejiku of the Nichiren Sect Requested from the U.K.
Nichiren sect is one of the Japanese Buddhist schools founded by Saint Nichiren in the middle of the Kamakura period which considers the Lotus Sutra to be the valued teaching, conceiving of it that it encompasses various Buddha's teachings the most.
The sect attaches importance to chanting the title 'Namu-Myōhō-Renge-Kyō' meaning, 'I have a faith in the Lotus Sutra.' and as the Honzon/the principal image of the deity, the believers oftentimes hang a kakejiku called *'Dai Mandala' whose Daimoku/main title is surrounded by names of the Buddhas・Bodhisattvas, their disciples, Tendai learned priests and the Gods of India, China and Japan written in Chinese and Brahma characters.
---
*「* It's also called 'Nichiren Mandala' and 'Hige Mandala'
The kakejiku shown below and restored by us is the one with a Dai Mandala of the Nichiren sect.
The size of the kakejiku was rather large as the one displayed in a Buddhist altar. Even so, smaller-sized Dai Mandala kakejiku matching the size of an individual altar is also available.
This time, we received an order for making a Nichiren sect's Dai Mandala kakejiku, the type of kakejiku we mentioned above, from a British gentleman.
Although we've been receiving requests of that mounting work from abroad once in a while, introducing it in this article is the first time.
Currently, the customer seems to decorate a simple self-made kakejik but he now feels like possessing the one, mounted with the traditional expertise of Japan.
So, he placed the order with us.
Once we received the printing data and instructions using the detailed sketch from him, we printed the data on special Japanese paper and then mounted it into kakejiku with the fabrics we've arranged.
These two Dai Mandala kakejikus are those we made this time.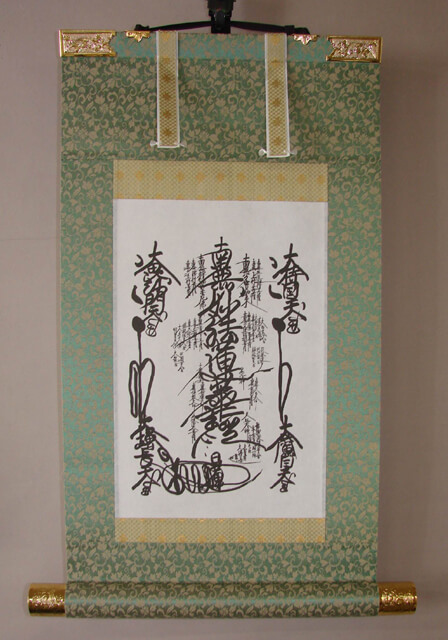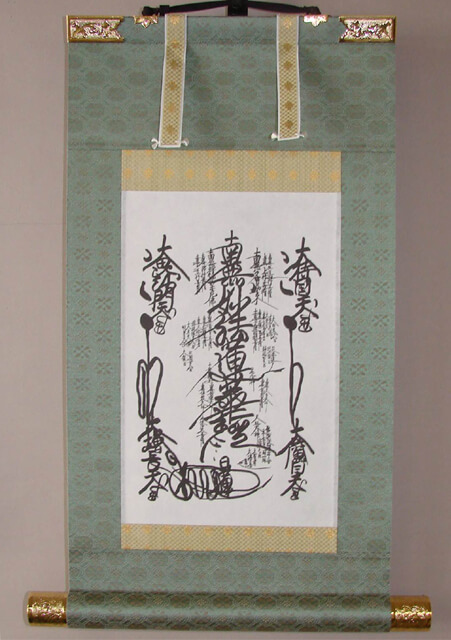 They may be smaller in size, but still being mounted by the performance of expertise, they give a majestic impression.
The customer was pleased enough to decollate the piece in no time.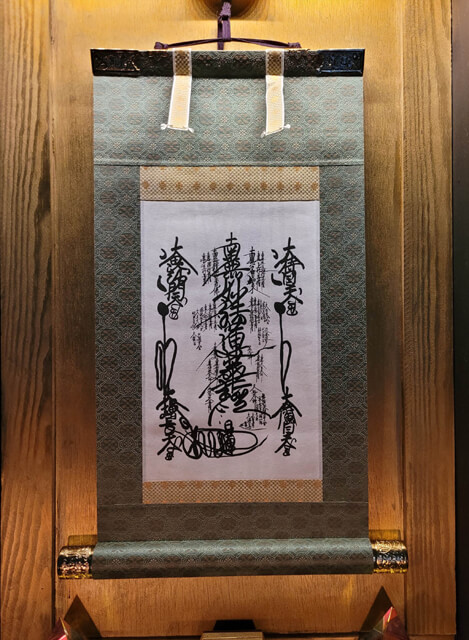 He was absolutely satisfied with the finished pieces and kindly placed additional 3 orders.
We are very happy to know that our work was satisfying for him.
Nichiren sect as you see in this article, so please feel free to contact us if you have inquiries regarding the mounting work.