Ichimonji-Otoshi and Suji-Mawashi | the Aesthetics for Heightening the Artwork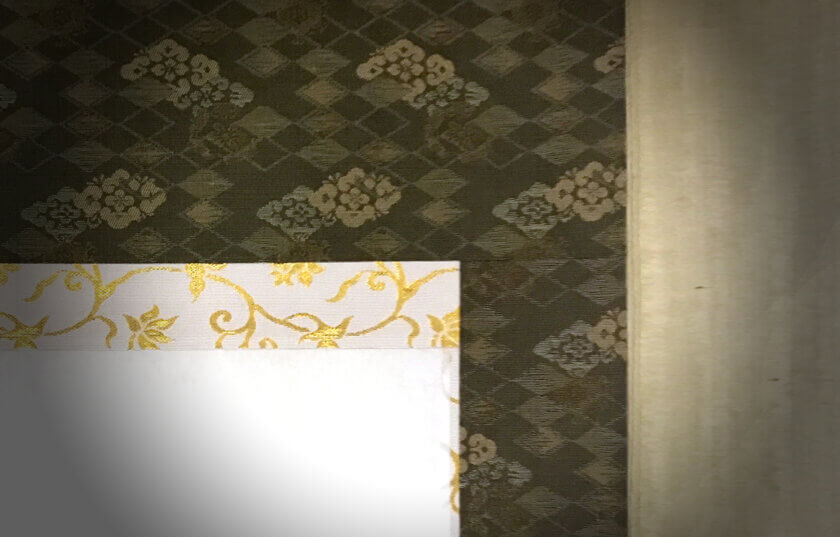 A question we ask each time we take a mounting work and for its option is
"Would you like to have your order additionally done with ichimonji-otoshi or suji-mawashi?"
The option is minor and does not cost much. However, it makes a significant difference in the look of a centerpiece, so we always make sure that we ask the question.
Let me explain about these ichimonji-otoshi and suji-mawashi in this article.
About Ichimonji
With the usual format of a kakejiku, a horizontally long gold/silver brocade called ichimonji is applied to the top and bottom of the artwork, respectively.
In the picture below, the parts surrounded by red circles are the fabrics of ichimonji.

Kakejikus in the normal style have parts called 'hashira' at both sides of main works.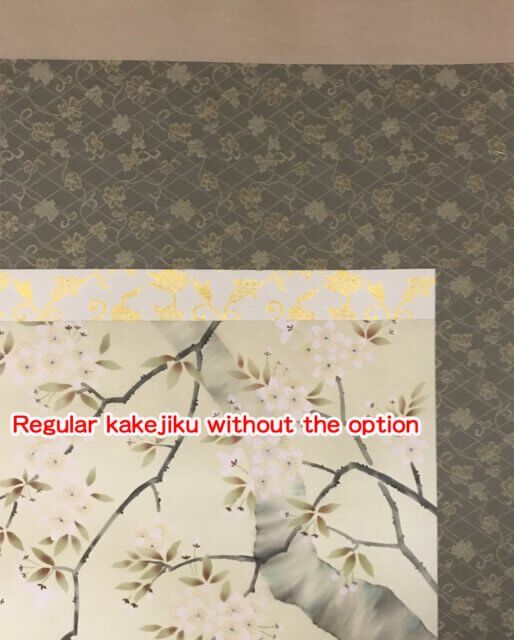 Ichimonji-Otoshi
'Ichimonji-otoshi'is an optional style where a centerpiece is surrounded by the fabric used for ichimonji parts by attaching the thinly cut fabrics also to the sides of the piece. By surrounding an artwork with the fabric, an entire artwork defines against the background and gives a sharper impression.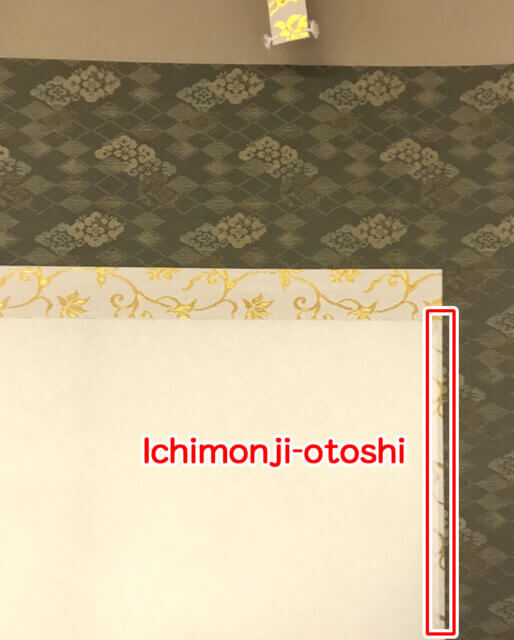 Suji-Mawashi
And then, about 'Suji-mawashi'. This is an optional work which is to attach a finely cut single-colored fabric around 'a centerpiece having its ichimonji at the upper and bottom areas'. The picture below shows the use of a dark blue fabric. The option has a defining effect as well, much the same as ichimonji-otoshi.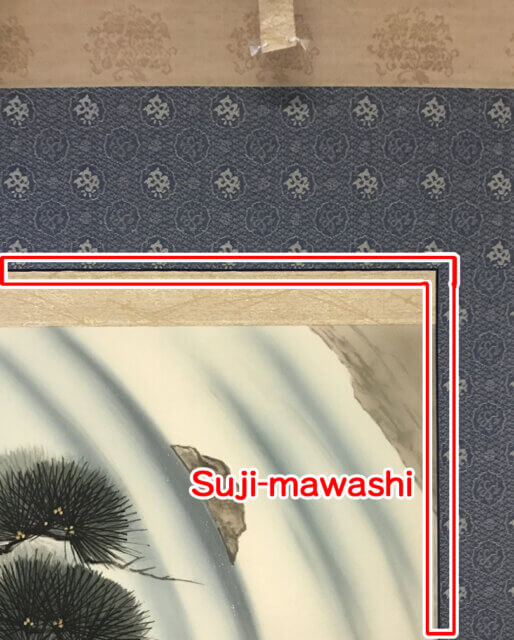 This simple option creates a certain impression of the main work which is a far cry from the one without having it done. We recommend adding the little process of work filled with the delicate aesthetics of Japanese.
In the old days, kakejikus with these accompaniments were rather rare, even so, why don't you upgrade the look of your kakejiku with them using the opportunities, like when remounting.
There is little to choose between ichimonji-otoshi and suji-mawashi, therefore the choice will depend on your preference, or we could choose the one which will enhance the artwork most. We are looking forward to your request for the accompaniments.
* Ichimonji-otoshi and suji-mawashi couldn't be chosen both. Please decide on the one you prefer.