Bespoke Order for Shikishi-Gake/Tanzaku-Gake Is Available from a Single Item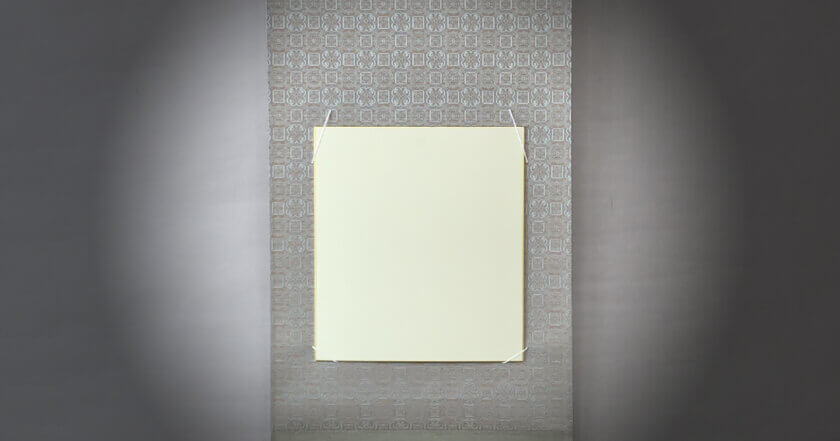 We are taking orders of mounting artworks into kakejiku across the world.
Among these orders from abroad, we commonly take requests of creating shikishi-gake whose main artwork is replaceable shikishi/large square poetry card and tanzaku-gake with its changeable tanzaku/artistic paper board attached in the same way as shikishi-gake.
Regarding these shikishi-gake and tanzaku-gake, we are probably the only company across the globe that takes made-to-order requests of these kakejikus with customized size, design, and combination of the fabrics and better still, available from a single item.
We took a bespoke order of shikishi-gake of this sort from a customer in Italy and this time, 1 item was ordered.
His demand included a specific size which is width: 35 cm × height: 110 cm.
It seems that depending on the place to display a shikishi-gake, he has a particular preference in height of where the piece is hung. For that reason, ready-made ones have never fulfilled his desire.
It may be a height difference, but we do understand why he can't help being particular about it.
Aiming to live up to his requests as much as we could, we put forth our best efforts on the work.
Here is the completed shikishi-gake
スライドショーには JavaScript が必要です。
We swiftly sent the kakejiku to the customer in Italy.
We are hoping the piece will make another happy customer.
We take international orders of bespoke tanzaku-gake and shikishi-gake. We will take a request from a single item too, so please feel free to contact us if you have an interest in these kakejikus.