Request for Production of a Small Hanging Scroll From the U.S.A.
Hanging scrolls are usually made to be displayed in the tokonoma alcove of a room. And for this reason, there are several fixed dimensions.
For example, one of the most popular dimensions, "Shaku-go, Tatemono" has about 60 centimeters (23.6 inches) of width (from one edge of the roller knob to another) and 190 centimeters (74.8 inches) of height, and another common dimension, "Shaku-hachi, Yokomono" has approximately 73 centimeters (55.1 inches) of width and 140 centimeters (23.6 inches) of height.
Recently, however, more and more customers ask for hanging scrolls of smaller dimensions than regular ones.
These people, instead of displaying their hanging scroll in their tokonoma alcove, want to display a hanging scroll in their living room, hallway, or wherever they want. And they want a hanging scroll that fits in the space they want it to be.
We have received orders of this sort from our Japanese customers. And recently, requests of this kind are frequently sent from countries outside of Japan, too.
This time, a customer from the U.S. contacted us asking for production of a small hanging scroll.
Request for Production of a Small Hanging Scroll From the U.S.A.
This time, a gentleman from Florida State, U.S.A., contacted us requesting production of a small hanging scroll.
His first message was vague:
"Do you have a hanging scroll that measures 1000 (39.4) to 1150 millimeters (42.3 inches)?"
Since we were uncertain what he requested, we asked:
"Would you be so kind to tell us what kind of hanging scroll you want? One with some calligraphy on it? A landscape painting? A bird-and-flower painting? Please let us hear your idea."
"What is your approximate budget?"
Like this, we started asking him some questions and gradually visualized what he wanted.
Three Suggestions
We didn't have the product he requested in the ready-to-ship state. The painting was still not mounted on the hanging scroll. The state of the painting was so-called "Honshi (Makuri)", that is, it was depicted on paper by a painter. First, we edited some images in Photoshop trying to show our customer how the paintings look like when mounted on a hanging scroll, and sent the data to him.
Three hanging scrolls below are what we suggested to him.
Landscape
---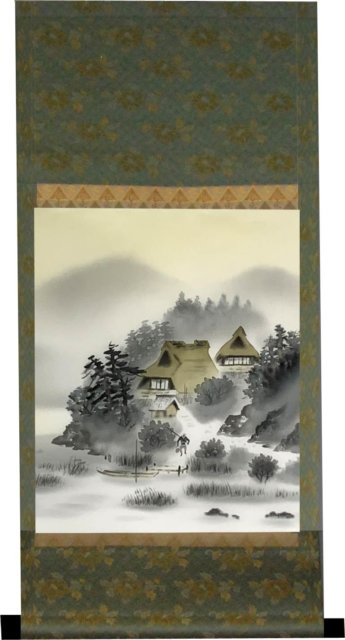 Calligraphy: "Dream"
---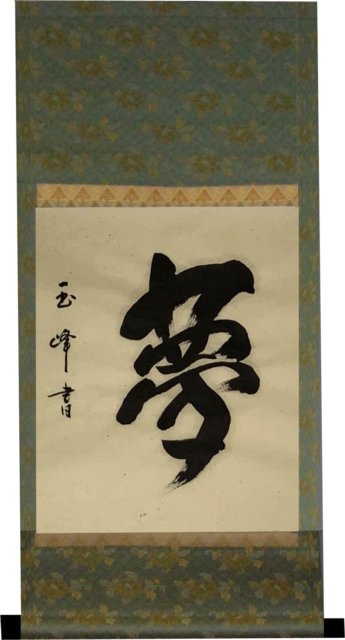 Sparrows
---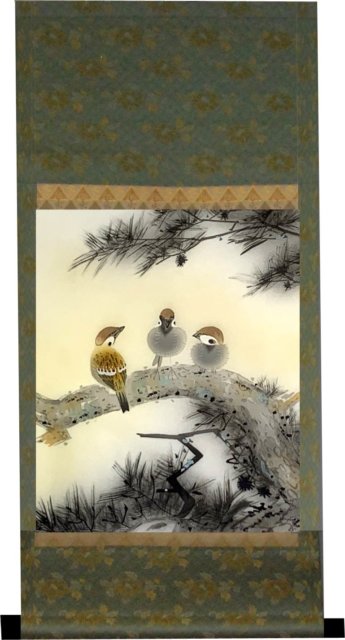 It was a hanging scroll of cute sparrows that met our customer's expectations.
Since ancient times, the subject matters, pine, and sparrow are said to be auspicious and favored as symbols to put on ornaments and decorations for the following reasons.
Sparrow: Sparrows are prolific birds and for this reason, the bird was considered to be good luck for being blessed with many offspring.
Pine Tree: As it is an evergreen tree, its green pine-needles which won't discolor indicate prosperity.
Later, our customer requested a slight change in dimensions. To make sure that we live up to his expectation, we re-sized the dimension and visualized it so that he could see exactly how the final product would look like and make final confirmation.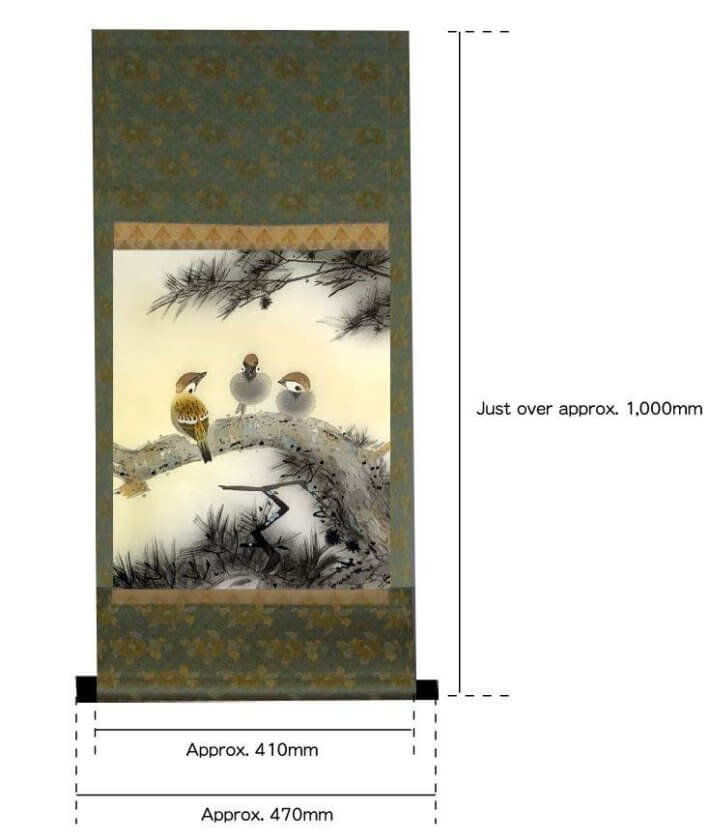 Final confirmation was done and he paid us in advance. Now what's left was the production of the hanging scroll. Here we go!
Well, we had a stock of "Honshi (the picture painted on the paper)". All we had to do was to mount the painting on the hanging scroll. It took roughly one month to complete this process. (If we start making the hanging scroll from the drawing of "Honshi", it takes far longer than this.)
Finished Work: Small Hanging Scroll "Sparrows on a Pine Trunk"
After a detailed check of the specifications and dimensions, we finally completed the requested hanging scroll, "Sparrows on a Pine Trunk".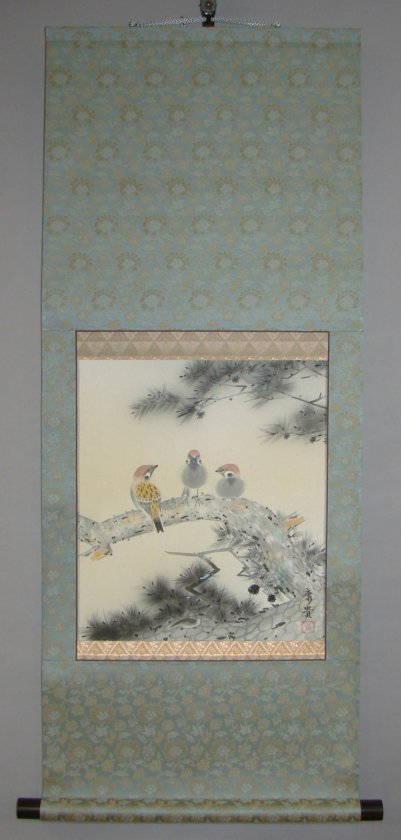 The expressions on the face of the sparrows resting their wings on a pine trunk are adorable.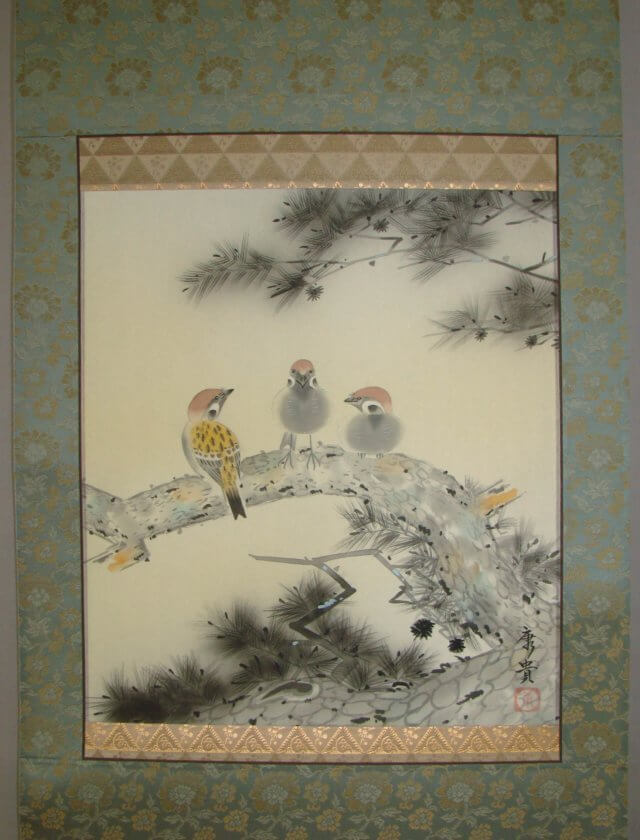 We immediately sent it to our customer and received words of its safe arrival.
Dear Yuuichi-san,

The scroll arrived today in perfect condition and is very beautiful.

Thank you for the excellent work and effort to get this to me as I desired.

Domo arigato gozaimasu
We are glad to have received his positive feedback. He later sent me a photo of the actual place where his hanging scroll is displayed, and we post it below.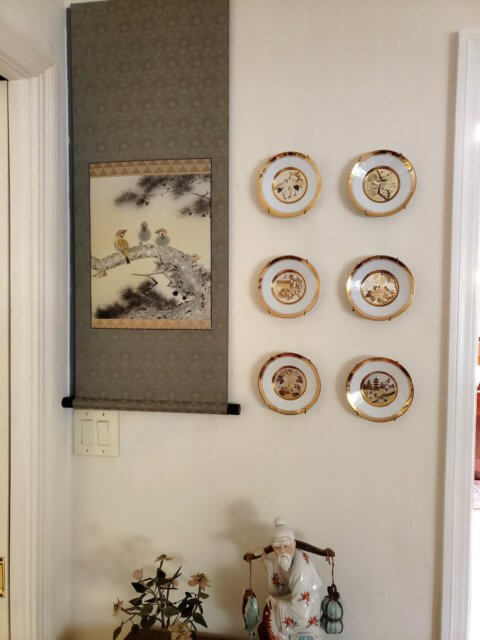 Well, to the right of the scroll, he has some plates displayed on the same wall and below the scroll, we can see the power switches. Since there is room just large enough to place the hanging scroll, we can guess that he measured the space very precisely and placed his order.
We are so glad that he is happy with it.
We also attend to requests for small hanging scrolls to fit your space, like this one.
If you have any requests, please feel free to contact us.