Usuzumi Zakura (Light-Ink Cherry Blossom) / Oguri Senshū - Usuzumizakura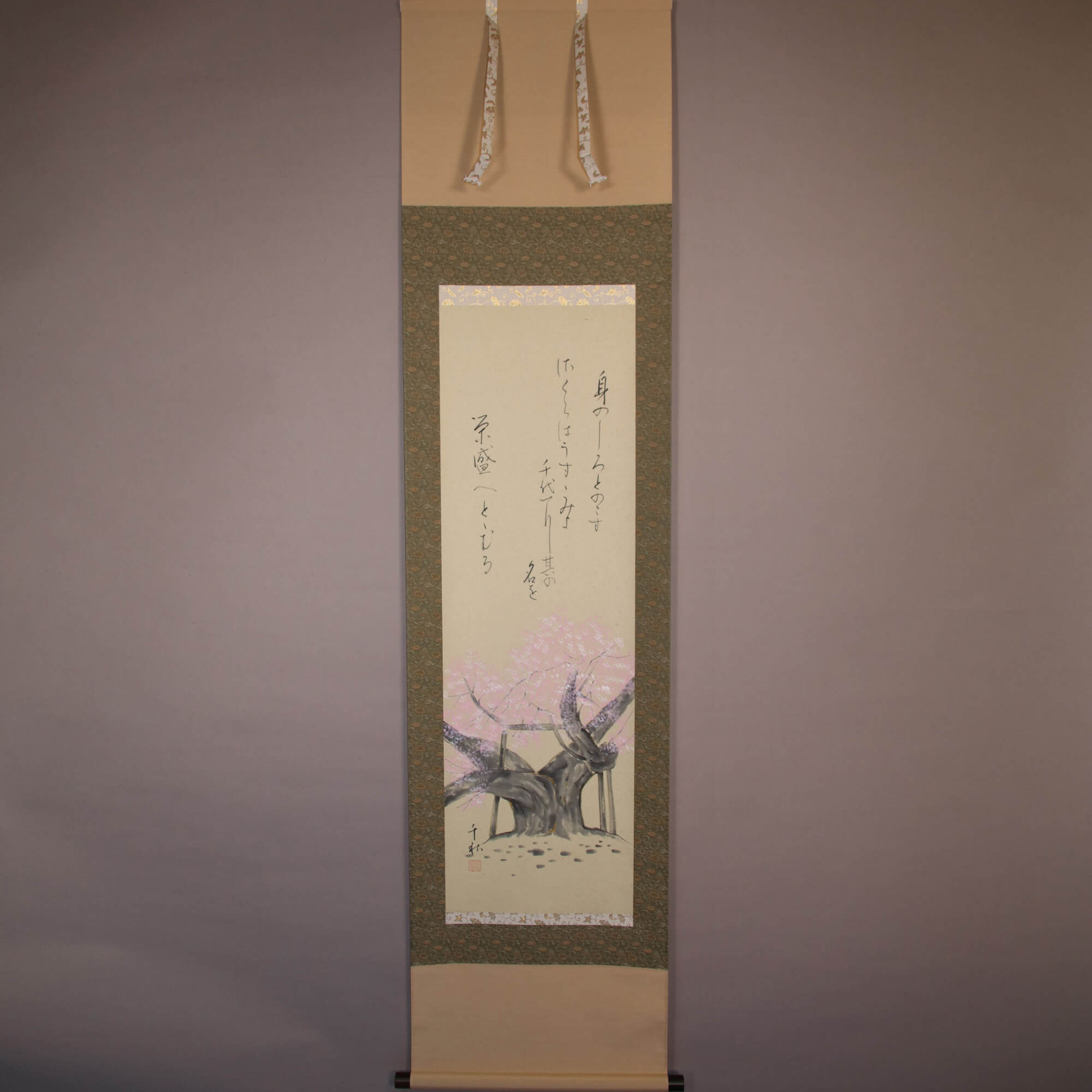 Product ID

B0095

Name

Yuki Bishū

Profile

A Japanese-style painter. In 1955, born in Gifu Pref. Active in solo exhibitions, which have been held at galleries and department stores.

Size

510mm x 1880mm

Roller End Material


Redsandalwood

Material of the Work

Japanese Paper

Price

JPY 38,000

Stock Condition

In stock

Payment: Click the Paypal Mark

Duty and Taxes




Import duty and taxes are beyond our control and may apply to your shipment. Please noted that these fees are the responsibility of the buyer.
Description

The cherry tree in this work, painted by Oguri Senshū, is an Edohigan (double weeping rosebud) cherry tree, more than 1,500 years old, located in Usuzumi Park in the Neo region of Motosu City, Gifu Prefecture. This specific cherry tree is called Usuzumi Zakura. These particular cherry blossoms are pale pink when in bud, white when in full bloom, and turn distinctive pale black on the verge of falling, which they were named after.

When the 26th Japanese Emperor Keitai (450?-531?) was still a prince, he lived in hiding in this region to avoid persecution in the capital. It is said that when he grew up and returned to Kyoto, at the age of 29, to succeed to the throne, he planted this cherry tree. The calligraphy written by Oguri Senshū on top of the cherry blossoms in this work is a poem composed by Emperor Keitai at that time. The meaning of his poem is as follows:

I will leave this place. But, on my behalf, I will leave here this cherry tree. My time here was short, but I hope that this cherry tree, my replacement, will bloom here for a long time.

Oguri Senshū, who was born in Gifu Prefecture, created this work with a special feeling for Usuzumi Zakura, which, as the poem says, blooms beautifully even today. The beauty of cherry blossoms, which has remained unchanged for more than 1,500 years, has been beautifully depicted.