The Moon and Autumn Flower / Kawamura Kanpō - Tsuki ni Akikusa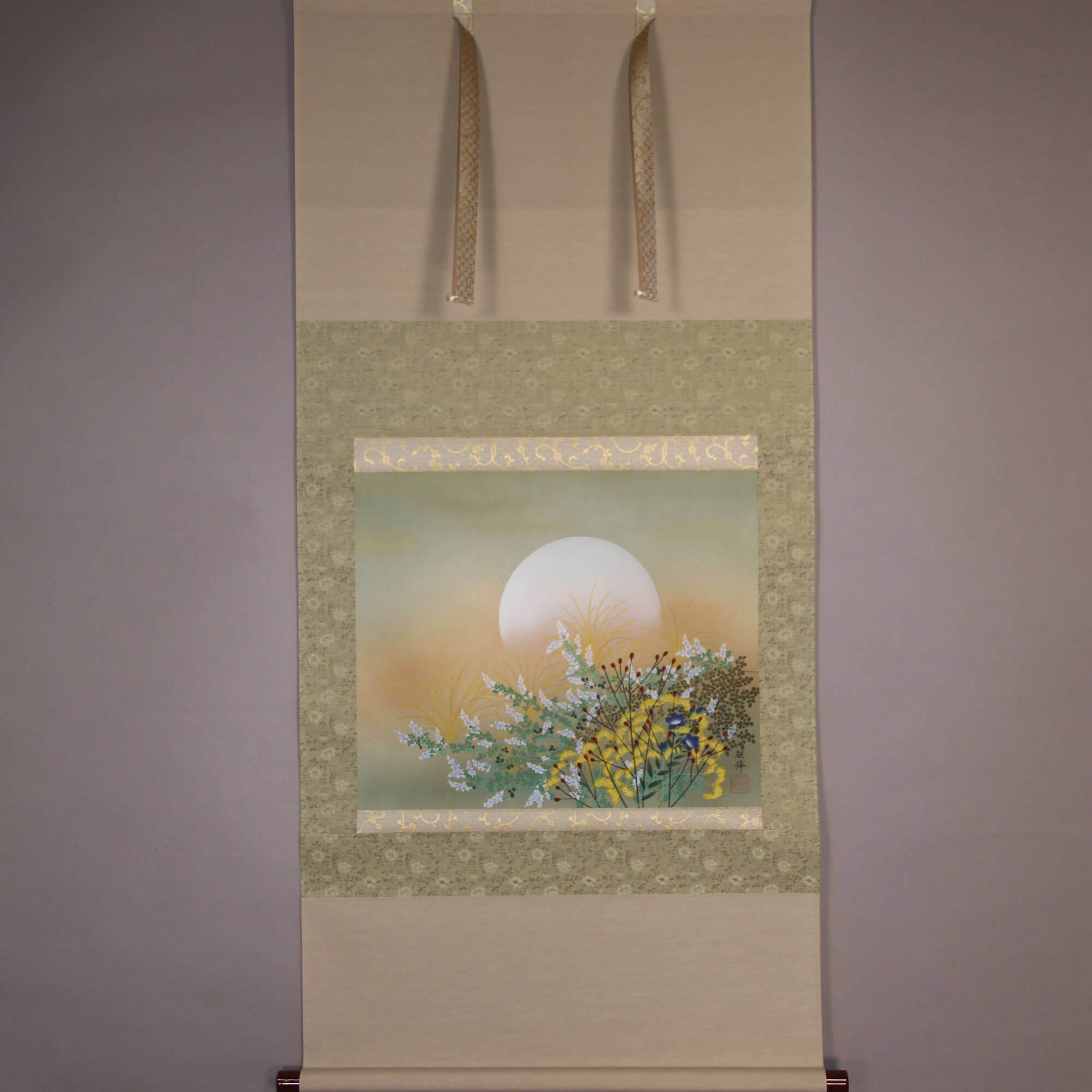 Product ID

B0119

Name

Kawamura Kanpō

Profile

A Japanese-style painter. In 1935, born in Aichi pref. Member of the Tōyō Bijutsukai. Pupil of Ōhashi Suiseki. A frequent prize winner. Specialized in Buddhist paintings, landscape paintings and animal paintings.

Size

690mm x 1330mm

Roller End Material

Plastic

Material of the Work

Silk

Price

JPY 50,000

Stock Condition

In stock

Payment: Click the Paypal Mark

Duty and Taxes




Import duty and taxes are beyond our control and may apply to your shipment. Please noted that these fees are the responsibility of the buyer.
Description

Autumn flowers bloom beautifully and are swaying in the wind, and the harvest moon illuminates them. They give us the signs of deep autumn. In this elegant work, Kawamura Kanpō expressed the silence of autumn evening with exquisite brushstrokes and a beautiful sense of color. In contrast to the brightly colored yellow flowers of golden lace, the blue autumn bellflower blooms quietly. The beautifully blooming flowers are accompanied by Japanese pampas grass and bush clover, and the red color of great burnet make this artwork brilliant even more. By his outstanding power of description, the characteristics of each flower are accurately differentiated and drawn differently. In contrast to the bright flowers, the harvest moon, which is painted in pale colors, gently illuminates them. The hazy moon in thin clouds is beautifully expressed by the exquisite technique of gradation. This skillful contrast adds depth to the entire screen and naturally leads the viewer into a subtle and profound world. This graceful masterpiece enables you to enjoy the silence of autumn evening to your heart's content.