Red and White Plum Blossoms / Oguri Senshū - Kōhakubai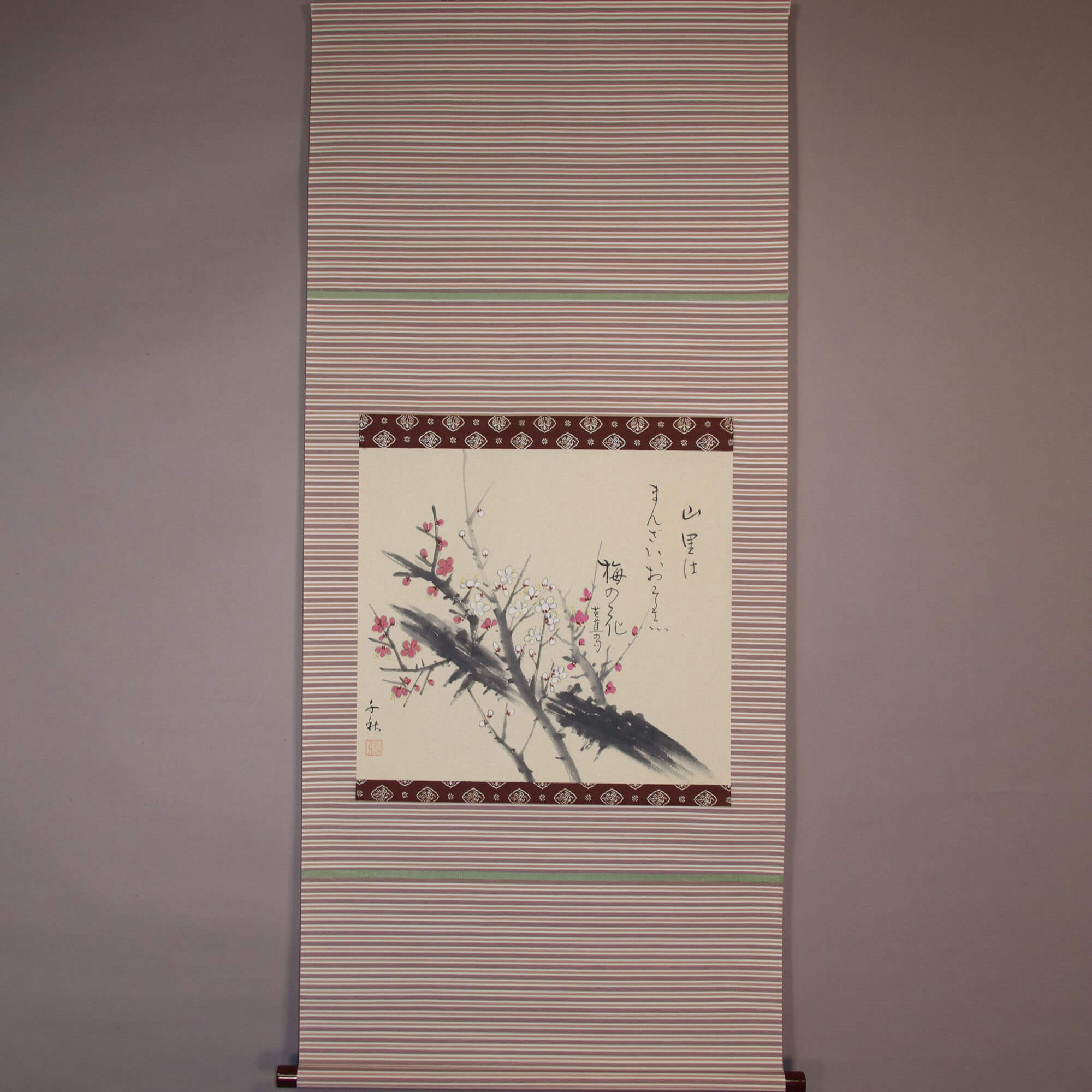 Product ID

B0093

Name

Oguri Senshū

Profile

A Japanese-style painter and calligrapher. In 1928, born in Aichi Pref. Specialized in haiga (simple paintings with haiku poem) and genre paintings.

Size

675mm x 1400mm

Roller End Material

Plastic

Material of the Work

Japanese Paper

Price

JPY 40,000

Stock Condition

In stock

Payment: Click the Paypal Mark

Duty and Taxes




Import duty and taxes are beyond our control and may apply to your shipment. Please noted that these fees are the responsibility of the buyer.
Description

Thin plum tree branches are drawn intersecting with a thick trunk which is drawn diagonally and vigorously in black ink. On these branches, vividly colored red and white plum blossoms are painted rhythmically. The plum trees, which bloom ahead of hundreds of other flowers after a cold winter, are considered the symbol of vitality. And from the portrayal of plum trees and their blossoms, the strength of their life force can be perceived. On the right side of the canvas, Oguri Senshū wrote a haiku poetry about Japanese apricot composed by Matsuo Bashō, a haiku poet of the Edo period. The haiku poem's meaning is as follows:

"In this remote mountain village, the New Year's celebratory entertainment troupe, Banzai, finally arrived when New Year season was already passed and the plum blossoms started to bloom."

Banzai is a folk performance troupe that celebrates the New Year, entertaining people with dances and songs. When the New Year broke in, those who made their living with Banzai performances, would go from house to house entertaining people. And naturally, it is more efficient to earn money in cities with densely populated areas. Therefore, in the remote countryside, Banzai performers would finally come around in early spring when the plum trees are in bloom, long passed January. So to speak, in the countryside, Banzai performance is a thing of the plum season. With Bashō's haiku calligraphed by the side of the red and white plum blossoms on this piece, the viewers can almost hear the laughter of a lively party.

Oguri Senshū's taste in choosing a haiku poem for his work is also quite good.