Kerria Japonica and Waterfall / Yuki Bishū - Yamabuki ni Taki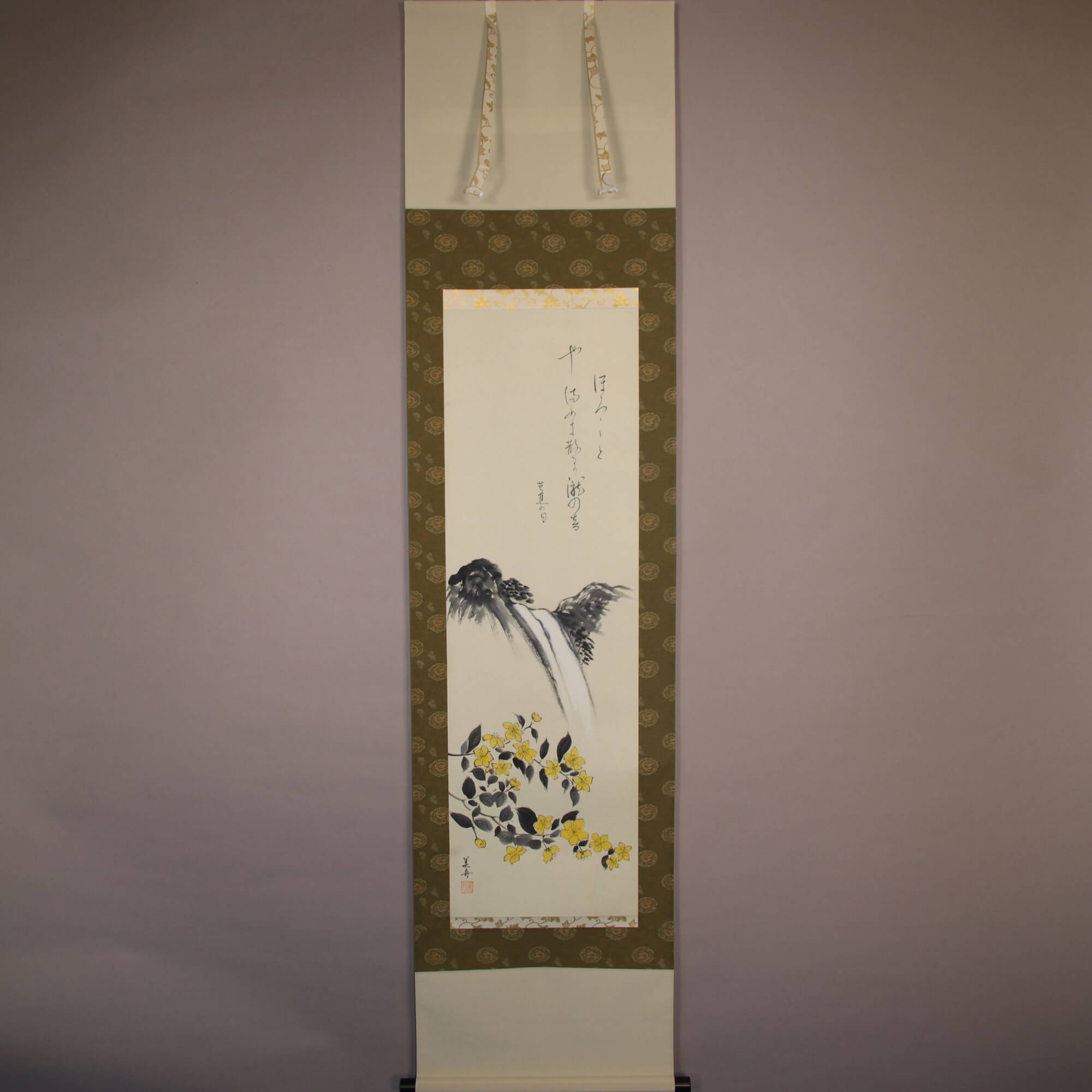 Product ID

B0094

Name

Yuki Bishū

Profile

A Japanese-style painter. In 1955, born in Gifu Pref. Active in solo exhibitions, which have been held at galleries and department stores.

Size

510mm x 1880mm

Roller End Material


Redsandalwood

Material of the Work

Japanese Paper

Price

JPY 38,000

Stock Condition

In stock

Payment: Click the Paypal Mark

Duty and Taxes




Import duty and taxes are beyond our control and may apply to your shipment. Please noted that these fees are the responsibility of the buyer.
Description

Matsuo Bashō is still popular as one of the greatest haiku masters in Japanese history. Many painters paint the scenes expressed in his haiku poetry.

Yuki Bishū is one of them. This work depicts a scene from a haiku poem about the kerria japonica and waterfalls in late spring composed by Matsuo Bashō when he visited the Yoshino River in Nara. Yoshino in Nara is famous for its cherry blossoms. However, this poem shows that not only cherry blossoms but kerria japonica is also famous. This poem talks about beautiful scenery against the backdrop of the waterfall flowing down between the rocks with a thunderous and violent sound where the golden kerria japonica in full bloom on the river bank and later scatter away melodiously. It is one of Matsuo Bashō's most popular and complete haiku poems. Probably, Yuki Bishū was also inspired by this haiku and created this work. The haiku attached to the painting is written by Yuki Bishū with his own handwriting, which seems to convey his respect for the poet.