From Planting in the Spring to Abundant Harvest in the Fall / Yokoyama Kōshū - Hōjō Shunjū Zu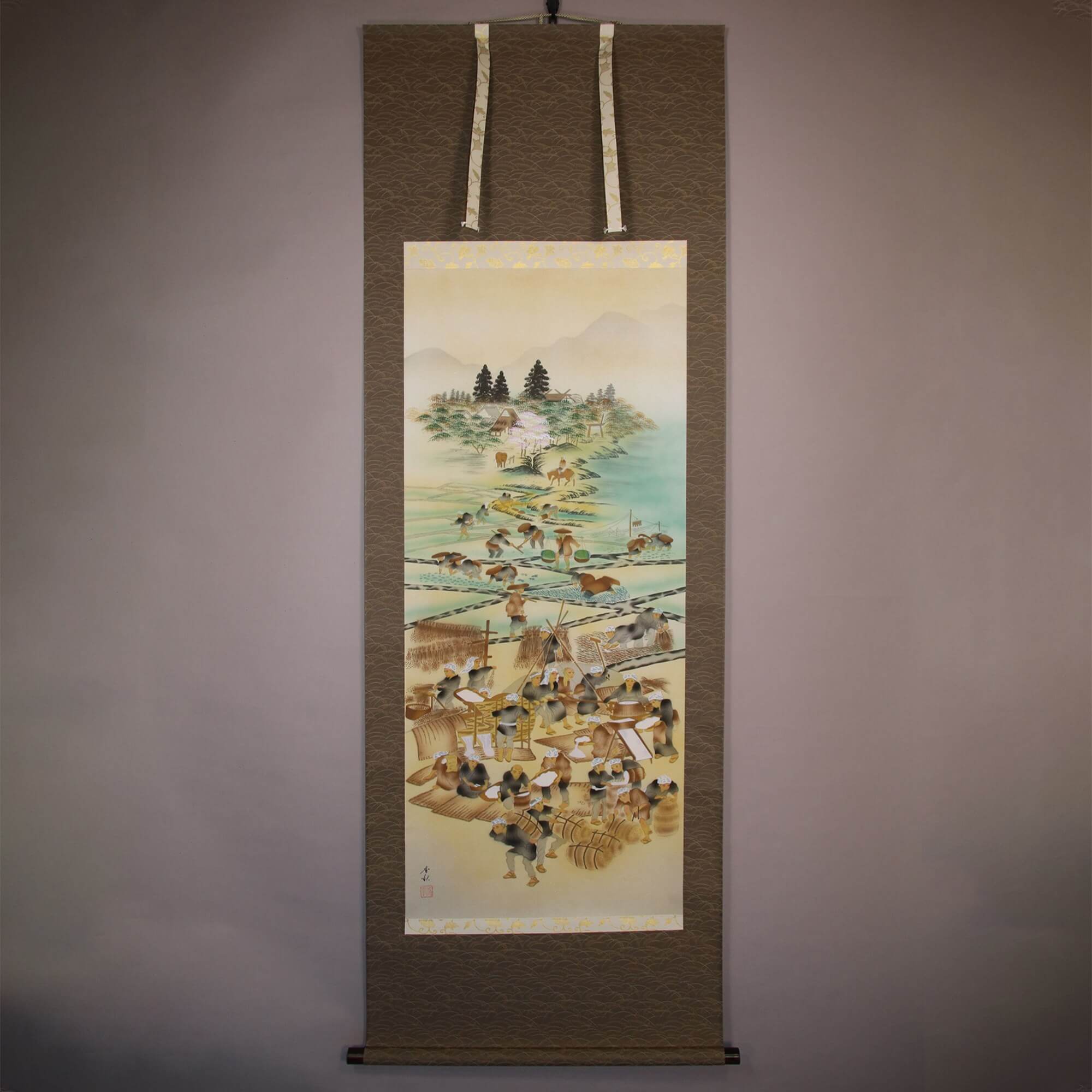 Product ID

B0159

Name

Yokoyama Kōshū

Profile

A Japanese-style painter. In 1935, born in Tōkyō pref. A disciple of Horie Gyokuhō, master of tiger paintings. Specialized in flowers & birds paintings and animal paintings. Member of the Tōyō Bijutsu-kai.

Size

690mm x 1900mm

Roller End Material


Redsandalwood

Material of the Work

Silk

Price

JPY 75,000

Stock Condition

In stock

Payment: Click the Paypal Mark

Duty and Taxes




Import duty and taxes are beyond our control and may apply to your shipment. Please noted that these fees are the responsibility of the buyer.
Description

The painting, "Agricultural Life in Four Seasons", depicts a year of farmers working in the changing seasons. It is said that sericulture and farming scenes were first drawn in China and then introduced to Japan, where the concept of four seasons and annual events were added, making it a popular subject for painting.

In this work, a Japanese painter, Yokoyama Kōshū, richly depicts the process of rice cultivation, from the making of nursery stock in the spring to rice planting, harvesting in the fall, and the collection of annual tribute.

In the early spring, fertilizer is applied to the rice fields and the soil is reclaimed (this process is called Taokoshi in Japanese). Later farmers tend to make their seedlings. They make rice plant nursery stock and sow seed rice in water.

In early summer, they bring seedlings from the nursery and plant them in the watered rice fields.

During the summer months, they work on weeding and filling the fields with water.

In the fall, they harvest the crop. After the harvested rice is dried, the rice in the husk is removed from its stalk with Senbakoki, a comb-shaped hand thresher. Then, a rice pounder is used to dehull rice. Even after this process, the brown rice and chaff are mixed together. Therefore, Tōmi, a winnowing machine is used to separate the brown rice. After that, farmers further sort the brown rice using another huller, Mangoku Tōshi, and finally, they pack the brown rice into bales and pay as annual tribute.

This work, which depicts in detail the traditional flow of rice cultivation in Japan, is a rare work that also serves as a documentary painting.