Calligraphy: Ichi-go Ichi-e / Gyokuhō Ueda - One Chance in a Life Time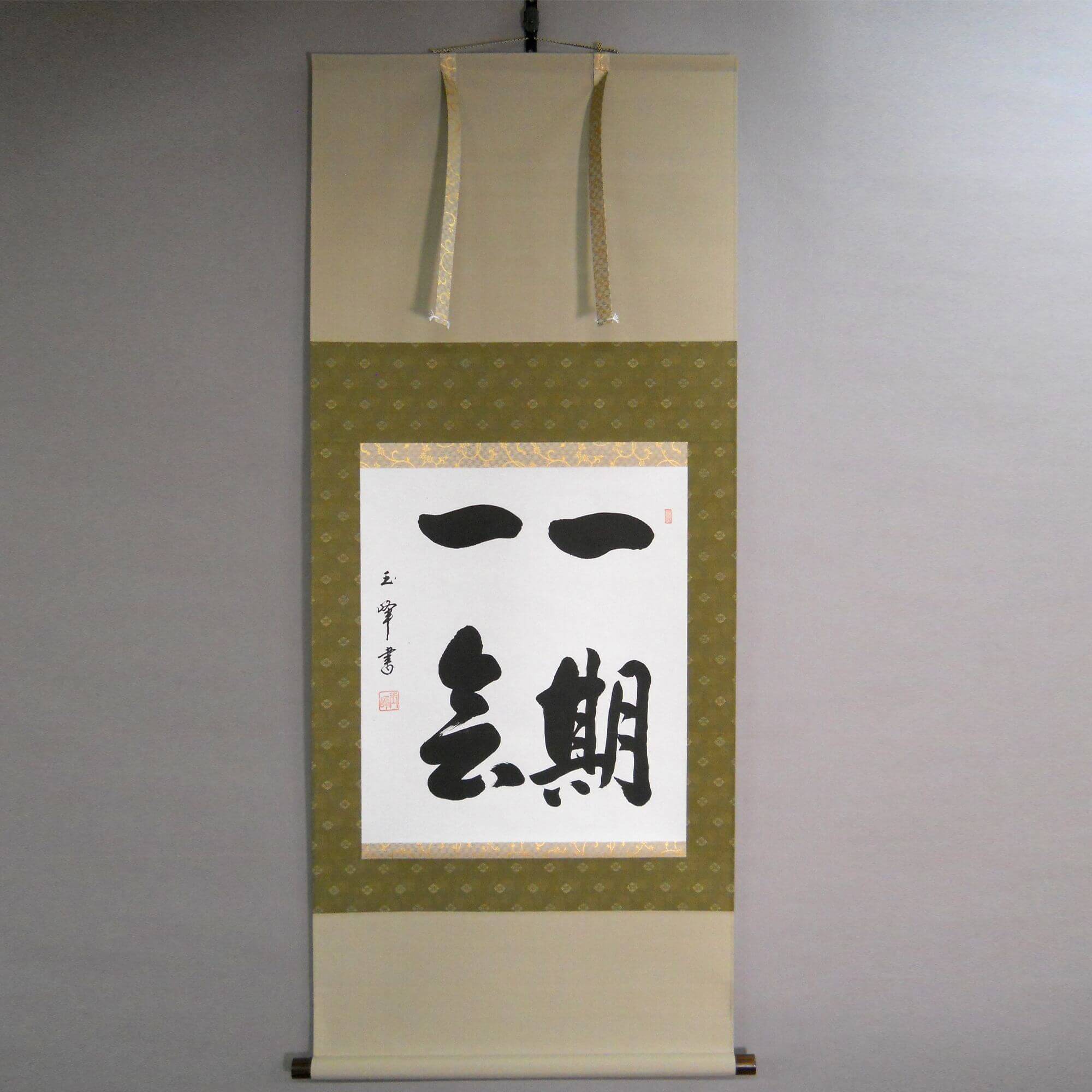 Product ID

B0031

Name

Gyokuhō Ueda

Profile

A Japanese-style calligrapher. In 1937, born in Gifu pref. Member of the Tōyō Bijutsu.

Size

600mm x 1400mm

Roller End Material


Redsandalwood

Material of the Work

Japanese paper

Price

JPY 23,000

Stock Condition

In stock

Payment: Click the Paypal Mark




Duty and Taxes




Import duty and taxes are beyond our control and may apply to your shipment. Please noted that these fees are the responsibility of the buyer.
Description

Ichi-go ichi-e 一期一会 (lit. "one time, one meeting") is a Japanese four-character idiom (yojijukugo) that describes a cultural concept of treasuring meetings with people. The term is often translated as "for this time only," "never again," or "one chance in a lifetime." The term reminds people to cherish any gathering that they may take part in, citing the fact that many meetings in life are not repeated. Even when the same group of people can get together again, a particular gathering will never be replicated, and thus, each moment is always once-in-a-lifetime. The concept is most commonly associated with Japanese tea ceremonies, especially tea masters Sen no Rikyū and Ii Naosuke. The death was closer to people in the Sengoku period (c. 1467 – c. 1603), when tea ceremony culture reached full bloom, than the present day. Therefore, it is considered then that the concept of Ichi-go ichi-e was born.

There is a concept of "Mujou", which is considered to be a fundamental concept of Buddhism, in Japanese aesthetic senses. The word "mujou" expresses the idea that all beings in the phenomenal world do not abide, but disintegrate and are in constant transition. The Japanese people love cherry blossoms because they are not permanent and give a feeling of mujou (transience). While Westerners seek beauty in "eternal beings," many Japanese have a strong tendency to seek beauty in phenomena that is constantly transforming. Mujou can be regarded as unique characteristics of the Japanese concept of beauty that has been growing since the medieval era.

The word "Ichi-go ichi-e" was born from the aesthetic sense. It is often brushed onto scrolls which are hung in the tea room.