A Shrike Perching on a Withered Shrub / Kuzuya Seizan - Koboku Meigeki Zu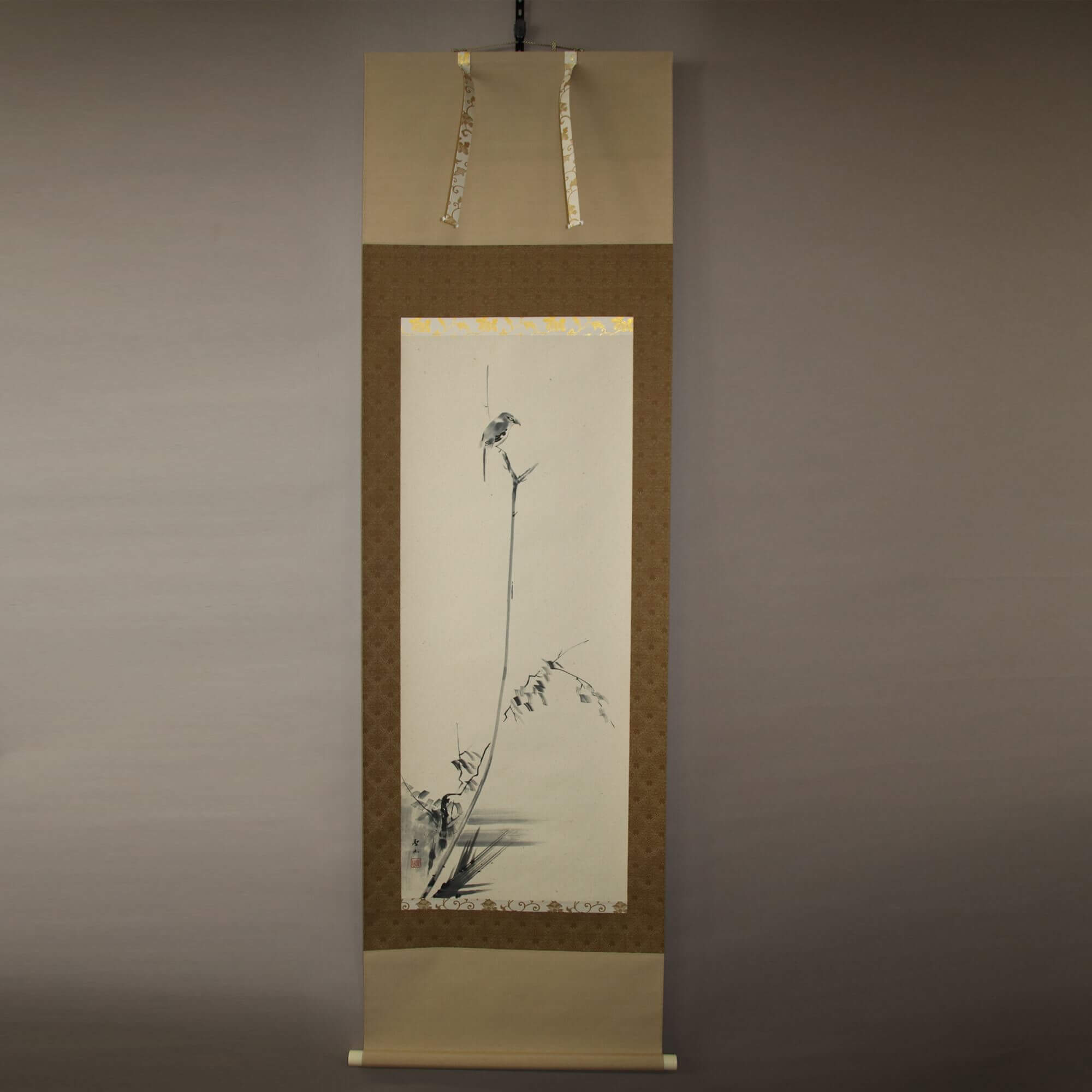 Product ID

B0163

Name

Kuzuya Seizan

Profile

A Japanese-style painter. In 1930, born in Gifu pref. Pupil of Tsubouchi Setsutarō; then Kojima Shikō, a member of the Nitten. Member of the Tōyō Bijutsu-kai. Specialized in flowers & birds paintings and figure paintings.

Size

600mm x 1860mm

Roller End Material


Redsandalwood

Material of the Work

Japanese paper

Price

JPY 35,000

Stock Condition

In stock

Payment: Click the Paypal Mark




Duty and Taxes




Import duty and taxes are beyond our control and may apply to your shipment. Please noted that these fees are the responsibility of the buyer.
Description

Miyamoto Musashi (1584-1643), a swordsman of the early Edo period, is said to have fought for his life in more than 60 battles during his lifetime and have never lost a single one, making him a popular figure even today. He was also known as an artist and excelled in ink painting.

This work is a reproduction of Miyamoto Musashi's immortal masterpiece "A Shrike Perching on a Withered Branch" created by a Japanese painter, Kuzuya Seizan.

A withered shrub growing sharply upward from the desolate grass. On top of the shrub perches a shrike. With its sharp beak and piercing eyes, it seems the shrike looks down everything from high above. At first glance, it seems to be a work of a quiet wilderness portraying a shrike, but in fact, there is another life depicted in this painting. It was a caterpillar desperately climbing the withered shrub. A small life that knows nothing just aims upward and has no way of knowing the fate that will await it a few moments ahead. As soon as the viewers notice its presence, they will perceive a tremendous tension of life or death in this quiet picture. The sight of a shrike targeting a caterpillar reminds its viewers of the harsh world of survival reigned by the law of the jungle. This painting is the very incarnation of the soul of Miyamoto Musashi, a master swordsman who mastered the art of war. It is also said that the majestic shrike symbolizes the final destination of Bushidō and of the swordsmanship, and that the caterpillar crawling toward it is the image of a practitioner of the sword.

For those who want to master ink painting, this piece is like the bible. This work seems to convey the determination of Kuzuya Seizan to catch the glimpse of Miyamoto Musashi's enlightenment.