Operation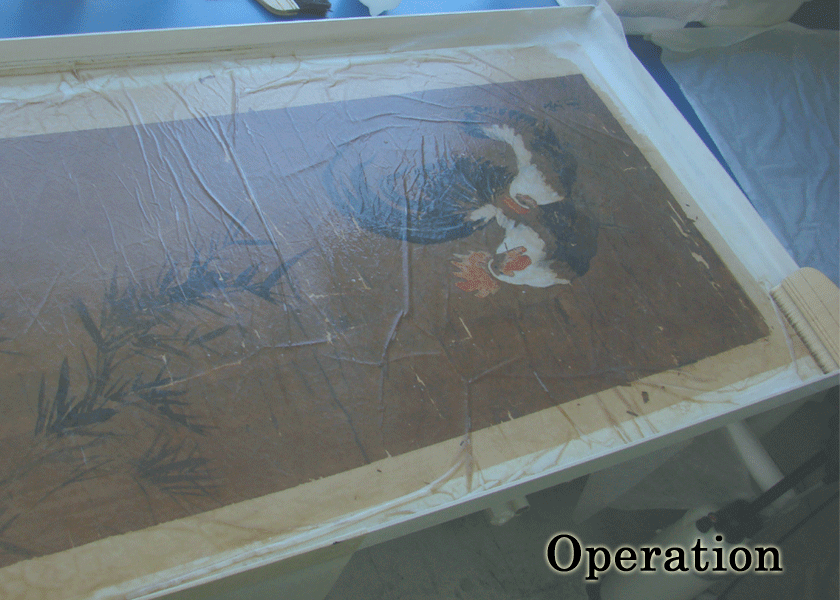 Remove an old backing paper
"Urauchi" is the act of applying paper to the back of paper, silk, or fabric with paste for reinforcement.
---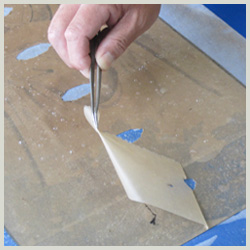 The first operation in remounting is to remove the old backing paper carefully.
(The act of removing the old backing paper is called "mekuru.")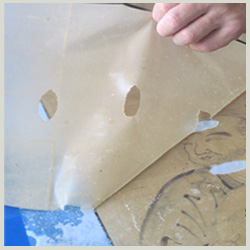 The degree of difficulty varies depending on the condition of the work and the adhesive force of paste used in the former mounting.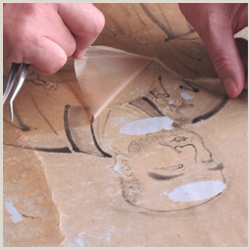 If this operation is not done properly by a skilled craftsman "hyougushi," the work might be damaged.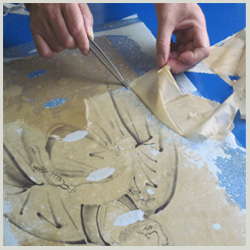 This operation is very delicate.

Clean
Our company removes dirt with their own, unique method. We must not spoil the antique beauty of the work that has caused its aesthetic value to grow over the years. It doesn't always mean best to clean the work thoroughly. This is a very difficult decision.
---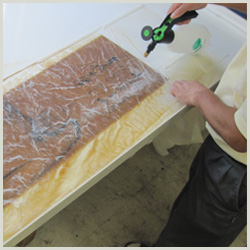 We remove dirt with cleaning solution.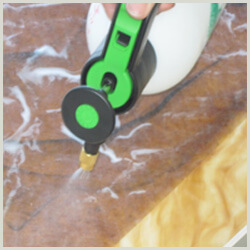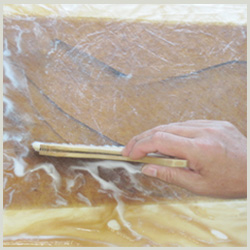 We remove the dirt gently with a brush.

Rinse cleaning solution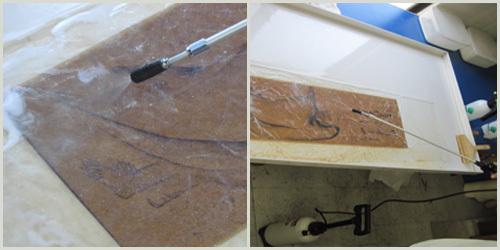 We remove the cleaning solution with a neutralizer.

Dirty water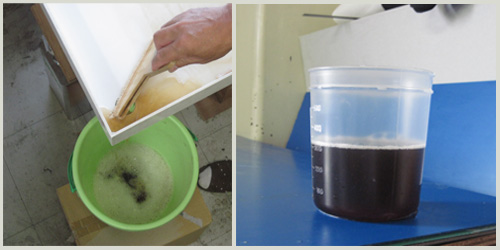 We can see the dirt removed from the work by cleaning. The water is colored by the dirt, not the cleaning solution. This shows how dirty the work was.
Remove stains
Stains may occur in a work due to moisture, a chemical change and so on. We must use chemicals properly, depending on the condition of a work. A severely damaged work isn't always able to stand up to chemicals, so the craftsman's judgement is very important.
---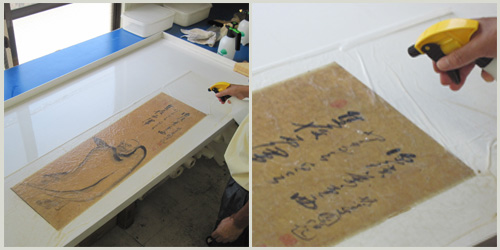 We must choose the appropriate method in consideration of various situations. The overuse of chemicals may damage a work, so we use them in small amounts.
Reinforcement
Creases result from repeated rolling and unrolling of a kakejiku (hanging scroll). They are the cause of friction in fabric or the main work as well as exfoliation of the pigments. We apply infill paper to creases or cracks on the backside of the main work after initial or subsidiary backing. Narrow strips of strong but thin pieces of Japanese paper are used. This crease reinforcement strip is called "ore-ate." Ore-ate is applied from the back of the backing paper. We can reinforce creases and prevent them from occuring again. This operation is very delicate and time-consuming.
---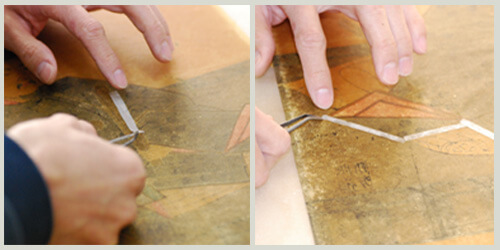 We apply oreate (the long thin Japanese paper) to creases or cracks on the main work for the purpose of reinforcement.
If a work has severe damage, it is very hard to reinforce countless creases.
Addition
If the condition of a work is bad, a part of the artwork may be lost. Even with a backing, the work may still appear unnatural because of extensive deterioration. After obtaining the permission of a client, we sometimes add lines or color in order to fill in lost parts on the work.
---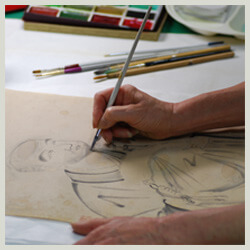 This operation is very delicate because it requires an understanding about the work, a sensitivity to colors and a specialized knowledge about painting materials.