About Hyougu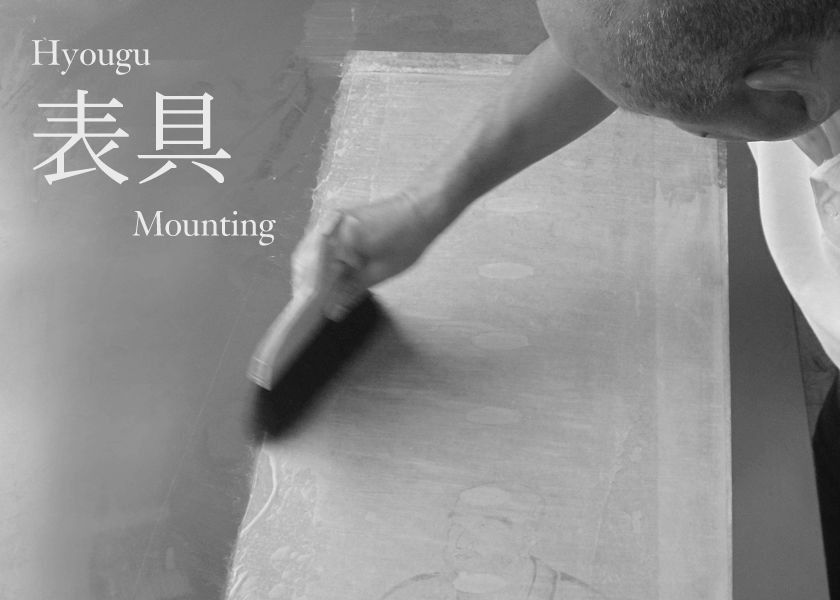 Hyougu
Since many of the traditional paintings of the East are rendered on fragile materials, such as silk and paper, they need reinforcement them to make them suitable for appreciation and preservation. With the introduction of Chinese and Korean painting techniques to Japan, techniques for mounting were also introduced, transmitted, and developed. Mounting techniques embrace the wisdom of our predecessors, regarding decoration, reinforcement, and the preservation of paintings. Traditional paintings of the East, because of deterioration of the paintings and mounting, have been preserved until the present day by means of regular restoration performed every 100 to 200 years. Thus, techniques of mounting and restoration are indispensable in preserving these works of art.
Hyougushi
Mounting is called "hyougu," which means the work of making and repairing "makimono" (scrolls), "kakejiku" (hanging scrolls), and furnishings made of paper and wood, such as "fusuma" (sliding doors) and "byoubu" (folding screens). The mounting of a calligraphic work or painting on a kakejiku is most commonly called "jikusou," and putting the work in a frame is called "gakusou."
The "hyougushi" is a craftsman who makes and repairs a kakejiku, fusuma, and byoubu, or fixes a work in the frame with various materials: for example glue, Japanese paper, water, and fabric. These operations are very difficult, so he must have specialized knowledge, a lot of experience, and a high degree of skill. In addition, extreme caution is always necessary when working with precious artworks. A sense for choosing materials and sensitivity to colors are essential, too.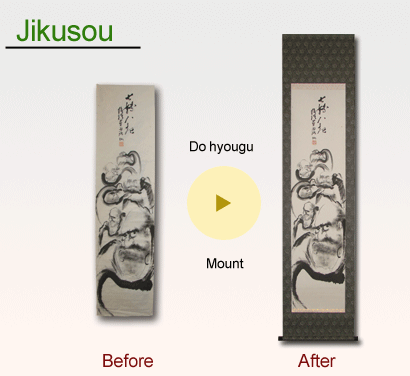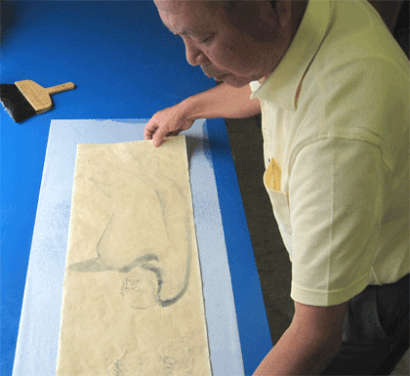 Hyougushi (Scroll Mounter)